Artist Returns to South
---
Posted on February 18, 2022
Thomas Becnel
---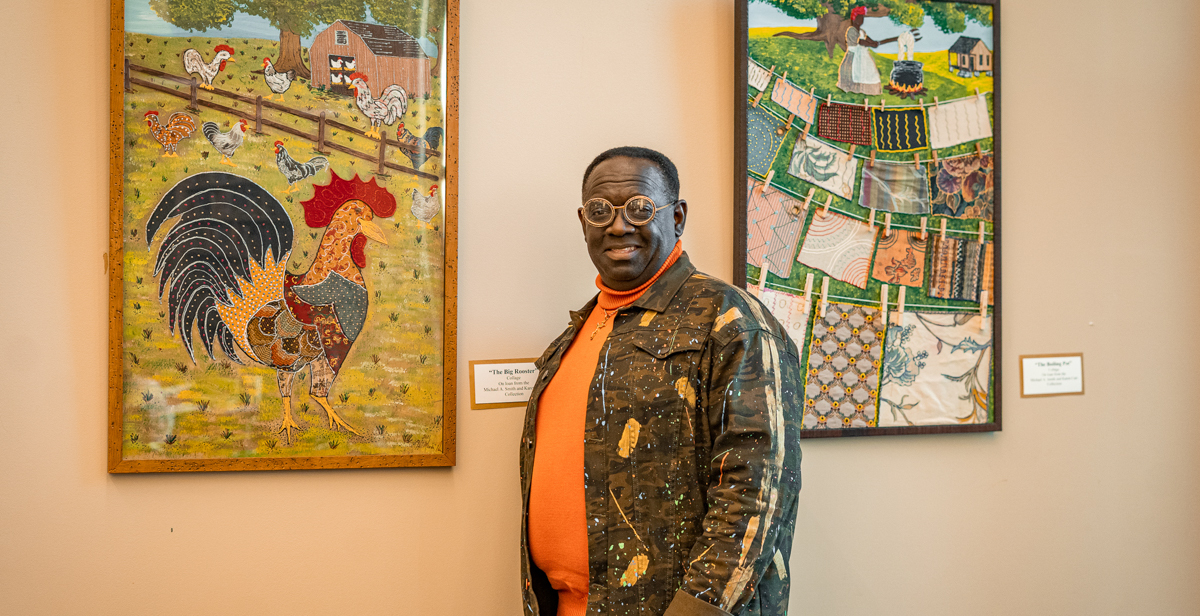 Herbert "Mannie" Pair III, a graphic design graduate of the University of South Alabama, has some of his work exhibited at the Marx Library through the end of the month.
---
For his mixed-media art on display at the Marx Library, Herbert "Mannie" Pair III used everything from paint to fabric and clothes pins.
Years ago, the University of South Alabama graduate and Mobile artist was browsing through a shop when he saw a package of tiny clothes pins. He thought, What in the world? But he bought them, took them home, and hardly gave them a second thought.
"Then one day it hit me," he said. "I wanted to do what's called a 'Saturday's Wash' painting. You do clothes lines and you do clothes pins."
For his retrospective in The Mary Elizabeth and Charles Rodning Gallery of Art, which is open through February, Pair offers a series called "Fabric of the Past," with pieces such as "Grandpa's Banjo" and "Grandma's Yo, Yo Quilt." There are also "Fancy Chairs" – actual chairs with hand-painted designs – along with collages such as "Transformation" and "Sailing the Bay."
Visitors to the show have a lot to see.
"I have various styles," Pair said. "Folk art, which is prominent here, and historic Mobile scenes. Then I have a totally abstract style, where I just let my mind take me wherever. Nothing's planned. I don't know when I'm finished until I'm finished."
Paula Webb, outreach and communications librarian, was happy to choose Pair for the first Marx show since the coronavirus pandemic arrived in 2020. On a tour of the exhibit, "A USA Son Comes Home," she points out rural Alabama scenes, along with design elements that range from printed paper to upholstery samples.
"In this one, he's got fabric and he's got paint," Webb said, "and then he makes it three-dimensional, using a lot of gesso, building it up, and that's another technique that takes a lot of skill. He's utilizing a lot of skills that he's gathered over time."
Michael Smith, a retired attorney in Mobile, has been collecting Pair's art for many years. He considers him an unappreciated local artist.
"I like the way he uses fabrics and different things with textures, and I think he's good with colors and contrasts," Smith said. "I haven't seen other artists do work like he does in Mobile."
Pair, 50, earned a degree in graphic design from the University of South Alabama in 1993. He was president of the Student Art Association and communications chair for the Student Government Association. He also sang with the USA Concert Choir.
For more than 25 years, he owned the Victorian Teal Art Gallery on Congress Street, along with Pair's Printing & Graphics. He's a former member of the board of directors of the Mobile Museum of Art, the Mobile Preservation Society and the Mobile Historic Commission.
His downtown art gallery, which won an award from the Preservation Society, was painted teal blue with plum shutters and cream trim. In person, Pair favors designer eyeglasses with gold filigree circling round rims.
The inspiration for "Fabric of the Past" was the stories of his mother, Ada Minor-Pair, whose family came from Dallas County, Alabama. She moved to Mobile when she was 8 years old.
In 2019, Pair and his mother published a 400-page book, "The History of Black Baptist Churches in Mobile County, Alabama." They spent more than a decade collecting information on 141 congregations. He did the art work for the cover.
Art Life in Mobile
Pair grew up in Toulminville neighborhood of Mobile. His father was pastor of New Liberty Park Baptist Church. His father and mother started a business, Pair Printing & Graphics, that he still owns and manages.
His grandmother was the one who gave him his nickname.
"She said I looked like a little man, or Mannie," he said, laughing. "That's the story they told me."
As a boy, Pair was musical, singing and teaching himself the piano and organ. He was artistic, too, with the encouragement of his parents.
"I was always doing something creative," he said. "I could see things in common objects, like milk cartons or paper towel rolls. My first passion, I wanted to be a float builder, so I'd make little floats out of shoe boxes."
After graduating from LeFlore Magnet High School, he enrolled at South. He was active in art groups and student organizations. Even then, the campus was growing, and he and a friend helped move equipment into the Visual Arts Complex.
"Before then, the art department was scattered across campus," he said. "We were thrilled to death to have a new art building."
After earning his degree at South, Pair renovated an old house on Commerce Street and opened his own art gallery.
"It was like a continuation of what I'd already been doing with the student art association," he said. "I loved organizing students and artists, and I enjoyed the sales aspect."
Pair was worked with several local churches over the years. Right now, he's a minister of music at the St. Louis Street Missionary Baptist Church in Mobile and the Greater Mount Zion Missionary Baptist Church in Atmore.
Last year, after his mother died, Pair sold his gallery and moved Pair Printing back to its home office in Toulminville. He has a Facebook page for the art gallery and hopes to start a web page. The Marx Library retrospective gave him the opportunity to take stock in his life and his work.
"I'll be creating more art," he said. "It's whenever the inspiration hits you."
---
The retrospective on the art of Herbert "Mannie" Pair III will be on display until the end of the month in The Mary Elizabeth and Charles Rodning Gallery of Art on the third floor of the Marx Library at the University of South Alabama, 5901 USA Dr. North, Mobile.
---