Pi Kappa Phi Receives National Awards
---
Posted on February 20, 2017
Joy Washington
---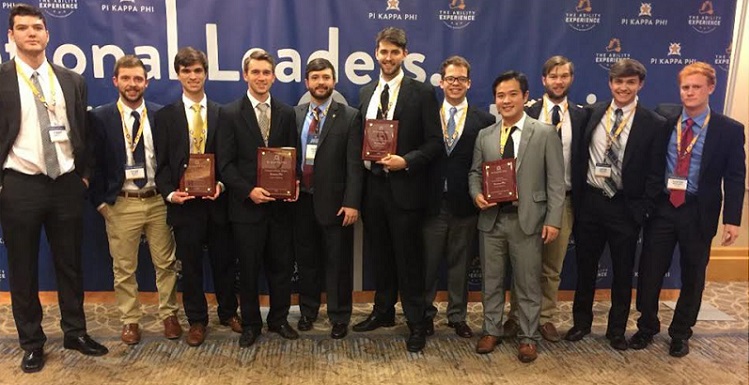 University's Pi Kappa Phi Fraternity was recently honored with several outstanding awards. From left are chapter members Cody Thompson, secretary; Tyler Ellett, warden; Chase Pope, president; Ross McDonald, risk management chair; Alex Dumas, USA alumnus, and Pi Kappa Phi national office staff member; Carson Davidenko, standards board chair; Parker Godwin, philanthropy chair, Andy Hu, treasurer, David Giddens, chaplain; Jacob Abshire, vice president; and Hunter Weygand, historian.
---
The Gamma Phi Chapter of the Pi Kappa Phi Fraternity at the University of South Alabama was recently honored with several awards at the Pi Kapp College, which is a national conference held in Birmingham. The members were awarded the Outstanding Governance, Outstanding Member Experience, and the Outstanding Service and Philanthropy awards. The fraternity also was recognized with a top honor, the Champion Master Chapter Award.
"This is a great moment for us," said Chase Pope, chapter president and a political science junior from Huntsville. "Our chapter is recognized for our accomplishments under the accountability standards set by our national office. We are dedicated to serving humanity."
During the 2015-2016 program year, the fraternity was recognized for volunteering and accumulating 1,500 hours of service. Also, the average cumulative grade-point average of the fraternity members is 3.20.
"I am proud of these young men," said Jay Hunt, advisor for Pi Kappa Phi and academic advisor in the Pat Capps Covey College of Allied Health Professions. "Throughout the year, these young men have spent thousands of hours working to raise funds and awareness. They build wheelchair ramps, collect food and supplies, donate blood, and touch the lives of those in need both locally and across the nation. Pi Kappa Phi makes serving others a priority."
---