High Schoolers Get a Jump Start with Start South
---
Posted on February 22, 2021
Thomas Becnel
---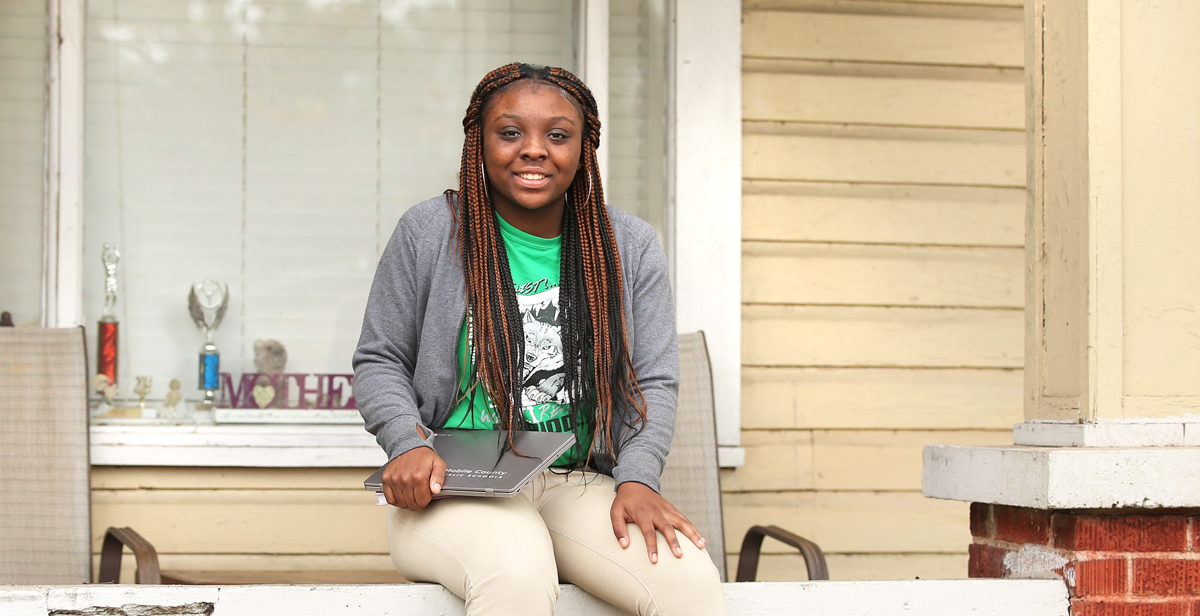 Amre Davis, a Vigor High School student who is taking courses at the University of South Alabama as part of the Start South dual enrollment program, starts her schoolwork as early as 4 a.m. "I get up, set up my laptop, maybe have a bowl of cereal, and get going on my assignments," she said.
---
Amre Davis wants to study nursing at the University of South Alabama, so her high school adviser suggested a dual-enrollment course.
The senior from Vigor High School, part of Mobile County Public Schools, signed up this fall for a communications class in the new Start South program. She already studies at home, because of the coronavirus pandemic, so she's familiar with distance learning. She has the self-discipline required to set her own schedule and begin college work.
Davis starts schoolwork as early as 4 a.m.
"I don't know why, but that's when I get up," she said, laughing, "I get up, set up my laptop, maybe have a bowl of cereal, and get going on my assignments."
More than 150 local high school students participated in the first semester of Start South, a dual enrollment program that allows participants to get a head start on higher education at half the cost, along with a taste of college life. Meanwhile, South gets to connect with high school students and a chance to show off campus facilities, student services and tutoring programs.
"Students will go where they feel comfortable," said Alice Abernathy, the University coordinator for Start South. "That's what dual enrollment is all about, building that kind of relationship."
Dr. Andi Kent, the interim provost and senior vice president for Academic Affairs at South, said reaching students who might be interested in South is an important part of the program, as is maintaining a relationship with local high schools.
A teacher shortage this year offered an opportunity for South professors to instruct college-bound students.
"We had partners in school districts near us ask about dual enrollment, and that was something we could do to set us apart from other institutions," Kent said. "That's how it all started coming together."
With Start South, students can reduce the time and cost of earning a bachelor's degree. They can earn automatic enrollment to South and priority housing for incoming freshmen. They can satisfy prerequisites for majors in fields such as business, computing, education, engineering, allied health and arts and sciences.
Classes available in the program include ethics, sociology and Spanish I. This semester, there are new courses added in drama and criminal justice. The deadline for applications in fall 2021 will be July 31.
The program started with four Mobile County high schools – Vigor, Mary G. Montgomery, Theodore and B.C. Rain – with plans to expand in subsequent years. To participate, students must maintain a 3.0 grade-point average and have permission from their high school principal. Course fees are half the price of regular tuition.
Dr. Alex Whalen, an assistant professor of philosophy, taught his first Start South course this fall. For him, the challenges of COVID-19 and virtual classes were greater than the change in student body. He believes in the dual enrollment program.
"It's absolutely a good idea," Whalen said. "It's a nice opportunity for South, as a recruiting tool, and it's super valuable for students, giving them a feel for what they're getting into at college."
Whalen's ethics class this fall had 17 high school students. Some were prepared for the freedom and responsibility of a college course. Others benefited by learning to adjust.
Dual enrollment may be new at South, but some students on campus went through different high school programs. They brought college credit with them to Mobile.
Keira Ross, a junior studying chemical engineering at South, said a similar dual enrollment program benefited her beyond what she learned academically. Rather than coast through her senior year at Alexandria High School east of Birmingham, where she had enough credits to graduate, she began taking courses at a local university.
"I was ready for a change," she said. "It was nice to be around fresh faces and it helped me learn the value of friends in getting through course work. I learned study groups are very helpful. Also time management. In high school, I didn't have to study much, but this was different, and it taught me how to study more efficiently."
The head start of dual enrollment helped Ross at South, where she's been able to concentrate on the engineering curriculum. She began doing summer internships as a freshman and is now planning a career after she graduates in 2022.
In the Start South program, most of the students are high school seniors, but the program is open to underclassmen, too.
Hannah Cline, a sophomore at Mary G. Montgomery High School in Semmes, is only 15 years old, but she's already doing dual enrollment classes. She's already planning to earn a master's degree and become a civil engineer. She's hoping to travel and work on big projects with teams of engineers.
In the meantime, she hopes to become high school valedictorian and earn a scholarship for college. Adjusting to dual enrollment has not been a problem.
"It feels the same, in a sense, because there are interesting discussions and you get to interact with people in class," Cline said. "The assignments are very different, though, from what you'd find in high school, and you go at your own pace and meet your own deadlines."
Joshua Coburn, a guidance counselor at Mary Montgomery, recommends dual enrollment classes for students who seem prepared for college-level courses. Parental support is important. So is self-confidence and motivation.
For some, Start South is the next step in their education.
"It gives students a chance to dip their toes into college, to learn what it takes to be a college student," Coburn said. "We want to help them learn the academic side before they go off and discover the social side of college. We want to help them learn and mature, one class at a time."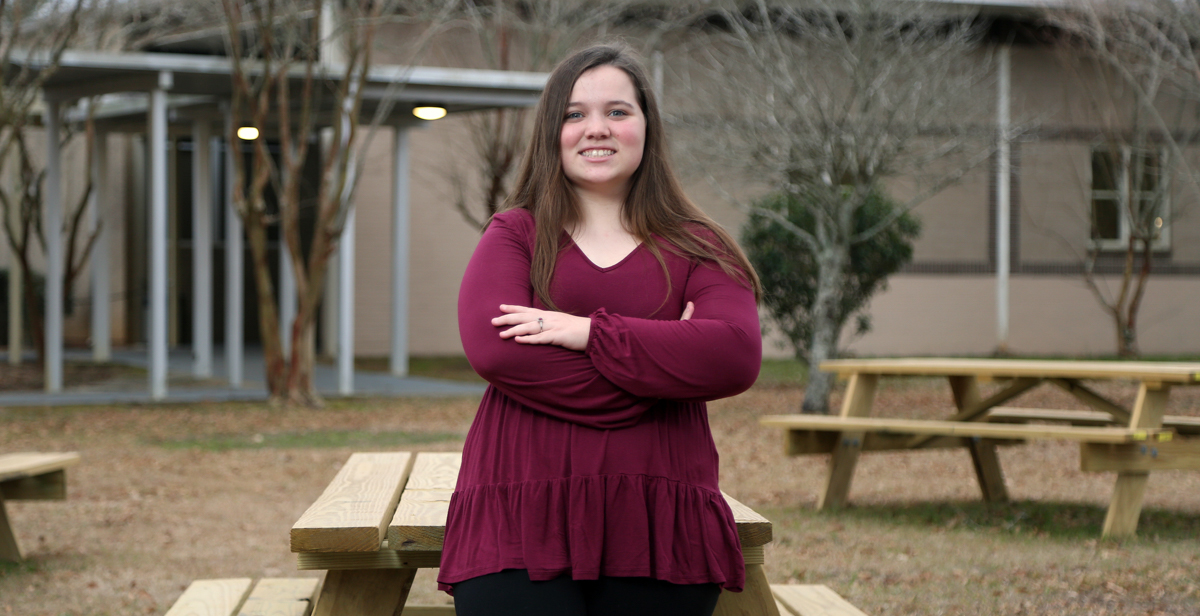 Hannah Cline is a sophomore at Mary G. Montgomery High School and is already taking dual enrollment college classes. With Start South, students can reduce the time and cost of earning a bachelor's degree. Cline eventually wants to earn a master's degree and become a civil engineer.
---