USA HEART Project and USA Health Expand Sexual Assault Survivors Program
---
Posted on February 23, 2023
Joy Washington
---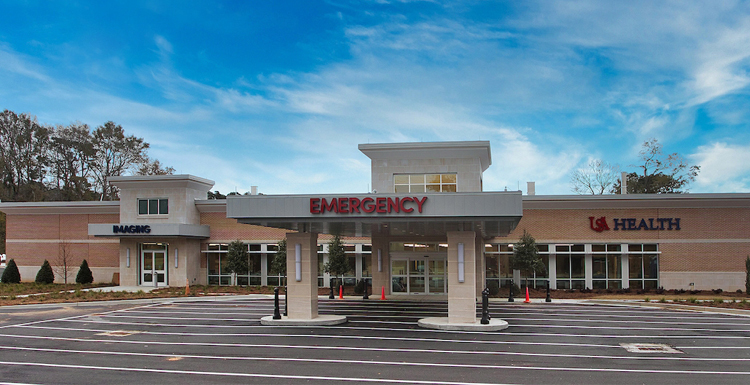 The new University Health Free-Standing Emergency Department is collaborating with the HEART Project to provide sexual assault forensic medical exams to students. The emergency department is located at 181 Hillcrest Road Mobile, AL 36608.
---
The University of South Alabama's HEART Project, (Health, Empowerment and Recovery from Trauma,) has partnered with the USA Health Free-Standing Emergency Department, (FED), to provide forensic medical exams and other support services for student sexual assault survivors.
"The proximity of the USA Free-Standing Emergency Department to our campus serves as a perfect referral resource," said Candice Selwyn, director for the HEART Project. "Our student survivors now have more options to seek the help they need 24 hours a day, 365 days a year. USA students are still able to go to the Student Health Center for sexual assault forensic medical services on campus during regular hours and the Freestanding Emergency Department at any time. We are grateful to be able to continue to provide options to our student survivors."
Highly skilled sexual assault nurse examiners, or SANEs, have extensive training on how to care for assault survivors in a compassionate, respectful manner and collect evidence for possible prosecution. This is a great partnership that provides the survivors with safety and dignity as they are treated following a traumatic experience.
According to the HEART Project Team, this expansion is important because it still will provide all the resources needed in one place, which includes advocacy, counseling and testing, law enforcement, and a full forensic medical team.
Providing this important medical resource is just another way for USA Health's FED to serve the students in collaboration with the Heart Project and Student Health.
"USA Health's Free-Standing Emergency Department is pleased to collaborate and provide sexual assault forensic medical exams for USA students," said Dr. Edward A. Panacek, professor and chair of emergency medicine at USA Health. "We have extended this service now to a state-of-the-art medical facility, which is more convenient to campus. It's a win-win to be able to provide this much-needed community service to our USA students, faculty, staff and others in the community.
The Rape Crisis Center, operated by Lifelines Counseling Services is one of the community collaborating partners and the agency provides 24-hour support service for those in need.
"It's important that we create a unique eco-system in our community to service sexual assault survivors," stated Chandra Brown Stewart, executive director of the Lifelines Counseling Center. "We will always support creating spaces of healing and hope for people in our community. It's one of our goals."
The USA Health Freestanding Emergency Department is located at 181 Hillcrest Road, Mobile AL 36608.
---