South Strong Ambassadors Bring Positive Energy, Critical Message
---
Posted on March 1, 2021
Thomas Becnel
---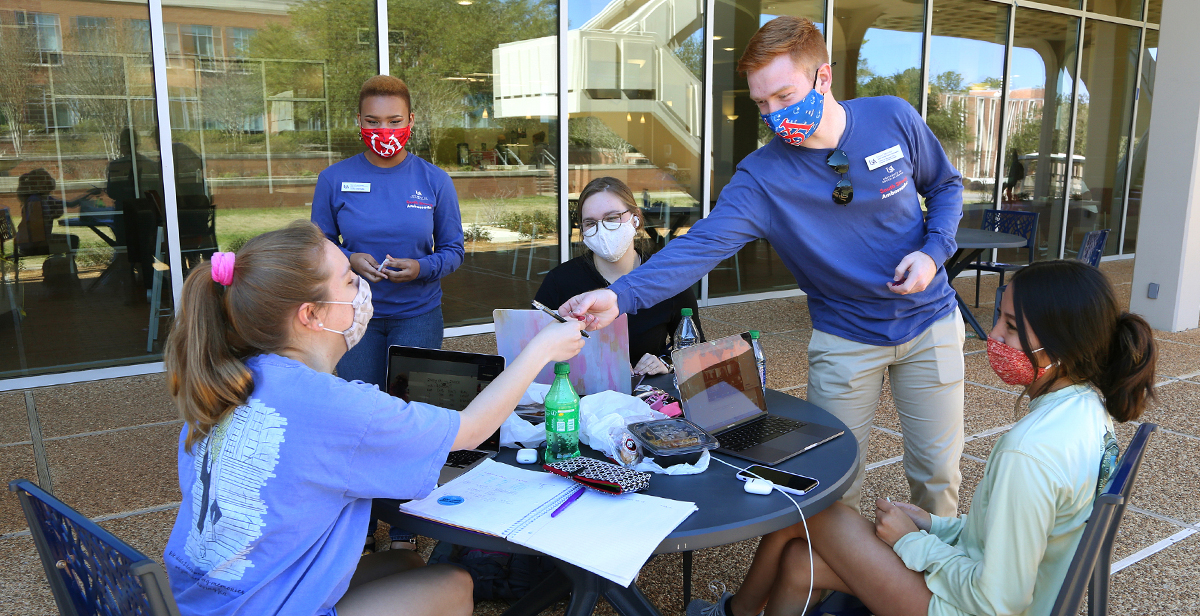 Grant Skinner and Sarai Garraway, both juniors and South Strong Ambassadors at the University of South Alabama, meet with fellow students outside the Student Center to talk about the importance of following precautions to keep people safe from COVID-19.
---
Grant Skinner approaches students with the confidence of a drum major and the ease of a broadcast meteorologist.
"Hi, I'm Grant Skinner and I'm a South Strong Ambassador," Skinner begins. "We're going to be walking around campus, doing giveaways, talking to people about continuing to practice good COVID-19 habits – washing hands, using hand sanitizer, socially distancing – whenever you're on campus, and off campus as well."
There's good news. Then the reminder.
"While we are seeing improvements in COVID-19 numbers," Skinner says, "there are still people being affected by it every single day, and even with things improving, we need to stay diligent."
Skinner is among a new group of University of South Alabama students whose job is to bring positive energy to a critical message: Now is not the time to let down your guard.
The idea behind this group, the South Strong Ambassadors, is less direction from authority figures and more encouragement from peers. Jag swag and social media. School spirit and working together to keep people safe and the University open.
"Student-to-student, it feels more personal," said Skinner, a meteorology major who leads the ambassador group in addition to the Jaguar Marching Band. "I want it to be more of a friendly conversation and shaping it to what we're trying to do.
"Everyone has a general understanding of mask wearing and social distancing. On campus, I think we've done a great job. Off campus, it kind of depends where you are."
Dr. Julie Estis, associate professor of speech pathology and COVID-19 response coordinator for the University, said the ambassador program is one part of a comprehensive plan for keeping the campus healthy and safe. Efforts include contract tracing, a comprehensive website with information and resources, and residence hall rooms dedicated to students who need to quarantine.
South has come a long way since it reopened last year. More classes are in-person this semester. It's rare to see someone on campus not wearing a mask.
"We just need our employees and students to keep on keeping on," Estis said. "We do realize that most people are experiencing some 'COVID-fatigue' at this point."
South Strong ambassadors will appear in high-traffic areas on campus to offer giveaways and promote COVID-19 precautions. Social media posts and videos will reinforce a message of cooperation and camaraderie. The direction of the group will depend on its member's ideas and what they think is working.
Life on campus is slowly returning to normal. The University has announced that there will be 2021 graduation ceremonies with guests, and plans are underway to return to a conventional course schedule by fall semester.
"Vaccines bring a great deal of optimism, but we know there's a long road ahead," Estis said. "The area that brings concern is the different variants of the virus. That reminds us of the need to be vigilant."
A stark reminder of the virus' toll was recently on display in front of the Student Center on the day Skinner handed out South-branded stickers to students. Flags were lowered to half-staff in memory of the half million Americans killed by COVID-19.
Backsliding is something the student ambassadors hope to prevent at South. The eight students were chosen by a University committee and will work 10 hours a week.
Sarai Garraway, a junior from Hattiesburg, Mississippi, is one of them. A music education major, Garraway sings and plays the violin. She lives on campus and works with the Black Student Union and Baptist Campus Ministries. Being involved is important to her.
"I want to help out," Garraway said. "With everything about this year being kind of abnormal, I want people to get the best out of their college experience, to know what the university has to offer, and how the university is adjusting to everything.
Garraway thinks people are growing more comfortable with social norms such as remaining 6 feet apart and reporting symptoms and positive test results. Custom face masks are one encouraging sign of the times.
"It's a thing," Garraway said. "Some of the students in the music department have notes on their masks. One of my professors has a Star Wars mask. It adds a little spice to it. A lot of people are being creative."
As lead ambassador, Skinner will work 20 hours a week. He's a junior from Smyrna, Tennessee, who wants to become a broadcast meteorologist. For him, ambassador work is job training.
"I want to get better at my communication skills," Skinner said. "I'm doing some practice broadcasts and looking online. Social media is very interesting, with Instagram, Twitter, Facebook and Snapchat. A lot of meteorologists are on TikTok."
In person, encouraging people to wear face masks can require tact, if not diplomacy.
"Because it's become so politicized, it can be hard to say, 'Hey, you need to do this or that,'" Skinner said. "Our job is to explain why we're taking these steps. The whole thing is that we're trying to keep the school open and everyone safe.
"What I want to do is help people do the best they can, and they can help more people do the same. It's a chain reaction, helping more and more people get involved."
---
Follow the South Strong Ambassadors on Instagram and Facebook.
---