Hoover Ballerina, 17, Perfects Her Accent Online
---
Posted on March 3, 2017
Alice Jackson
---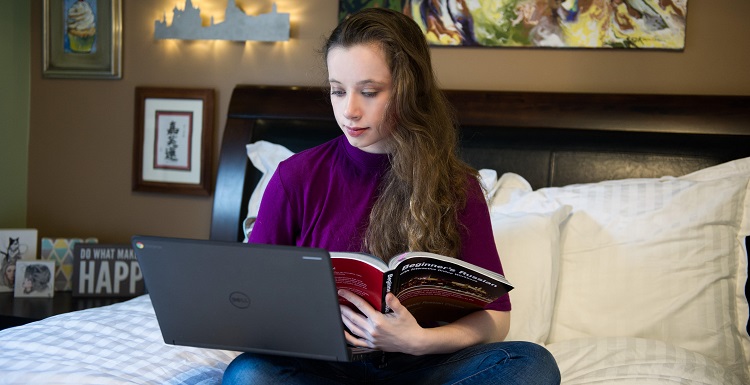 Katherine Free, 17, of Hoover, takes Russian classes from her home in Hoover. "With Russian, you have to put in the effort to speak out loud in order to perfect your accent," she said. Photo courtesy of Phil Free.
---
When 17-year-old high school senior Katherine Free of Hoover, Ala., logs on to her laptop to study Russian at the University of South Alabama, she is participating in one of the most unique groups in the world.
Only a handful of institutions worldwide offer the online study of Russian, and Katherine is South's youngest student in the course.
"I first went to Moscow for a summer ballet program in 2012, and I spent three weeks there," said Katherine, a ballerina who trained at the prestigious Bolshoi Ballet Academy, home to many of the world's most renowned ballet stars. "That first time, we used a lot of hand gestures to communicate. When I went to Russia again in 2015, I had ballet and Russian tutors for three weeks in New York before I left, followed by six weeks of Russian language classes after my ballet classes in Russia. When I returned home that time, I wanted to learn more of the language."
A counselor at Hoover High School guided Katherine to South's new online course. With the approval of Provost and Senior Vice President for Academic Affairs Dr. David Johnson, she was admitted. Because she already knew a great deal of Russian, Katherine's placement test suggested she begin at the intermediate level.
"Instead, I wanted to start at the beginning because a year had passed since I'd been in Russia, and I wanted to make sure I had the basics," Katherine explained. "It was a good idea, too, because I'd forgotten so much, but I'm learning it all back again."
Katherine, now in her second semester of online Russian, praises Dr. Nicholas Gossett, assistant professor of Russian, and his Russian-born wife, Ekaterina Zakharova, who is Katherine's primary instructor.
"I video conference with her, and it's so nice because she can give us students the full-on Russian accent," Katherine said. "With Russian, you have to put in the effort to speak out loud in order to perfect your accent, and she's an amazing teacher."
She noted that Zakharova encourages her online students "to contact her anytime we need her," which lets Katherine learn at her own pace.
"Teaching Katherine has been wonderful because she is a bright and inquisitive student who makes teaching fun," Zakharova said. "She is a good example of the students we have in our program who will go on to use their Russian language skills in their academic, professional and personal life."
A teen with poise and speaking ability well beyond her years, Katherine has worked hard all her life to achieve in a variety of areas. In addition to her regular high school studies, she takes piano and practices religiously. Plus, she works on her beloved ballet daily as an apprentice of the Birmingham Ballet Professional Repertory Company. As a result, this weekend she will dance the lead role in the Birmingham Ballet's production of "Cinderella."
"I devote at least an hour or more a day to my online Russian class. Then, on the weekends, I focus on it even more, sometimes up to eight hours at a time," Katherine said.
Ballet is natural for this student because she comes "from a ballet family." Her mother, Cindy Free, is the founding director of the Birmingham Ballet. Her father, professional photographer Phil Free, is the company's photographer. Katherine's older brother also danced with the company.
"The Birmingham Ballet has definitely been Katherine's second home as she has grown up," her mother said.
Katherine isn't certain yet where she will attend college, but she hopes to major or minor in Russian.
"I would like to dance for a while, then work with the Foreign Service or be a diplomat," she said. "I would also love to live in Russia and work there. The Russian people are simply beautiful people, and it is a beautiful country with a rich heritage and culture."
For years, South has offered four years of Russian in the classroom, but Gossett said the public's increased interest in Russia as a work and travel destination was needed to meet the growing demand. The online participants include a wide range of ages from across the Southeast.
"The popularity of learning Russian is growing, and we now have about 50 students in the Russian language program," he said. "Katherine is a great example of an advanced high school student who we've been able to impact in a very positive way. She's been a fantastic student with her online classes."
A new memorandum of understanding between South and the National Research University Higher School of Economics in Moscow will enhance the University's Russian studies, Gossett added.
"This summer, we're taking students on another faculty-led trip to Russia with 23 students registered now. By this fall or next spring, we hope to have our first Russian exchange student here on campus, living in the new International House as well as working as a student tutor in our lab," he said. "We have a shortage of Russian specialists in this country, and because of that, the future of our program is very bright."
---