Poverty and Public Health
---
Posted on March 3, 2022
Thomas Becnel
---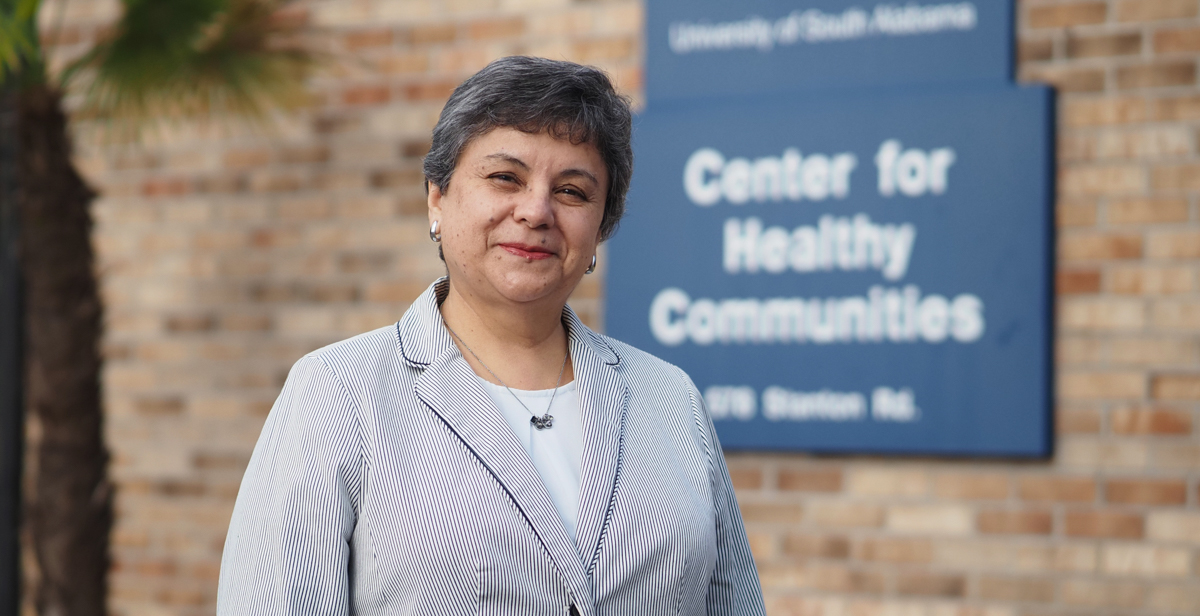 Dr. Martha Arrieta, director of research for the USA Center for Healthy Communities, said the center's work to reduce poverty and health disparities has proved difficult, though rewarding. "When I was younger, I hoped things could change much faster, but I'm still hopeful," she said.
---
The University of South Alabama is running a series beginning Martin Luther King Jr. Day that focuses on South students, employees and alumni who are advancing Dr. King's vision in six areas – poverty, jobs and wages, housing, education, justice and peace. Today's story is on poverty.
From the beginning, the USA Center for Healthy Communities has focused on neighborhood engagement, local partnerships and participatory research.
From the beginning, the center's researchers and advocates have worked to build lasting relationships in poor and underserved neighborhoods.
From the beginning, Dr. Martha Arrieta has been the center's associate director, and then director of research.
The Center for Healthy Communities, often funded by grants from the National Institutes of Health, coordinates public education, improves access to healthcare, and promotes activities designed to eliminate health disparities in minority communities. According to the Center for Disease Control, Black residents of the United States are at a higher risk for heart disease, strokes and cancer, along with asthma, pneumonia and diabetes, though deaths from some major causes have declined by more than 25 percent over the last two decades.
Attitudes toward public health have changed since the Mobile center was founded in 2003.
"We can talk about the social determinants of healthcare and wellbeing, which was not always the case when I first came here," said Arrieta, who is also associate professor of internal medicine in the College of Medicine at the University of South Alabama. "We have come a long way in understanding that poverty is a major factor in public health. Another difference, and it is a painful difference, is the added burden of racism and structural elements that don't allow people to rise up.
"We haven't changed the world, but we have done steady work that contributes to making things better in the communities we serve. I'm very proud of what we're doing."
In January, the center and the Mobile County Health Department announced a partnership to increase the number of community health workers. This effort is part of a national initiative by the Centers for Disease Control and Prevention. It broadens the work of the center's Health Advocates Program, in which community residents provide outreach and education.
"Because we've been here for 18 years, 19 years, people know who we are," Arrieta said. "They have more trust in what we have to offer."
In the first months of the coronavirus pandemic, the Center for Healthy Communities worked with neighborhood leaders to encourage mask-wearing and vaccination of adults, particularly older residents. Local pastors made public statements in favor of COVID-19 vaccinations.
"They really took a bold step to put their names and faces to this effort," Arrieta said. "You know, it's not been easy to be upfront, to be a vaccine supporter in Alabama and other parts of the country. But at the same time we understood that they were the ones officiating at funerals, so for them, this was extremely personal, and they came forward."
Community relationships
Dr. Errol Crook, director of the Center for Healthy Communities, joined the USA Health program in 2005, just two years after it opened.
"Dr. Arrieta is the only person who's been here since the inauguration of the center," he said. "So she's been a real foundation and helped our work remain community-focused. She was very innovative in the early days of developing these relationships in the community."
Bobbie Holt-Ragler, a retired nurse from Prichard, Alabama, has worked as a health advocate in Mobile for more than a decade. She understands that building trust takes time. The Center for Healthy Communities has earned its reputation with church groups, school leaders and civic organizations.
"This group has a heart," said Holt-Ragler. "You just can't find better folks. And they're committed to the community. People don't want to know how much you know until they learn how much you care."
Mary Carmen Williams, outreach coordinator at the Center for Health Communities, works with Arrieta at the center office on North Catherine Street. She has led programs such as STARS and STRIPES, which help prepare high school students from under-represented communities for careers in science and medicine.
During the summer, students take classes at the University of South Alabama.
"Having them on campus is a big deal," Williams said. "If we can help expose them to new things, it's really rewarding."
From Florida to Alabama
Arrieta, 64, is from Arequipa, the second largest city in Peru, which she visits each year for Christmas. Her father was a government worker and union leader, while her mother was a clerk and a seamstress. Her sisters include a teacher, a principal and a philosophy professor.
She earned her Ph.D. in epidemiology at the University of South Florida in Tampa. Her husband, Dr. Eduardo Calderon, is an associate professor of internal medicine at South. They have a son, who is a doctoral student, and a daughter, who is an artist.
When she was in Florida, Arrieta worked with communities of migrant workers who picked oranges. Occupational health was an issue. So was poverty, access to healthcare and language barriers.
"I identified very much with them," she said. "To me, it was a privilege to work for them. They're doing very difficult work, they're feeding America."
Arrieta and her husband moved to Mobile in 1998, when he started his residency training in internal medicine at the University of South Alabama. Initially, Arrieta continued her work as research faculty at the University of South Florida, traveling to Tampa frequently both to teach and to complete her research program. In 2003, she began her work as faculty in the College of Medicine and also worked for the Mobile County Board of Health, where she was a consultant for surveillance and bioterrorism in the early 2000s.
At South, she teaches epidemiology and biostatistics to first- and second-year medical students. Coursework includes basic research tools and how to evaluate relevant literature.
In 2021, Arrieta wrote a report about how minority communities in Mobile were affected by the coronavirus. It was called "Perceptions, Needs, Challenges and Insights of an Underserved Community in the COVID-19 Pandemic." It found families with fewer resources were impacted by four main stressors: increased childcare needs, added responsibility of remote education, economic peril due to job loss, and strained mental health and disrupted social network connections because of isolation and social distancing measures.
Reducing poverty and improving public health have proved to be difficult goals that resist simple solutions. Arrieta shares the frustration of many in her field. Experience has changed her perspective.
"When I was younger, I hoped things could change much faster, but I'm still hopeful," she said. "Now that I'm older, I realize things usually change little by little."
Arrieta still loves her job. She enjoys going to work very early in the morning, then leaving in the late afternoon. There's always more to do.
"This is my passion," she said. "I know I will retire one day, but I think I'd like to keep working in some capacity with this community."
---