'Standing Separate from the History of Others'
---
Posted on March 7, 2016 by Joy Washington
Joy Washington
---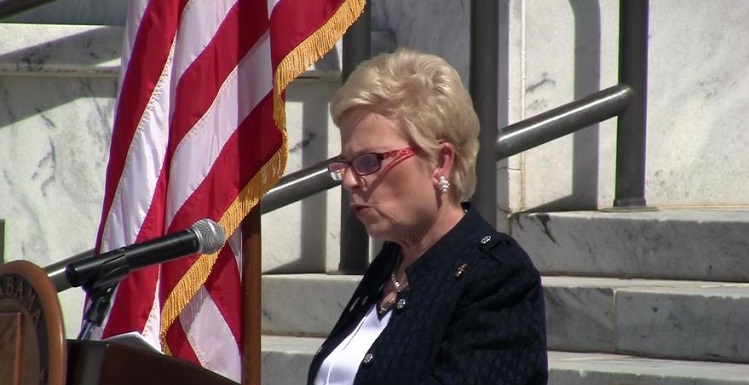 Peggy Wallace Kennedy, daughter of former Alabama governors George and Lurleen Wallace, will speak at USA on March 9 at 7 p.m. Photo courtesy of the Montgomery Advertiser.
---
Peggy Wallace Kennedy, daughter of former Alabama Gov. George Wallace, is working diligently to change the Wallace legacy for her children and future generations. Her father became an international figure as a segregationist and presidential candidate who survived an assassination attempt that left him paralyzed.
The University of South Alabama's 2016 Common Read/Common World project will present "A Walk to Redemption," featuring Kennedy at 7 p.m. on March 9 in the Student Center Ballroom on the main campus. The event is free and open to the public.
Kennedy will share her story and talk about the challenges she's faced finding her own voice in the shadows of her father's legacy. She also will talk about how determined she is to speak for peace and reconciliation.
Although Kennedy is currently writing a book, traveling and speaking nationwide, she took some time to answer several questions about her journey and message for the audience at South Alabama.
How did your father's legacy affect the lives of you and your family? What did you learn from your father?
My father's life of service to the state was complicated from the time he ran as a moderate on race in 1958, his stand in the schoolhouse door at the University of Alabama and finally to the man he became after he was wounded in an assassination attempt. One cannot travel far in the State of Alabama without seeing the physical manifestations of his public service. After supporting the legislation to create the University of South Alabama, Gov. Wallace signed the act to create the University on May 3, 1963. But for whatever he became, he will be most remembered for his racist past. Perhaps the most important lesson I learned from my father was that of the peace that comes with reconciliation. Through his own personal suffering he came to realize the hurt he caused others as a supporter of segregation, and he had the courage to ask for forgiveness. His life's journey demonstrated to me that there is power in change, there is love in forgiveness and there is peace in reconciliation.
Why did you decide to speak out and encourage dialogue to promote racial understanding?
For many years, my life was measured by the accomplishments of others. I was best known for being the daughter and wife of powerful men and then the mother of two outstanding sons. I wanted there to come a time when my children would first remember what I had done with my life before they thought of the lives of their grandparents, Govs. George and Lurleen Wallace. Stepping from beneath the shadow of the schoolhouse door, standing separate and apart from the history of others provided opportunities for claiming a victory of my own.
How are you changing your father's legacy for the family?
I believe that my father would be proud of my decision to stand alone and speak the truth of my family's life. The Wallace family was always painted in the broad-brush strokes of political power. Perhaps a daughter's perspective on her life and the life of her father and mother will add new dimensions to the history of their lives.
Do you feel that your father found peace and forgave himself before he passed away?
It was important to my father, toward the end of his life, to reach out to those that he felt had been wronged by his words and deeds. I believed that as he traveled on his own "Road to Jericho" he found the courage to believe that redemption brings peace.
What message do you plan to leave with the University of South Alabama audience?
In my life, I came to understand that there is power in each of us to work for positive change in our lifetimes. None of us are given the same opportunities in life, but through our lives we can create our best opportunities to serve others. There is a capacity in all of us to speak the truth, to work for the common good of our community and country, and become involved in mapping our own personal course of public service. We must understand that while at times we cannot change the direction of the wind, we can always adjust our sails to reach a more just America.
---