First-Year Retention Numbers Promising
---
Posted on March 7, 2023
Lance Crawford
---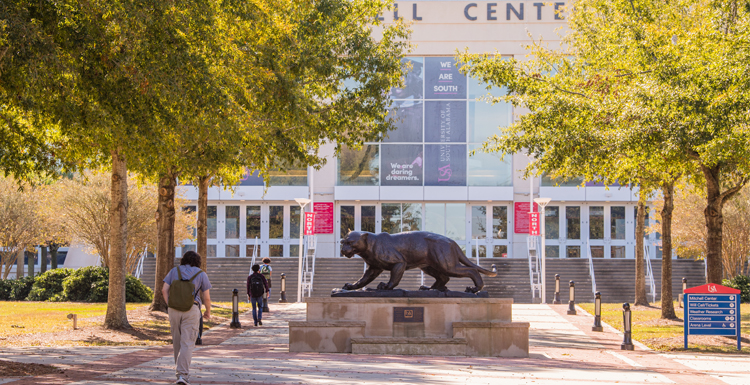 The University of South Alabama's 2022-23 fall-to-spring freshman retention is 90-percent after several years below that threshold. Fall-to-spring retention is often an indicator for overall freshman retention and keeping first-year students on track to complete their education in a timely manner.
---
More freshmen students entering the University of South Alabama are returning for the spring semester thanks to initiatives focused on helping students navigate their new environment and thrive academically.
"After a couple of years of lower fall-to-spring retention rates, we nearly hit a record-high with more than 90 percent retention this year," said Dr. Andi Kent, USA executive vice president and provost. "This is the result of our faculty and staff's priority toward student success."
First-year fall-to-spring retention rates are an early indicator of longer-term student retention and ultimately the percentage of students who will earn their degrees.
"The first semester of college is a huge adjustment for many students," said University of South Alabama President Jo Bonner. "With this in mind, we want to provide them with the resources to be successful in their academic pursuits at South and, most importantly, graduate on time."
Bonner noted that South welcomed its most academically accomplished freshman class ever by GPA last fall, and those students have been heavily invested in their education. The University's Center for Academic Excellence has seen a record number of visits.
Supporting students to develop personal and professional goals and prioritize their decisions is one of the goals of Academic Advising and Transfer Services.
One of its services is coaching students how to set what are called SMART goals, an acronym for goals that are specific, measurable, achievable, relevant and time bound.
"Breaking down goals this way helps anyone approach a project more intentionally," said Associate Vice President for Student Academic Success Dr. Nicole Carr.
More than a decade ago, the University created first-year learning communities. Statistics consistently show students who are a part of a learning community have an even greater chance of remaining in school.
In the fall, the University was one of four nationwide to be recognized by the Association of Public and Land-grant Universities for improving its four-year graduation rate.
"We are thrilled to offer our students even more opportunities to grow and develop at South," Carr said. "Our biggest challenge now is making sure that all students are aware of all the services available to them – free of charge."
---