South Students Receive Top Science Awards
---
Posted on March 13, 2017
Joy Washington
---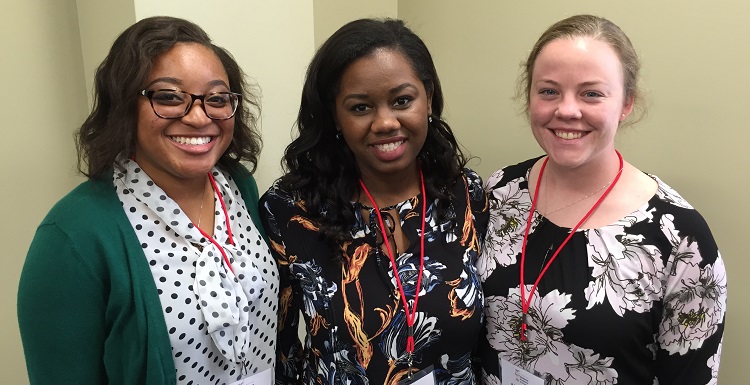 South Alabama students, from left, Anesha Lee, Ebony Johnson and Meghan Sergeant presented papers in the Health Sciences section of this year's Alabama Academy of Science competition. Sergeant won first place and Johnson won second place. The AAS held its 94th annual meeting on South's campus, attended by more than 250 scientific experts, science faculty and teachers, and college and high school students.
---
A number of University of South Alabama undergraduate and graduate students won awards for their outstanding paper and poster presentations at the 94th annual meeting of the Alabama Academy of Science, held at USA in February.
The annual meeting for scientists — as well as graduate, undergraduate and high school students who are aspiring scientists — is designed to promote scholarly interaction, the exchange of scientific information, and scientific research within Alabama. The Alabama Academy of Science was organized in Mobile in 1924 with 40 charter members representing academic and governmental interests in science.
The event's keynote speaker was Edward Osborne Wilson, university research professor emeritus at Harvard University, whose research has explored human origins, human nature, and human interactions. Wilson has also been a pioneer in spearheading efforts to preserve and protect the biodiversity of this planet. Also speaking at the conference was Catherine Zivanov, a 2016 USA graduate and current medical student at Vanderbilt University School of Medicine.
The USA students receiving awards were:
Biological Sciences
Emma Rhodes, paper, first place
Molly Miller, paper, second place
Hannah Brooks, poster, second place
Chemistry
Taylor Hamby, poster, second place,
Physics and Mathematics
Kevin Ingles, paper, first place
Engineering and Computer Science
Baha Yakupaglu, poster, first place
Luke Smith, poster, second place
Social Sciences
Sarah Taylor, poster, first place
Lauren Wheat, poster, second place
Anthropology
James Norris, poster, first place
Health Sciences
Meghan Sergeant, paper, first place
Ebony Johnson, paper, second place
Rachael Short, poster, first place
Ravi Rajendra, poster, second place
---