Loving the Weather, Hating the Cold
---
Posted on March 14, 2016
Alice Jackson
---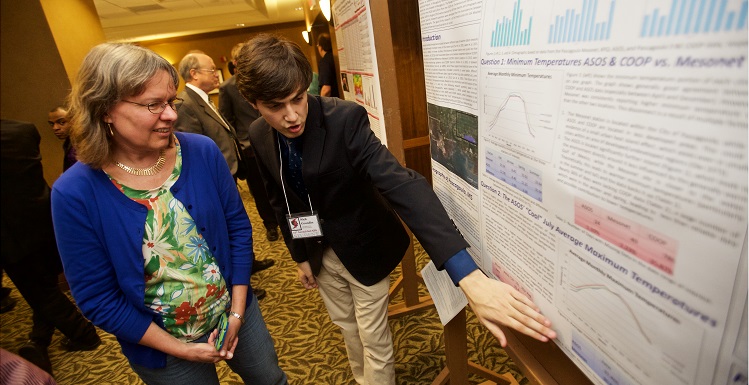 Dr. Sytske Kimball, left, chair of earth sciences, talks with senior meteorology student Nick Grondin about their research project during the 2016 SeCAPS meeting at South.
---
Senior Nick Grondin loves everything weather, especially University of South Alabama weather where he studies meteorology without freezing like he did in his home state of Connecticut.
"I love Connecticut, but I hate the cold," Grondin said during the recent Southeastern Coastal and Atmospheric Processes Symposium, or SeCAPS, held on campus. "When I began applying to colleges, I applied overwhelmingly to southeastern ones."
He settled on South Alabama because its operationally based meteorology department, combined with the University-wide focus on undergraduate student research, opens doors for solid futures by teaming students with a professional mentor. That's something the eager Grondin has wanted since his parents put a television in his bedroom years ago.
"I hated pop culture, so the only channel I really watched was the Weather Channel," Grondin said. "I got interested in how weather happened and how it was reported. I began to keep track of temperatures. Then, I began tracking temperatures when I went places like visiting my grandparents. I was always writing down the temperature every couple of hours."
Arriving at South, Grondin knew he wanted a meteorology career, but he admits he was "a little research phobic" because he hadn't studied meteorology since the sixth grade.
"But, as I began to take classes my freshman year I became more comfortable with the idea of it because I had good professors mentoring me," Grondin explained.
Meteorology students at many universities don't collaborate with faculty members on research projects until senior year or graduate school. However, the size of USA's meteorology program, along with its emphasis on forecasting, opens pathways for students beginning their sophomore year to work closely with professors.
"We average around 70 majors in meteorology, and because we don't have a graduate program, our faculty tend to use undergraduates more, which is a plus for our students," said Dr. Sytske Kimball, chair of earth sciences, which includes meteorology. "As soon as we can, we try to get them into research where they will learn a lot of new skills, including software applications specific to meteorology, data analysis and programming. That's one reason meteorology students come to us from around the country."
Early research opportunities helped make Grondin, who is in USA's Honors Program, a top meteorology student and the recipient of several prestigious scholarships, including the highly competitive NOAA Ernest Hollings Scholarship, awarded by the National Oceanic and Atmospheric Administration and named for the former South Carolina senator, who served from 1966 to 2005.
In the summer of 2015, the Hollings Scholarship paid for Grondin to work and live in Minnesota for nine weeks, developing program materials to help schools meet requirements for StormReady Supporter status, a National Weather Service program that aims to save lives of school children during weather disasters. Specifically, Grondin developed program materials for teachers to use while introducing students to the program. Additionally, he observed weather briefings, shadowed weather forecasters, gained basic experience in the Advanced Weather Interactive Processing System (AWIPS), participated in weather balloon launches wrote meteorology event summaries and occasionally issued forecasts and aviation discussions with forecaster guidance.
During the SeCAPS conference, Grondin presented an overview of his work to an audience that included Kimball, his latest research mentor. As conference attendees crowded around his display, he explained their research on temperature variations and extremes in the South Alabama Mesonet, a group of weather-monitoring stations that Kimball oversees along the Gulf Coast. The SeCAPS presentation was Grondin's eighth academic research presentation, an unusual accomplishment for any undergraduate student.
Grondin's resume includes staff meteorologist for the University's student newspaper, "The Vanguard," social media student and data quality control analyst/office manager for the South Alabama Mesonet, weather intern at WKRG-TV in Mobile, USA AtmosCenter student meteorologist, volunteer research assistant in the department of earth sciences and a communications center worker in the University's Office of New Student Recruitment.
He was also named recipient of the Dr. Bill Williams Endowed Scholarship in Meteorology, named for the founder and long-time director of the USA Coastal Weather Research Center, and he is a recipient of the Bhanwar Lal Bahethi Scholarship awarded by the American Meteorological Society.
Grondin, who will graduate in December, said USA has given him the opportunity to pursue "my top three passions – weather, martial arts and volleyball."
"I'm also the biggest Mardi Gras aficionado on campus, and I love the beach," Grondin added.
A meteorology degree can lead to a variety of jobs – including the U.S. Air Force or U.S. Navy, the National Weather Service, broadcast meteorologist, private meteorology companies and, of course, graduate school.
"The undergraduate research reinforces what our students learn in class, and it also helps them to focus on exactly what they want to do after commencement," Kimball said. She admits she's delighted with Grondin's decision for his next step.
"I'm applying to graduate schools," Grondin said. "I hope to get my master's in meteorology, then my doctorate. I made that decision because of my time here, and I'm looking forward to it."
---