South Opens Jag Fitness Trail
---
Posted on March 15, 2018
Joy Washington
---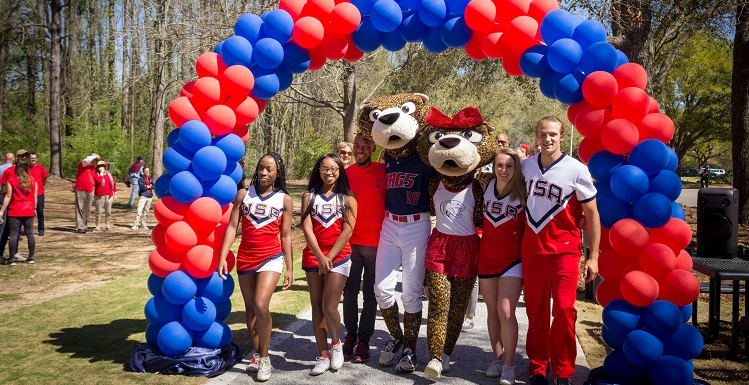 The University of South Alabama on Thursday dedicated the Jag Fitness Trail, a 1.5 mile path that includes three exercise stations.
---
More than 200 students, faculty, staff, alumni and community members laced up their sneakers and walking shoes and dedicated the new Jag Fitness Trail with an inaugural walk on Thursday, March 15, at the University of South Alabama. The 1.5 mile Jag Fitness Trail, located alongside USA North Drive, Aubrey Green Drive and Health Services Drive, has a crushed rock walking surface and three stations for stretching and strength training.
"The University of South Alabama is committed to providing opportunities for fitness and wellness for our community," Dr. Tony Waldrop, University president, said earlier. "The Jag Fitness Trail is part of the commitment. I invite you to join me and take advantage of this new trail."
Dr. Julee Waldrop, an athlete all her life and an advocate for physical activity, told those gathered that she and her husband walk each morning at 5 a.m. as they prepare for their busy days. It is a chance for the two to communicate "without the distraction of electronics."
"We are lucky that in Mobile there is rarely a day when you cannot go outside and get moving," she said. "Embrace your environment and get outside and play."
Beginning later this spring, President Waldrop will start a monthly walk along the Jag Fitness Trail, and students, faculty and staff will have the opportunity to join him.
"The Jag Fitness Trail was created to help promote a culture of fitness and well-being for our entire University community," said Brian Allred, director of Campus Recreation. "Adding the fitness trail to the campus will allow our USA students, staff and faculty a convenient and accessible avenue to develop a physical workout paced for each user's needs. The three fitness stations spaced around the trail will allow each person to incorporate strength, balance and flexibility training with the cardio workout of the trail itself."
Some of the Jag Fitness Trail features:
Scenic view
8-foot wide path
Core fitness
Balance and flexibility
Muscular fitness
Lighted for nighttime activity
Benches and drinking fountains along the trail
Existing parking available
The Jag Fitness Trail borders the wooded Glenn Sebastian Nature Trail and USA's disc golf course.
---