Meet State's Top Civil Engineering Student
---
Posted on March 16, 2018
Bob Lowry
---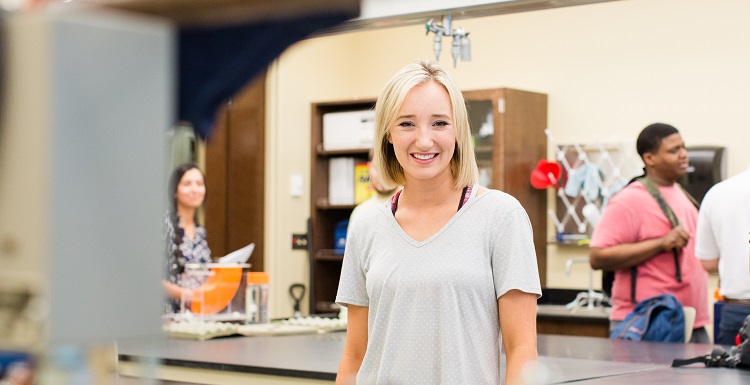 Peyton Posey, a University of South Alabama junior who has been named Alabama's civil engineering student of the year, will begin a Summer Undergraduate Research Fellowship at USA focused on hurricanes and coastal engineering.
---
Peyton Posey will tell you this is not the path she expected to take. And yet, looking back, she wouldn't have it any other way.
The University of South Alabama junior has been named the state's civil engineering student of the year, selected by the Alabama Section of the American Society of Civil Engineers. She was chosen among nominees from Alabama A&M University, Auburn University, the University of Alabama, the University of Alabama at Birmingham and the University of Alabama in Huntsville.
Posey, a 2015 Mobile Christian graduate, carries a 3.77 grade-point average – and a perfect 4.0 in civil engineering courses – while being an active member of South's ASCE student chapter. In the community, she participates monthly with the Bay Area Food Bank and this past fall worked with Habitat for Humanity.
All this, while also raising her 2-year-old daughter, Blakely.
"During my senior year of high school I found out I was expecting," Posey said. "I decided to attend South Alabama so I could be close to my family during such a beautiful, yet challenging, time in my life. I am SO thankful that I did. I love the civil engineering program at South and I am so glad I am a part of it."
It was also in high school where Posey first considered engineering as a career.
"The first time I ever thought, 'Wow, engineering seems really cool,' was in my high school physics class. It was taught by a man who was also my Bible teacher, Coach Ricky Butts, and I had an immense amount of respect for him. I loved all the content we were learning in the classroom, and he also had engineers come in and speak to us. One was a civil engineer named Scott Hardy. I have known Scott for most of my life but never really knew what his career entailed. Once he spoke to our class about it, I knew civil engineering was something I would enjoy, and once I began to get into engineering classes, I knew this is what I wanted to do with my career."
Dr. John Cleary, P.E., an assistant professor in the department of civil, coastal and environmental engineering, has taught Posey in several classes and is her academic advisor.
"Peyton is the type of student that we love to have in class. She is attentive, hard-working and intuitive," Cleary said. "Her academic accomplishments are impressive on their own, but given that she is a mother makes them that much more impressive."
This spring and summer will find Posey doubling down into research on hurricanes; specifically, recent coastal hurricanes. According to Dr. Kevin White, professor and chair of civil, coastal and environmental engineering, Posey, with guidance from faculty mentor Dr. Stephanie Smallegan, has applied for a Summer Undergraduate Research Fellowship at USA to work on a coastal engineering research project.
"She is incredibly driven," Smallegan noted. "She is only just beginning to develop her project, but I am excited to see her progress in this field."
White explains the project. "This project, and Peyton's component, will use a numerical model to simulate hurricane storm conditions and determine which of several effects of these conditions most impact barrier island topographic features (i.e., the causes of barrier island breaches)," he said.
Added Posey, "I will be analyzing coastal damages caused by the several hurricanes that came into the Gulf this past year. From studying the damages that already occurred, we will hopefully be able to see what parts of the coast were more vulnerable to the storms and why that was the case."
Going forward, Posey is non-committal on her exact engineering career path. She has lots of options. "Right now, I am loving the structural side of the spectrum as well as the hydraulics, or fluids, side. However, the concept of beach erosion is also something that really intrigues me," she said.
"One thing that I think I would really enjoy is working with offshore structures," she continued. "My father works in the oil industry, so it is something I have always been interested in. Combining my interest in coastal and structural engineering, I think offshore structures might be the best of both worlds."
Regardless of which career Posey eventually chooses to pursue, she makes it clear that it won't be her highest priority.
"Perhaps my greatest accomplishment is being a mother to an incredible 2-year-old girl. No matter what I accomplish in my collegiate or professional career, my greatest accomplishment will always be being my little girl's mother."
She also has a message for other young moms. Face your fears and keep going.
"When I found out I was pregnant I was so frightened, and honestly, I am still frightened that I will not be an adequate mother. However, when you really get down to it, you just have to do what you have to do. Once you become a mother, it is never again just about you. It is about you and the precious souls that call you 'Mama,'" she said.
Getting her degree from South isn't just about her. "A college degree is a key that opens so many doors that will benefit not only you, but your children. It is going to take putting in late nights, some extreme time management, and so much dedication to be a mother and get a college degree. You must make your determination overpower your uncertainties. However, it is so possible, and it is so worth it.
"So, my advice is set goals, be determined to achieve them, allow others to help you, and most of all, love your child and realize how incredibly lucky you are to be their parent."
Next month, Posey will be initiated into the prestigious Chi Epsilon and Tau Beta Pi engineering honor societies. With her Student of the Year honor, Posey will receive a $5,000 scholarship from the Alabama Chapter of the ASCE, to be applied to her senior year at South. She is scheduled to graduate in May of 2019.
---