USA Leaders Contribute $35,000 to Social Justice Scholarship
---
Posted on March 16, 2021
Julie Jackson
---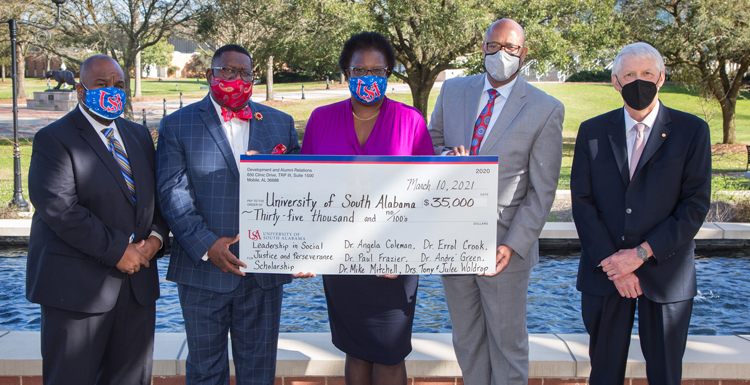 USA administrators present a check for the Leadership in Social Justice and Perserverance scholarship. Left to right: Dr. Andre Green, Dr. Paul Frazier, Dr. Angela Coleman, Dr. Mike Mitchell and USA President Dr. Tony Waldrop.
---
Five administrative leaders from the University of South Alabama, along with University President Dr. Tony Waldrop and his wife, Dr. Julee Waldrop, have made a collective gift totaling $35,000 to the Leadership in Social Justice and Perseverance endowed scholarship.
Contributors include Angela Coleman, Ph.D., associate vice president, institutional effectiveness, Errol D. Crook, M.D., director of Center for Healthy Communities and chair of internal medicine, Paul Frazier, Ed.D., chief diversity and inclusion officer, André M. Green, Ph.D., associate vice president, academic affairs, Michael A. Mitchell, Ph.D., vice president and dean of student affairs, USA President Tony Waldrop, Ph.D. and Julee Waldrop, Ph.D.
Green said the idea for a combined gift was born out of a desire to make a significant impact on the program. "Each of us feels strongly about the importance of this scholarship," said Green. "We wanted to set an example of investing in an initiative that will change the lives of many future South students."
The 100 Black Men of Greater Mobile established the Leadership in Social Justice and Perseverance scholarship in July, in partnership with the University, as a way to remember all of those who have fallen to systems of oppression and injustice. Scholarships will be awarded to rising seniors who are underrepresented in the student body at South Alabama and who demonstrate leadership, a commitment to social justice and perseverance characteristics.
Coleman, associate vice president of institutional effectiveness, views her contribution as an investment in the strength of the University. "Collectively, we can make a greater impact on our students," Coleman said. "Our investment in this scholarship today is one more step toward positive systemic change."
With dollar for dollar matching through the Mitchell Moulton Scholarship Initiative, the gift will make a total financial impact of $70,000. Dr. Paul Frazier underscored the importance of this match. "A one-to-one matching gift opportunity like this is unusual and offers a unique opportunity for donors who want to make a difference," said Frazier. "We hope our gift will encourage others to donate to this scholarship that will leave a legacy for years to come."
To make a gift to the Leadership in Social Justice Scholarship and Perseverance scholarship, visit southalabama.edu or contact the Office of Development and Alumni Relations at (251) 460-7032.
---