Signed, Sealed, Delivered: Match Day 2019
---
Posted on March 17, 2019
Marketing and Communications
---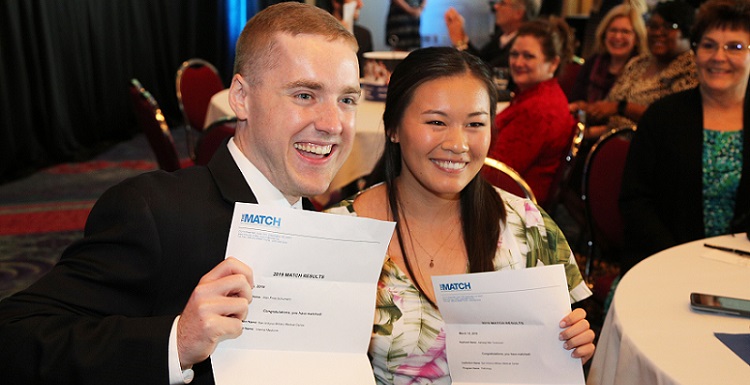 Seventy-seven senior medical students from the University of South Alabama College of Medicine gathered Friday in the Grand Ballroom at the Mobile Convention Center to open their letters from the National Resident Matching Program and find out where they will be continuing their medical education.
---
To 77 students at the University of South Alabama College of Medicine, a sealed envelope represents more than an ordinary piece of mail. Opened in unison with their classmates, the letter from the National Resident Matching Program (NRMP) symbolizes the culmination of more than 950 days of medical school, countless hours training in hospitals and clinics, weeks of traveling for interviews, and the completion of one lifelong goal – to become a practicing physician.
On March 15, 2019, senior medical students at the USA College of Medicine gathered in the Grand Ballroom at the Mobile Convention Center. The annual event – coined Match Day – serves as one of the biggest days in a medical student's career.
Before they opened their envelopes, Dr. John V. Marymont, vice president for medical affairs and dean of the USA College of Medicine, offered the anxious students some helpful advice. "Embrace what is in your envelope," he said. "Your family has provided you with a solid support system and the faculty at the USA College of Medicine have provided you with the necessary tools needed to excel in your next steps. New doors are going to open for you, and I am excited to see what the future holds for the Class of 2019."
After interviewing with residency programs across the nation, students rank their top-choice programs in order of preference. Training programs, in turn, rank the students who interviewed. The NRMP then uses a mathematical algorithm to designate each applicant into a residency program. Each year, thousands of medical school seniors compete for approximately 24,000 residency positions across the United States.
The USA College of Medicine seniors matched in 20 states, with 58 students matching out-of-state and 19 students matching in the state of Alabama. Twelve of those students matched at USA hospitals.
"Match Day is a huge day for medical students," Marymont said. "After students complete their undergraduate career, they go on to do four years of medical school where they earn their doctor of medicine," he said. "During their residency training, they will become immersed in the specialty of their choice and build upon the fundamental skills they learned during medical school."
A milestone for students, faculty and USA Health at this year's Match Day ceremony was announcing one of the students entering the newly established emergency medicine residency program at USA Health. The program received accreditation in January and will welcome the first class of residents in July.
According to Dr. Edward Panacek, professor and chair of emergency medicine at the USA College of Medicine, Alabama has an extreme shortage of board-certified emergency medicine physicians – a predicament he said will be addressed with USA's new training program. "The majority of resident physicians, particularly emergency medicine physicians, ultimately practice within 50 to 100 miles of where they finish their training," Panacek said.
At Match Day, Christopher Musselwhite announced his inclusion in the inaugural emergency medicine residency class at USA Health. A native of Ocean Springs, Miss., Musselwhite served five years in the United States Coast Guard. He credits his experiences in the military for helping him realize his passion for medicine.
"I knew I wanted to pursue medicine shortly after graduating from the Coast Guard Academy," Musselwhite said. "I really enjoyed my studies, and wanted to continue them in a way that would result in practical benefit for others."
Musselwhite said another source of motivation was their response to the 7.0 magnitude earthquake in Haiti in 2010. "What was the most striking was coming on-scene to Port-Au-Prince and seeing the devastation," he said. "One year prior, we had taken on supplies from Port-Au-Prince to deliver to northern Haiti for Hurricane Gustav response, and the city didn't look the same at all."
Musselwhite, along with his wife and three children, is looking forward to this next journey. He said he is honored to serve in the first class of emergency medicine residents. "I feel privileged to be in the first class because we get to shape the destiny of how the program will be in the future," he said. "It's exciting and I can't wait to get to work."
"Our motto in the Coast Guard is 'Semper Paratus,' which means 'Always Ready,'" he said. "This motto still holds true, because in the emergency department, you have to be always ready for whatever rolls in the door."
For more on Match Day, including photos and where students matched, visit the USA College of Medicine's Med School Watercooler.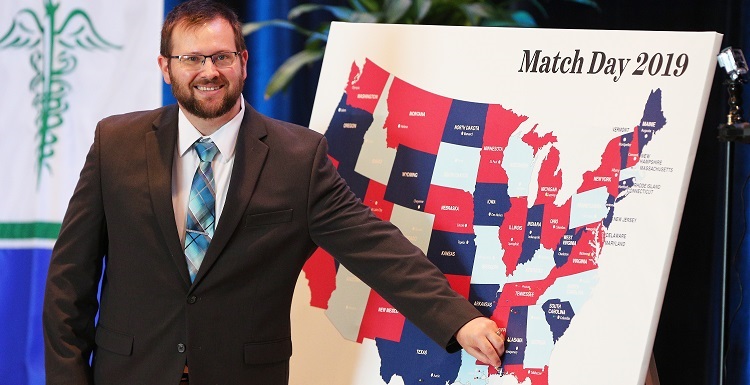 Christopher Musselwhite matched in emergency medicine at USA Health.
---