Turning Air Into Drinking Water
---
Posted on March 18, 2021
Lance Crawford
---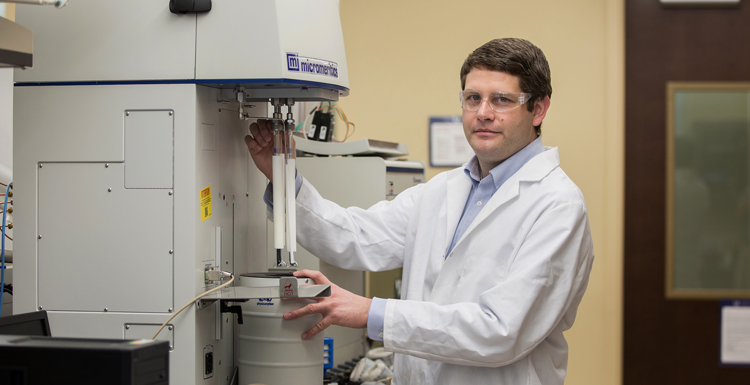 University of South Alabama associate professor Dr. T. Grant Glover is part of a collaborative effort with researchers from the University of California, Berkeley, the University of Chicago and General Electric to design and develop a portable device that produces drinking water out of thin air.
---
The University of South Alabama is part of a groundbreaking project that seeks to produce potable water from the atmosphere, potentially opening new water sources to everyone from overseas troops to residents of the world's driest lands.
General Electric Research, the research and development wing of the U.S. conglomerate, has received a $14.3 million grant from the Defense Advanced Research Projects Agency for the project.
"The goal of this collaborative project is to produce a device capable of producing enough daily water for 150 people while still small enough and light enough that the device could be lifted by four people," said Dr. T. Grant Glover, associate professor of chemical and biomolecular engineering at South.
Researchers from UC Berkeley and the University of Chicago are also a part of this effort.
The idea of making water from air isn't completely new; devices already exist using dehumidification technology, except they're bulky, require lots of electricity and are useless in arid climates.
The key to the success of this new technology is something called metal-organic frameworks, or MOFs invented several years ago by Dr. Omar Yaghi, who is heading up the UC Berkeley team and who first conceived of using MOFs to collect water from air.
These MOFs adsorb molecules, attracting them to coat their surface rather than absorb molecules, meaning they enter inside something.
"The adsorbent technology does not require that all of the air be cooled to condense water, rather, the water is filtered from the air, which provides a significant energy savings over a dehumidifier, Glover explained. "Only with the development of MOF adsorbents has collection of water from air become more feasible."
Glover's team at South will be responsible for measuring how quickly the water adsorbs in the MOFs.
"My group has specialized instrumentation that allows us to understand not just how much water can be stored on the MOF, but how long it will take to fill and empty it," he said.
Experts from the University of Chicago led by Dr. Laura Gagliardi will complete molecular simulations and will work with GE to utilize artificial intelligence guided molecular screening tools.
Meanwhile, GE will lead the overall system integration of the materials, modeling and AI tools, and will design the 3D printed heat exchanger and ensure sorbent integration into the device.
This technology also could eventually help alleviate water shortages globally. According to the World Wildlife Fund, 1.1 billion people do not have access to water with approximately 2.7 billion experiencing instances of water scarcity.
"Everyone involved with the project recognizes that this device would have broad impacts on these populations," Glover said.
---