South Vaulter Soars to New Heights
---
Posted on March 21, 2016 by Marketing and Communications
Marketing and Communications
---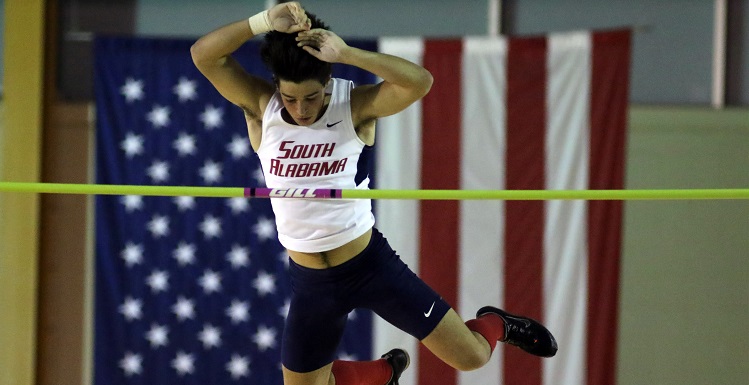 Sean Collins finished second at the NCAA Indoor Championships, tying a personal best at 17-10½, becoming South's first first-team indoor All-American since 2000. Photo courtesy of the Sun Belt Conference.
---
It was family that got Sean Collins to try pole vaulting. He'd watched his older sister compete in the event in high school and "thought that would be cool and fun."
It was family that brought Collins to the University of South Alabama. His brother, Charles, was already a member of the Jaguars' track and field team and Collins' desire to stay close to home sealed the deal.
And now that one of the top pole vaulters in the nation is a Jaguar himself, it's family that has made him feel at home.
"I couldn't picture myself anywhere else," said Collins, who was also recruited by Louisville, Alabama, Auburn and other programs after a record-setting high school career. "This team feels like a team. A lot of places have these split programs where there are specifically coaches for the women's team and specifically coaches for the men's team, but here it's one team and it feels a lot like a family."
Collins has established his place quickly within his new family, winning the pole vault competition by nearly a foot at his first Sun Belt Conference indoor meet with a jump of 17 feet, 3 inches. Then he finished second at the NCAA Indoor Championships, tying a personal best at 17-10½, becoming South's first first-team indoor All-American since 2000. And he's just getting started.
Now entering his first outdoor season as a collegiate student-athlete, the McGill-Toolen Catholic graduate has big goals for the rest of the spring and through the rest of his time at South.
"This year, I would like to clear 18-6," he said. "That'd put me in pretty good ranking for the end of the year for NCAAs outdoor. For NCAAs, I want to be able to finish top eight and be All-American. As college goes on, I want to win NCAAs, to see if I've got what it takes to be a champion at the college level."
After nearly defaulting on his first jump at his first state meet as a junior at McGill-Toolen, Collins set 6A state indoor and outdoor records that year. He then set meet records at every indoor and outdoor meet in which he competed as a senior, setting an all-classification indoor state record at 16-5 and then becoming the first Alabama high school pole vaulter to clear 17 feet during the outdoor season. He also threw the javelin, placing 10th in the state in Class 7A in that event.
After clearing 17 feet again at his final state meet, Collins went to the United States Track and Field Junior Outdoor Championships in Eugene, Ore., last summer and outdid himself again, jumping 17-10½, a height that tied for best in the nation that year.
The thrill of knowing everything has to be perfectly executed and then pulling it off is what Collins said kept him intrigued in the sport. When executed perfectly, pole vaulting looks effortless. When it isn't, the risk of injury is higher than any other track and field event. Collins said that element of danger only adds to the thrill of competing.
"That's also what excites me," he said. "There's always that rush of, 'Well, I've got to do this or it could potentially turn out bad.'"
When Collins isn't vaulting to new heights on the track, he's studying biology with a concentration in marine sciences. An Ocean Springs, Miss., native who grew up in Mobile, he's been around the water his entire life and wants to become a marine biologist.
"I like being in the water. I like the sea life," Collins said, noting that he lived a block from the beach in Ocean Springs the first couple of years of his life.
South Alabama has been the perfect place to begin working toward his career goals, Collins said. "The people are great," he said. "The faculty's great. They definitely work with me, making it easy to be a student-athlete. And there's always something to do on campus. Since everything's so close, you can always meet new people. Student life is always buzzing on campus."
When he's not on the track or in the books, Collins coaches youth swimming at a local swim club, keeping a hand in another sport he enjoyed growing up.
"The kids are great, and I like the sport," he said. "Track and swimming are very similar in most aspects. Once I'm done coaching over the summer and doing those workouts, I miss track and I want to come back with new fire."
Collins' goals are all before him – to top 18-6, to become an NCAA champion, to help South Alabama win a Sun Belt title, to go to the U.S. Junior Olympic trials this summer and qualify to compete in the Junior World Championships in Russia. And, if he continues to improve, perhaps to one day compete in the biggest track and field competition of them all – the Olympics.
"That is a dream," he said. "Right now it's a little out of reach, but if I keep improving I think it won't be too out of reach by the end of my college career."
---