IFC President, Adviser Place in Competition
---
Posted on March 21, 2017
Tiyana King
---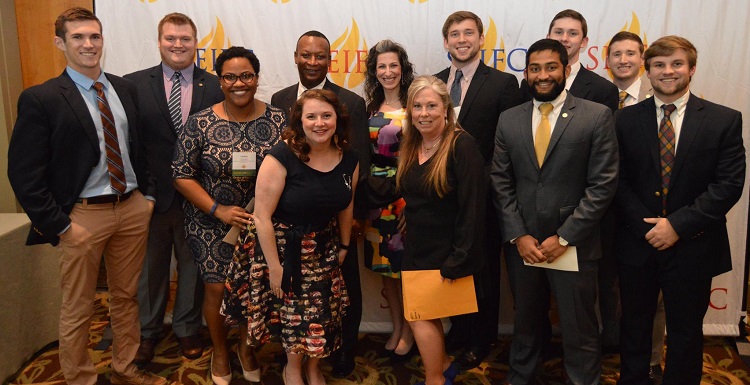 Dr. Krista Harrell, IFC adviser, second row, fourth from left, and Brendon Garrity, IFC president, second row, fifth from left, received second place among a record number of teams in the Student-Adviser category at the recent Southeastern Interfraternity Conference.
---
USA's Interfraternity Council President Brendon Garrity and adviser Dr. Krista Harrell competed in the Southeastern Interfraternity Council Leadership Academy Case Study competition, bringing home second place out of a record number of teams in the Student-Adviser category.
"This was Brendon's first time competing in a competition like IFC, so it was important to see how we could address issues together and manage them," Harrell said.
SEIFC is a voluntary association of fraternity governing councils in the United States. It is one of the regional associations throughout North America designed to bring together institutions and individuals with a commitment to fraternity life on college and university campuses.
The Southeastern Interfraternity Conference is held annually for nearly 600 fraternity leaders throughout the southeastern U.S. The event is a three-day educational conference.
---