Engineering to Oncology: MCI Physician to be Honored by American Cancer Society
---
Posted on March 21, 2017
Carol McPhail
---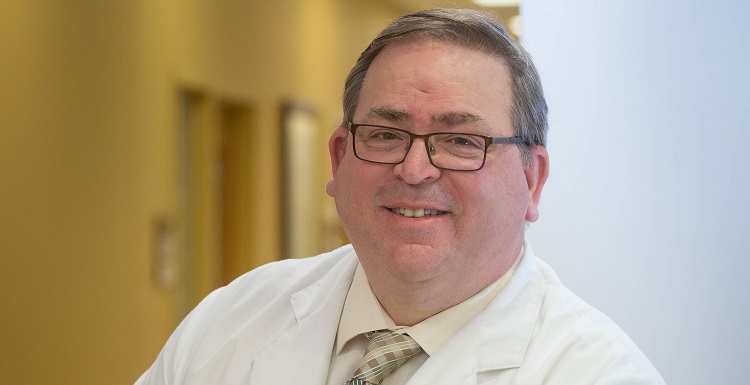 Dr. Daniel Cameron will be among the honorees recognized at the American Cancer Society's Black-Out Ball on March 31 in Fairhope.
---
Dr. Daniel Cameron was a 33-year-old husband and father of three when he made a life-changing decision. He would leave a successful career as an aerospace engineer for GE Aircraft Engines in Cincinnati, Ohio, to spend the next 10 years studying to become an oncologist.
Among the motivating factors were the deaths of many relatives, including his parents, to cancer — his mother to breast cancer when she was 49 and his father to lung cancer at 68. "I was motivated to understand this devastating disease and fascinated by the biology of cancer," said Cameron, a senior staff physician at USA Mitchell Cancer Institute.
Cameron will be among the honorees recognized at the American Cancer Society's Black-Out Ball on March 31 in Fairhope. The event will be held at 6 p.m. at the Fairhope Civic Center.
Those who know Cameron describe him as one of the hardest working physicians they know. He spends most days seeing patients at MCI's offices in Mobile and Fairhope. Fairhope Nurse Supervisor Renee Sanford said that Cameron is continuously searching for new successful treatment options and improved patient outcomes.
"He goes above and beyond a physician's duties," Sanford said. "For example, he had a patient who was very ill and had become wheelchair bound. He went to the patient's home on his day off and assisted her family with building a ramp for the wheelchair. I can think of no other M.D. who would have offered his services for such a project."
The Pittsburgh, Pa., native found his way to MCI through his brother-in- law, who worked as a pharmacist in Fairhope. The brother-in- law knew Dr. David Clarkson, who was looking for a partner for his oncology practice. At the time, Cameron was completing a fellowship in clinical oncology at Ohio State University. Cameron took the job, and the family left Ohio for Alabama, where they also would be closer to his wife's family.
Today, Clarkson and Cameron are among the 14 oncologists serving MCI.
Cameron says he sees some parallels between engineering and medicine — "mainly the process of solving problems." He also can be counted among several MCI employees who hold patents, though his were for engineering inventions rather than for discoveries in cancer research or treatment.
He received his undergraduate degree in mechanical engineering from Pennsylvania State University, and holds a master's degree in aerospace engineering and a medical degree from the University of Cincinnati. In addition to their three children, he and his wife have five grandchildren. The couple resides in Silverhill.
---