South Wins Contractors Association Award
---
Posted on March 23, 2023
Thomas Becnel
---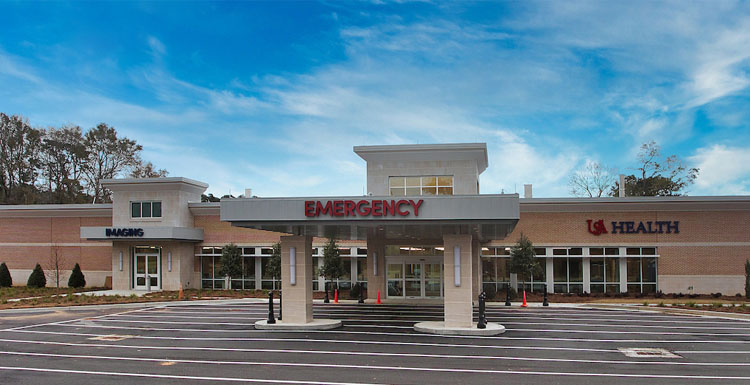 The USA Health freestanding emergency department on Hillcrest Road is one of several major building projects completed in the last few years. The Alabama Chapter of the Associated General Contractors, one of the state's leading construction associations, has chosen the University of South Alabama as its Public Owner of the Year for 2023. The criteria for Public Owner of the Year includes excellence in project management, innovation in construction techniques or materials, and meeting the challenge of difficult jobs. Also considered are contributions to the community and sensitivity to the environment and surroundings. This year marks the first time the Public Owner of the Year has been won by the University of South Alabama
---
The Alabama Chapter of the Associated General Contractors, one of the state's leading construction associations, has chosen the University of South Alabama as its Public Owner of the Year for 2023.
The University will be honored in April at a BuildSouth Awards banquet in Irondale, Alabama.
Buckley Kelley, the University's assistant vice president of facilities and construction, said the AGC recognizes excellence and achievement in categories across the construction industry. The Public Owner category highlights public owners that have contributed a high degree of value to the projects those entities have completed in partnership with contractors.
Public owners are nominated for this achievement award by general contractors and subcontractors that are engaged to perform work through competitively bid contracts.
"For our University, the Facilities Department acts as the construction manager on all projects," Kelley said. "We do not hire an outside firm to oversee our capital projects. Our university utilizes the skills and experience of our University Facilities staff to provide overall project management oversight, in coordination with our general contractors, subcontractors and vendors, to guarantee successful project delivery."
Representing the University at the BuildSouth ceremony will be Trent Davis, assistant director of Engineering, Design and Construction, and David Strain, senior construction project manager.
"It's a huge thing for us," said Davis, who came to South five years ago. "We're getting recognized as a good owner to work for by these contractors. That says a lot about the guys on our team being good ambassadors for the University."
The Facilities Management's Engineering, Design and Construction office at South includes an architect, space planners, skilled tradesmen, interior designers, construction project managers, GIS specialist and supervisors. Their work includes pre-planning and programming analysis, project design, and construction management and administration.
The criteria for Public Owner of the Year includes excellence in project management, innovation in construction techniques or materials, and meeting the challenge of difficult jobs. Also considered are contributions to the community and sensitivity to the environment and surroundings.
This year marks the first time the Public Owner of the Year has been won by the University of South Alabama.
Major building projects at South in the last few years include Hancock Whitney Stadium, the Health Simulation Building and Camellia Hall, along with the MacQueen Alumni Center, Mitchell Cancer Institute-Fairhope and the Intramural Sports Complex. On Hillcrest Road, the USA Health Freestanding Emergency Department and a Physician Office Building were constructed.
Renovations include the Multicultural Leadership Center, the Mitchell Cancer Institute, the Student Health Center and the Center for Educational Accessibility and Disability Resources.
---