'Just Sit Back and Enjoy the Music': Celebrating the Melodic Tones of the Steel Drum
---
Posted on March 24, 2016
Alice Jackson
---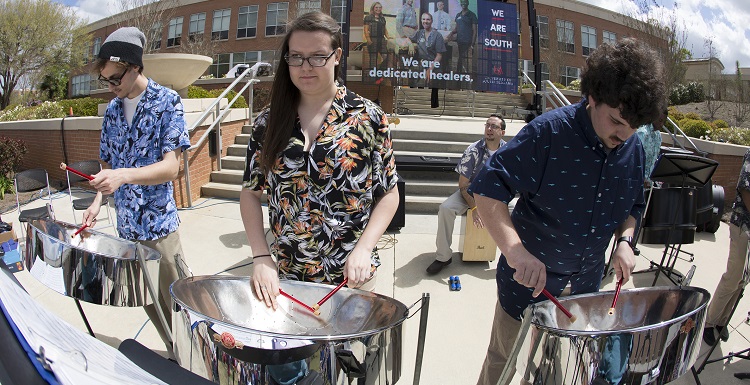 Members of the USA Steel Drum Band play for the University community on Wednesday at USA's Brand Launch outside the Student Center.
---
What does Mobile, home of the University of South Alabama, have in common with the Republic of Trinidad and Tobago?
The twin-island nation off the coast of South America does celebrate their pre-Lenten Carnival during the same time we locals observe Mardi Gras.
But for this story, it's important to know that the rich tradition of steel drum music, which originated in Trinidad and Tobago, also is celebrated at South.
And, as campus azaleas bloom and spring's mild temperatures climb, the melodic tones of the USA Steel Drum Band promises that once semester finals are a memory, lazy summer days filled with beach waves are only a short drive away.
***
On Monday afternoons in the Laidlaw Performing Arts Center, music students set up steel drum instruments for their weekly practice session. The stainless steel bowls, or pans, of varying sizes, set atop thin-legged stands, are practically an international symbol for a tropical beachside or pool party.
Anticipation is building as the band's director leads them in segments of popular songs, such as "Yellowbird." In two days, on March 23, the band would play during USA's Brand Launch event held on the lawn between the Student Center and Meisler Hall. Then, on April 27, the group will present its Spring Concert in the Laidlaw Performing Arts Center.
USA's Steel Drum Band began in 2011. Now, the 17 music students who alternate in the band are a popular addition to the University's annual Holiday Concert. The group's popularity is becoming known across the area, thanks to some paid gigs at private parties, and they have even played at a tropical-themed casino on the Mississippi Gulf Coast.
Only a handful of universities teach steel drum music, according to Dr. Luis Rivera-Carrero, assistant professor of music and director of the USA Steel Drum Band.
"Most music curricula are focused on classical Western music, so the steel drum bands add something different, both for the students and their professors," he said.
But, how does such a simple-looking instrument produce all those bewitching and melodic tones that urge listeners to throw off their shoes and dig toes into the sand?
"Each pan is a slightly different size, even though they appear to be the same, and inside each individual pan, there are different pitches, or notes," Rivera-Carrero explained.
The key to one steel pan producing different musical notes is that during manufacturing, the pan's metal is hammered to varying depths around its circumference. The player uses rubber-tipped sticks, resembling a drumstick, to strike notes around the inside of the pan.
"The smaller pans are more difficult to learn, but most people who play other instruments can easily learn to play steel pans because the musical note 'C' is at the center of the pan also," Rivera-Carrero said. "Most musicians can learn to play steel drums during a weekend of practice."
Behind the familiar-looking stainless steel pans are the bass pans. If they resemble oil drums, that's because they are, in fact, re-purposed oil drums painted black. To produce their sound, a bigger rubber-tipped stick is used.
"The arrangement of pitches on each steel drum is unlike any instrument I've played before," said Ryan Boehme, a senior majoring in music education. "I learned to play the double tenors first, which separates the pitches across two different pans, so there's a lot of finesse that has to be learned and practiced in order to maneuver smoothly from one pan to the next."
A steel drum band can consist of simply the stainless steel pans, or the pans and the drums, but for the ultimate sound, any number of percussion instruments may be added, such as a familiar drum kit. Sometimes, even guitar music rounds out the island sound.
Like many people, Boehme understands why steel drum music is so popular.
"At all the steel band gigs we've played, listeners already know what they're seeing and hearing, and they can just sit back and enjoy the music," he explained. "The steel drums sound good whether we're playing a traditional tune or a popular song, and I think the audience reacts to that, which is what makes them so popular."
---