High School Students Take 'Journey' in Contest
---
Posted on March 31, 2016
Marketing and Communications
---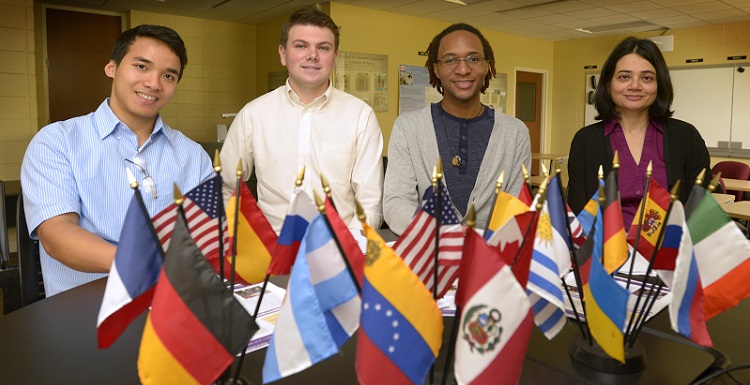 The essay contest was judged by members of USA's Phi Sigma Iota chapter and faculty members. Judges included, from left, Khanh Minh Trinh, majoring in Spanish and biology; Austin Gilchrist, majoring in Spanish and international studies; Eric Smith, majoring in French and psychology; and Dr. Zoya Khan, faculty advisor and associate professor of Spanish.
---
If you build it, they will come.
A University of South Alabama professor and her students worked arduously to promote their honor society's foreign language essay contest for high school students. They courted high school language teachers, gave presentations to students about their own foreign travel, and tweaked contest details to ensure maximum participation.
They set a goal of 50 entries for the three-year-old contest, which had received 14 submissions the prior year.
The result? More than five dozen essays submitted from students at seven area high schools, written in French, German, Latin and Spanish. The students whose essays were judged to be best were recognized Wednesday evening at the Phi Sigma Iota New Member Induction Ceremony on USA's campus.
Dr. Zoya Khan, USA's advisor to the honor society, called the outcome "a bonanza."
The effort was a major success for the fledging chapter of Phi Sigma Iota, a foreign language honor society whose South chapter launched in 2012.
"Our push for our membership is outreach, outreach, outreach," said Austin Gilchrist, chapter president.
When the USA honor society began to consider how to promote its annual essay contest, the chapter first hosted a reception for high school instructors of foreign languages to seek their ideas about ways to boost participation. Justine Burbank, PSI chapter president in fall 2015, helped to arrange the reception.
In prior years, the USA contest organizers had always corresponded with the instructors via email, but the organizers "felt it was important to have a face-to-face conversation," Khan said. "It would not be possible if the high school teachers were not taking an active interest in this contest."
One result of the meeting was a new contest entry deadline that better aligned with high school students' schedules.
Hosting a reception also yielded a second, unanticipated outcome. During the event, the Spanish-language teacher from Alma Bryant High School in Irvington approached Khan about trying to launch a dual-enrollment Spanish program with USA. The schools worked together to establish the program, which allows high school students who meet certain criteria to take Spanish classes at Alma Bryant for college credit.
The students in the dual enrollment program all submitted essays in the contest. Their participation also encouraged the French instructor at Alma Bryant to have her students participate as well. This year's theme for the essays was "Journey."
The contest is rooted in the idea of promoting language and culture, and the University itself.
It "reinforces USA's image as a competitive place with high standards," Khan said.
The University promotes the values of writing, scholarship and cultural interaction, Khan said, and the contest drives home those points.
Gilchrist said the contest "definitely is a way to spark interest in foreign language." He said a foreign language major is easy to pair with just about any degree, and the essay contest is "a great starting point for these students to say, 'I can continue doing this.'"
The 2016 contest winners are:
Spanish
1st - Sung Hoon Park, Alabama School of Math and Science
2nd - Maria Arteaga, Bryant High School
3rd - Connor Alford, Faith Academy
French
1st - Madison Khammanivong, Alma-Bryant High School
2nd - Justin Ortman, Davidson High School
3rd - Maraiza E. Arroyo-González, Baker High School
German
1st - Hannah R. Morris, Baker High School
2nd - Nolan Lenard, Davidson High School
3rd - Emma Loftin, Davidson High School
Latin
1st - Will Buschman, McGill-Toolen High School
2nd - David Finorn, McGill-Toolen High School
3rd - Kristina Clarke, Alabama School of Math and Science
---