South Grad Looks to Inspire Others as First Black, Female Mobile Fire-Rescue Paramedic
---
Posted on March 31, 2022
Thomas Becnel
---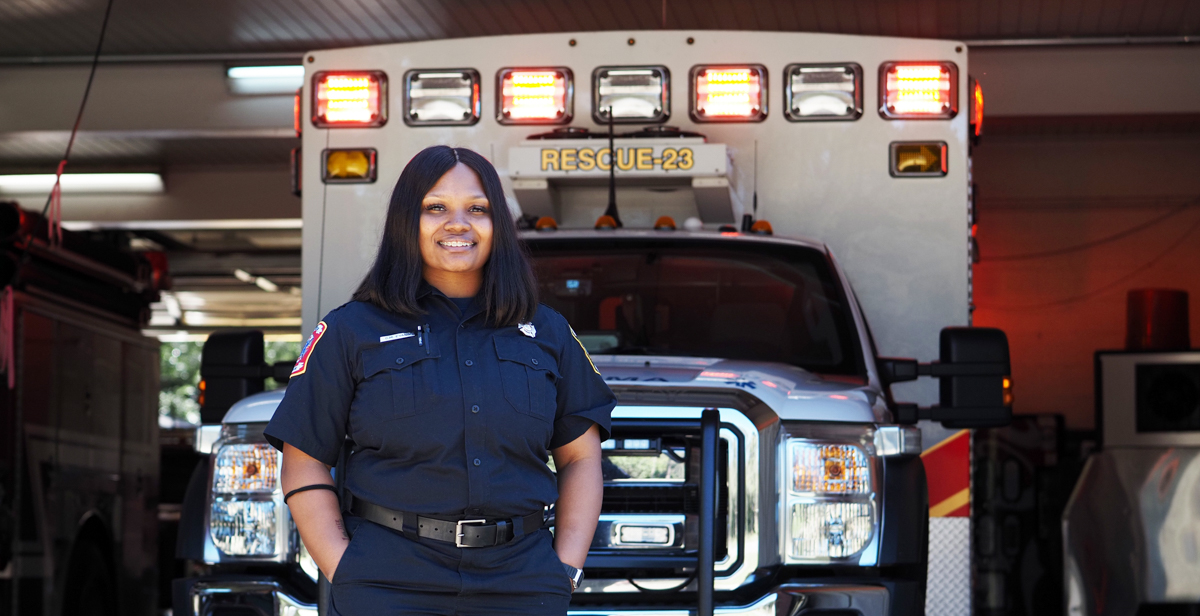 Damonique Evans, an emergency medical services graduate of the University of South Alabama, works at Mobile Fire-Rescue Station 23 as a firefighter paramedic. "I hope more people come in and change the narrative of what a firefighter looks like. It's an honor," she said.
---
Damonique Evans still feels like a newcomer in her first year at the City of Mobile Fire-Rescue Department, but she manages to sound like a veteran when she describes restarting the heartbeat of a female patient after a car accident.
For the procedure known as ROSC – "Return of Spontaneous Circulation," she explained – Evans' job was to intubate the patient, placing a tube down her throat to restore breathing.
"It can be tricky, it depends on the person and their anatomy, but it was fairly easy with her," she said with a shrug. "It's just practice, practice and training."
Evans, 25, got her education and training in the emergency medical services program at the University of South Alabama, where she graduated in 2021. In December, she became the first Black female to become a paramedic firefighter for the City of Mobile.
"Some people are surprised to see me," she said. "It's fun and it's new and I hope more people come in and change the narrative of what a firefighter looks like. It's an honor. I like the idea that I can be an inspiration to girls who think they can do the same thing."
Already this year, there is a second Black woman paramedic in the Fire-Rescue Department.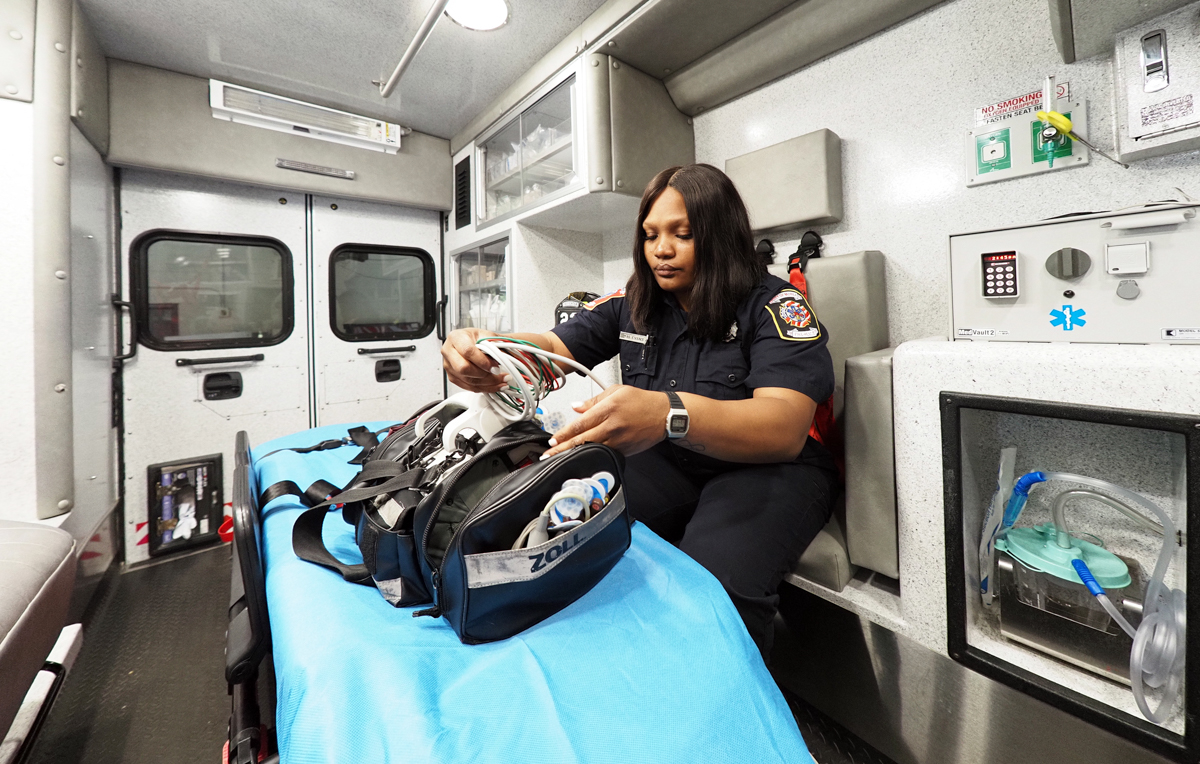 Damonique Evans is one of more than 200 members of the Mobile Fire-Rescue Department who have been trained in the EMS program at the University of South Alabama.
Evans is an Alabama-certified firefighter, but spends much of her time offering advanced life support as a paramedic. She reads and interprets electrocardiograms. She intubates patients, start IVs and gives medication. She responds to all sorts of emergencies.
"I learn something new every day," she said. "I didn't know what it was like until I did it. I had never worked a cardiac arrest or a real emergency. You get a little of everything: car accidents, falls and broken bones, or stabbings and gunshot wounds. You get older people, babies and kids."
Evans and her partners take turns driving Fire-Rescue ambulances. She says it's not that big a deal.
"It's like driving a bigger car," she said, "but with lights and a siren."
The patch on her Fire-Rescue uniform says "Courage, Competence, Compassion." Evans looks youthful for a paramedic, especially to older people, so she thinks it's important for her to remain professional and reassure patients and their families.
"Most of the people are panicked – that's why they called 911," she said. "If you're calm, it helps them calm down."
More than 200 members of the Mobile Fire-Rescue Department have been trained in the EMS program at the University of South Alabama.
Fire Chief Jeremy Lami, a 2007 graduate of South, said that the Fire-Rescue Department has hired more women in the last four years than in the previous three decades. Evans is part of a trend. Mobile paramedics are more diverse and better reflect the community they serve.
"Damonique and others like her are inspirations not only to young women, but to other firefighters, EMTs and paramedics," Lami said. "She is following a career path set out before her, and as a Mobile firefighter, she is blazing her own trail. Whether her original intent was to be a first-ever or not, she certainly has made history, and the Mobile Fire-Rescue Department is excited about her future."
Home Station in Mobile
Evans works at Fire-Rescue Station 23 on Airport Boulevard east of Interstate 65, less than a mile from where she grew up in Mobile.
Her mother, Kim Reed, is a sixth-grade science teacher at Booker T. Washington Middle School. She emphasized education to her daughter. "She always kept me reading, kept me busy," she said.
When Evans was 10 years old, spending the day with grandmother, her little brother started choking. It was an emergency, but everything turned out fine. Her grandma told her what to do.
"That was the only time I ever called 911," she said. "That was the first time I'd ever seen firefighters."
Evans attended Davidson High School, where she played on the volleyball team, and went on to South. She started out studying radiology and wound up in emergency medical services.
While she was a student, Evans worked at a call center for a cell phone company. There were lots of unhappy customers. Lots of complaints about bills and service.
"It was a stressful job," she said, "but I was able to make the money I needed for college."
Before completing her training as a paramedic, Evans worked as an emergency medical technician for a private ambulance service in Mobile. The work was often routine, transporting nursing home patients, but it was experience in her field.
Boot camp for the City of Mobile Fire-Rescue was a different kind of experience.
"I wasn't in the physical shape I needed to be, but there was no holding back," she said. "It was mentally challenging, too. We took tests almost every day. Every day you'd be tired, but you'd go home and study for the next day. A lot of determination and discipline."
The work schedule of a paramedic was an adjustment. Evans does a 24-hour shift, has two days off, then works another 24-hour shift. She isn't a coffee drinker, but does gulp energy drinks.
Firefighters must be ready to leap into action when they hear an alarm at the station. The response time for calls in their neighborhood is often 3 to 6 minutes.
In her spare time, Evans enjoys traveling. She used to wonder about leaving Mobile for Houston or Baton Rouge, but now thinks she'll stay closer to home.
"I just want to serve the city," she said, "and enjoy my family and friends."
Her mother remains biggest supporter and loudest promoter.
"She's extremely proud of me," Evans said. "She tells everybody, she tells everybody she knows: 'My child's a firefighter. She saves lives.'"
---