Prestigious Grant Takes Anthropology Student to Africa
---
Posted on April 3, 2018
Alice Jackson
---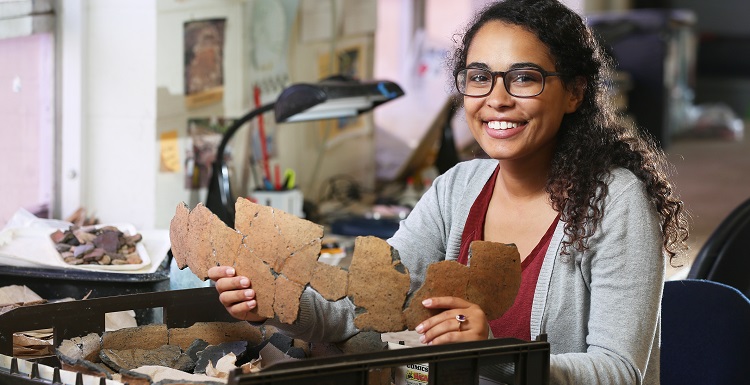 Brittney Highland completed a National Science Foundation Research Experiences for Undergraduates fellowship in Africa. "I got to see a part of the world I never thought I would get to see, and I made friends from another country."
---
Political unrest in Ethiopia delayed Brittney Highland's completion of a prestigious National Science Foundation Research Experiences for Undergraduates fellowship until after she graduated from the University of South Alabama. Still, the 21-year-old persevered and recently completed her research abroad.
Each year, hundreds of outstanding undergraduates apply for the all-expenses-paid REU program with only five to 10 students nationwide receiving one. And, while most of those recipients complete their research travel before graduating, travel to the world's major anthropological sites can be dicey.
"I was supposed to go abroad for four weeks last fall to do field research, but there were really bad riots in Ethiopia, exactly where I needed to go," said Highland, who received a bachelor of arts degree with a major in anthropology in December 2017.
"Brittney is the first of my students to receive one of these extremely prestigious grants since I began teaching at USA in 2012," said Dr. Lesley Gregoricka, assistant professor of anthropology, who supervised Highland in a directed study using chemical signatures in bones to compare childhood and adult dietary intakes among a group of people who lived during the Ottoman Period. "Most of the NSF-REU international research areas are in more stable places, but these delays can happen when you're conducting research in areas like Brittney was. You have to be prepared for delays."
Last summer, Highland completed a portion of the NSF-REU work at the University of Illinois, focusing on the carbon dating of ostrich egg shells.
"These egg shells were from an African site where people lived about 80,000 years ago when they used the shells to make decorative beads," Highland said.
Immediately after receiving her degree in December, Highland finally headed to Ethiopia.
"After we landed in the capital city, we drove two days out to the dig site," Highland recalled. The team included nine American students, each partnered with an Ethiopian student. "We started working each day at 7 a.m. and finished up around 6 p.m."
Finally, the group returned to the city with numerous artifacts they spent the next three days cataloguing for a museum.
"It was a great experience, and I learned so much. I got to see a part of the world I never thought I would get to see, and I made friends from another country," Highland added.
The Montgomery, Ala., native, who graduated from Booker T. Washington Magnet High School, plans to pursue a master's degree and, most likely, a doctorate in archaeology. In the meantime, Highland is working with Dr. Phil Carr, the Chief Calvin McGhee Endowed Professor of Native American Studies and professor of anthropology, who also directed her senior thesis.
Carr praised Highland for her thesis research, which focused on how the knowledge of making stone tools at least 2.5 million years ago could have been transferred from one generation to the next. For example, did people of that time teach their children, or did the children observe and mimic the process? Highland used four groups of USA students to experiment with replicating stone tools, each one using a different method of transferring knowledge.
"She actually found the best-produced stone tool was made in the group where participants couldn't talk. Instead, they shared information by gestures and hand signs as a non-language but interactive group," Carr said. "Her research took a lot of effort, and she collected a wide range of data. We hope it will lead to publication, and that the work will inspire other students to write a senior thesis."
Carr added, "I don't know of any anthropology student since I came here in 1999 that's had the type experience that Brittney has had with the fellowship. It's not something that our students have applied for much, but we're hoping her accomplishment will lead the way for more of our students. She's unique in our program to have done that."
---
Brittney Highland came to USA from Booker T. Washington Magnet High School in Montgomery. Hear why she chose South:
---