Transportation Giant Honors South Meteorologist
---
Posted on April 4, 2017
Alice Jackson
---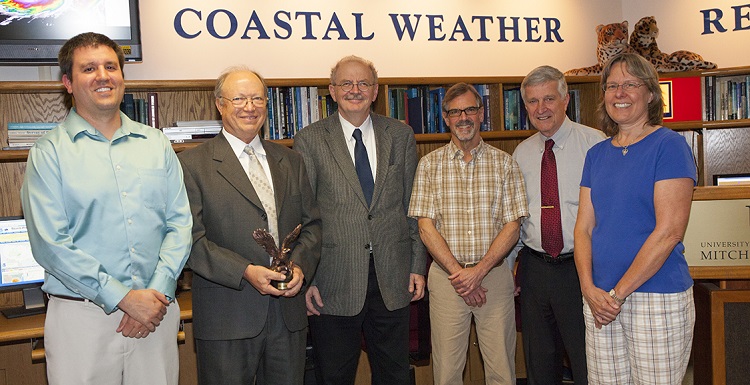 Congratulating Dr. Keith Blackwell, second from left, on his award were Andrew Murray, instructor of meteorology and Coastal Weather Research Center hurricane specialist; Dr. Andre Wierzbicki, dean of arts and sciences; Pete McCarty, director of the Coastal Weather Research Center; Dr. Bill Williams, director emeritus; and Dr. Sytske Kimball, chair of meteorology.
---
CSX Corporation, one of the nation's largest transportation movers, presented Dr. Keith Blackwell on March 31 with the CSX Award of Achievement for his forecasting of Hurricane Matthew through the University of South Alabama Coastal Weather Research Center.
Dr. Billy Bullock, CSX director of industrial hygiene occupational health testing and a 1986 USA graduate, presented the award during a program at the CWRC. The award is given to an individual based on their years of exemplary service, transformational work and dedication to the success of the mission.
"CSX takes severe weather very seriously, ensuring that not only our yards and tracks are protected, but also numerous materials we are transporting," Bullock explained. "Dr. Blackwell and the CWRC people on the phones with us were our partners during Hurricane Matthew. They stepped up and kept the whole team going as Hurricane Matthew headed up the coast."
Hurricane Matthew, an extremely dangerous September storm that reached Category 5 at times, moved up the Atlantic coast last fall from Florida to Georgia before making landfall in South and North Carolina.
"It is definitely a team effort for us here when these storms come along," Blackwell, an associate professor of meteorology, said upon accepting the award. "Matthew was definitely one of our most challenging storms."
Blackwell is internationally recognized as a hurricane expert with a focus on hurricane eyewall development.
The Coastal Weather Research Center, located inside the Mitchell Center, is a self-supporting operation within the department of earth sciences that provides individualized weather reporting to clients across the nation.
---