Application Fee, ACT/SAT Requirements Waived
---
Posted on April 6, 2020
Jeb Schrenk
---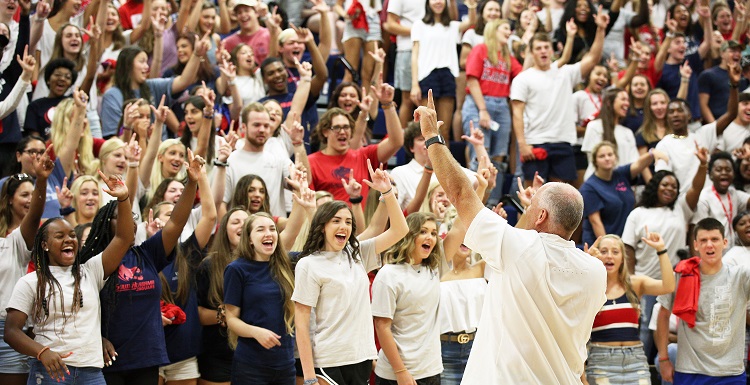 South Alabama football Coach Steve Campbell leads freshmen in a cheer during the 2019 Week of Welcome for new students.
---
The University of South Alabama is waiving its undergraduate application fee and ACT/SAT testing requirements for qualified applicants for fall 2020, and is offering new students $100 virtual visit credits. The initiatives are part of a campaign to connect with prospective students and reduce expenses during the COVID-19 pandemic.
"We want to ensure that there are no unnecessary obstacles that stand in the way of someone enrolling and earning a college degree," said Dr. David Johnson, provost and senior vice president for academic affairs. "Making it easier for people to pursue higher education and career goals is a way we can help during this challenging time."
The University also is offering need-based funding to students, in addition to generous merit awards to new applicants.
The highlights of the fall 2020 enrollment initiative include:
No application fee for undergraduate students until May 1. Students can apply without an application fee by using the code SOUTHFORME.
A waiver of the ACT and SAT testing requirements for students with GPAs of 3.0 and above. Students with GPAs of 2.5 to 2.99 will be considered for admission, but may be asked to submit additional materials such as essays and letters of recommendation. Students who have ACT/SAT scores should still submit them.
A $100 virtual visit credit. Students will receive a $100 tuition credit if they meet with a South recruiter over Zoom and then enroll. This is available to the first 500 students who sign up.
Need-based funding for students. These renewable grants will help even more students earn their degrees. Students should speak to a recruiter for more information. Merit awards will also be available to applicants into the summer.
The University of South Alabama is a global teaching and research university that provides nearly 14,000 students with an exceptional education in business, the liberal arts, education, engineering, computing, the sciences and healthcare. USA's commitment to student success includes small class sizes and hands-on research opportunities in more than 100 undergraduate, graduate and doctoral degree programs offered through nine academic colleges and schools.
---