Comic Romp Closes Out Theatre USA Season
---
Posted on April 4, 2017
Alice Jackson
---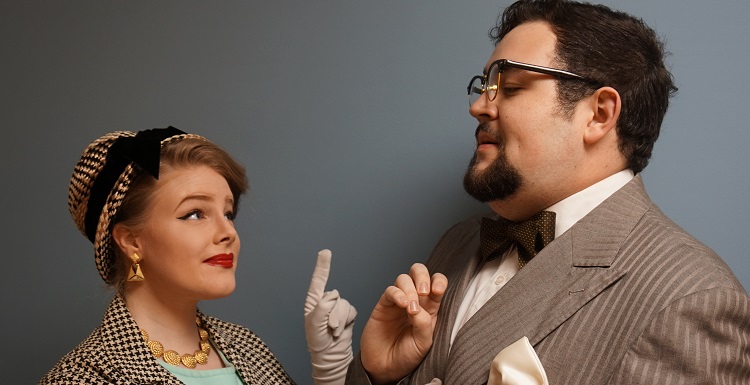 Rachel Chandebise, portrayed by Sadie Bell Freeman, greets husband Victor, portrayed by Kip Hayes, during rehearsals for 'A Flea in Her Ear.'
---
Theatre USA will present the classic farce, "A Flea in Her Ear," for its final production of the 2016-2017 season.
The play follows the story of the Chandebises and their misadventures when they mistake each other's actions. The result is an exaggerated, extravagant and slightly improbable comic romp with a group of aristocrats and servants through physical hijinks, chaos and mistaken identities.
The play, written by Georges Feydeau and adapted by American playwright David Ives, will run April 14-15 and April 20-22, beginning at 7:30 p.m., and on April 16 with a 2 p.m. matinee.
The cast will include students Colton Adams, Josh Alter, Will Ballard, John-David Burkart, Stephanie Connolly, Cassidy Dangler, Thomas Jefferson Dean IV, Cody DiFrazio, Katlyn Eller, Sadie Bell Freeman, Kip Hayes, Colton Holcombe, Kenny Pickens, Danielle Pollard, Sengphet Sengphachanh and Abigail St. John.
Dr. Lars Tatom, chair of theatre and dance, and John Nara, instructor of theatre and dance, will direct. Scenic and lighting designs will be by Lyle Miller, professor of theatre and dance, and costumes will be designed by guest artist Tori Depew, assistant professor of theatre at the University of Central Missouri.
All performances will take place on the main stage of the Laidlaw Performing Arts Center, located at 5751 USA South Dr. on the USA campus.
To purchase tickets, visit the box office inside the Laidlaw's lobby, or call (251) 460-6305. The box office is open Monday through Friday, 9 a.m. until 4:30 p.m. as well as one hour before each performance.
---