Shakespeare's 'Pericles' Closes Out Theatre USA Season
---
Posted on April 11, 2018
Alice Jackson
---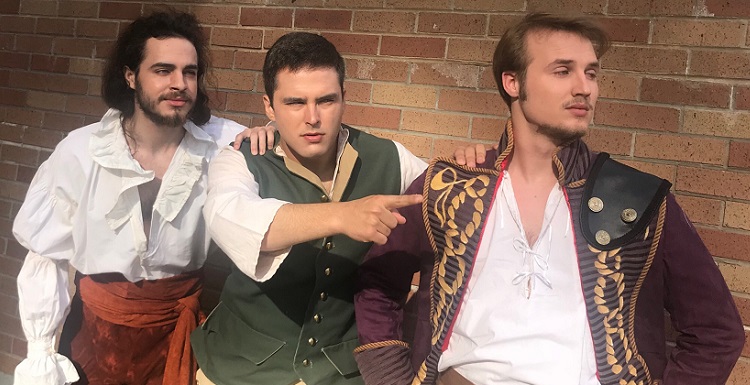 USA students, from left, Michael Tanner, Thomas Jefferson Deen IV and Parker McGee prepare for Theatre USA's production of Shakespeare's "Pericles," which opens Friday at 7:30 p.m.
---
"Pericles," one of Shakespeare's final plays, will close the 2017-2018 season of Theatre USA at the University of South Alabama with its premiere performance on Friday, April 13 at 7:30 p.m.
The contemporary comedy follows the title character as he sets out to woo a princess only to be pursued by an evil king across the seas. As with all of Shakespeare's final "romances," this stunning work deals with loss, miracles and redemption.
Additional 7:30 p.m. performances will be on Saturday, April 14; Thursday, April 19; Friday, April 20; and Saturday, April 21. A 2 p.m. matinee performance will be on Sunday, April 15.
The cast includes South students Thomas Jefferson Deen IV, Sydney Cramer, John-David Burkart, Emily Byars, Matthew Cochrane, Stephanie Connolly, Sadie Freeman, Zachary Gibson, Colton Holcombe, Caleb Lockwood, Maxwell McCormick, Parker McGee, Michael Tanner and Amanda Watson.
John Nara, assistant professor of theatre and dance, will direct.
Scenic design is by Lyle Miller, professor of theatre and dance; lighting design is by theatre student Martin Cicco, and costumes are being designed by theatre student Aryn Carr.
For information on the production, or for ticket sales, contact the USA Theatre and Dance office at (251) 460-6305, or visit the box office, located in the lobby of the Laidlaw Performing Arts Center. The box office is open Monday through Friday, 9 a.m.-4:30 p.m., and one hour before each performance.
---