South Nursing Grad Doubles as Barrel Racer
---
Posted on April 11, 2022
Thomas Becnel
---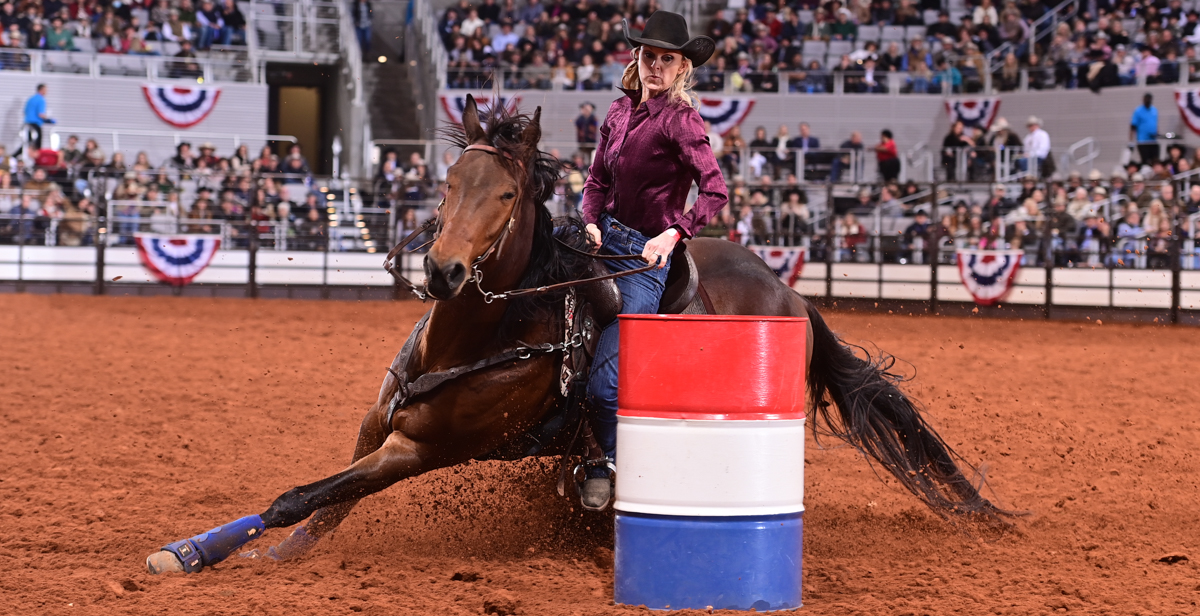 Wenda Johnson, who earned master's and doctorate degrees in nursing from the University of South Alabama, competes in the Fort Worth Stock Show and Rodeo earlier this year. Photo by James Phifer courtesy of the Women's Professional Rodeo Association.
---
Wenda Johnson put aside her rodeo career while becoming a nurse, then found time during her medical training to get back into barrel racing.
"I was finishing school and set up a clinical rotation at a hospital in Fort Worth, Texas, and my sister knew friends there who let me exercise some horses," she said. "They had this barrel horse that was ready to go, ready to be seasoned, and that's how it all started. If it hadn't been for school, going through clinicals, I probably would have never ended up riding these horses."
Johnson, 40, began competing in the Women's Professional Rodeo Association while earning graduate degrees as a remote student at the University of South Alabama.
In 2016, she earned her master's degree in nursing. In 2021, she got her doctorate in nursing practice.
"It was the perfect fit for me," she said. "I needed a program where I could have a home base anywhere and still accomplish the goals I needed. I still don't race full-time, like a lot of these girls. It's really my hobby/job while I work part-time as a nurse practitioner. I feel like I have a nice balance in my life."
Johnson picks up 24-hour shifts at a critical access facility in Pawhuska, Oklahoma, where she lives with her husband and two daughters.
"I'm at a small hospital, so it can go from 0 to 60 pretty fast," she said. "Urgent care is probably my preference in nursing. I do a couple of shifts a month. If I'm in town, I'll help them out when they're in a jam."
Dr. Misty Guy, an assistant nursing professor, was Johnson's adviser in the doctoral program at the University of South Alabama. Many of her students are working nurses, but this was different.
"I'm used to people telling me they have to go work a 12-hour shift at the hospital, but early on she told me her second job was barrel racing," Guy said. "That was one I'd never heard before. I always got a chuckle out of that."
Johnson became more and more successful on the rodeo circuit, but always made time for her doctoral work at South. She completed the work for her practitioner degree at a rural hospital in Oklahoma. She graduated last year.
"You have to be very disciplined to get through our program, and she definitely was that," Guy said. "She was working during COVID, so she had some extra challenges, but she stayed on top of everything."
Johnson often flies to rodeo events across the western United States. Her mounts, which are owned by Tres Mesa Horses, are stabled and trained in Fort Worth, then driven in trailers to events. They meet only to compete.
"It's called jump-mounting," she said. "It's kind of a win-win situation. I don't have to worry about day-to-day care of the horses; I just come in for the racing. I developed them for competition, so it's like a continuation of that."
Johnson enjoys the speed of competition, accelerating into abrupt turns on a cloverleaf course, which is just what her mounts were bred for.
"These horses are unbelievably fast," she said. "Their sire has the 440-yard record on a track. They also have what's called rate and turn. As a rider, I can push them to that spot going around a barrel. That's why we've been successful."
In 2021, Johnson earned more than $200,000 in prize money. She won barrel racing events at rodeos in Coleman, Texas; Reno, Nevada; and San Angelo, Texas. She finished the year ranked ninth in World Championship Barrel Racing.
Earlier this year, she won her first Fort Worth Stock Show and Rodeo title. She rode a horse called Mac – short for Macgyver Moonflash – and set a Dickies Arena Record with a finals time of 16.08 seconds.
"The great thing about Fort Worth, what made it a special win, is that's where my friends got into barrel racing," she said. "Mac had an amazing performance. He worked very well."
Long line of Strong Women
Johnson grew up in Mesa, Arizona, where her mother and father loved horses and riding. She and her two sisters competed in high school rodeos.
"I'm grateful that we have a long line of strong women in my family," she said. "My grandmother and her twin sister went to nursing school during the Great Depression and worked through World War II."
Johnson grew up, got married, started a family and earned a bachelor's degree in nursing. A friend told her about the opportunity to continue her nursing education at the University of South Alabama. Earning a master's degree and doctorate was important to her.
"I have two daughters and I want them to know that anything they set their mind to they can accomplish," said. "When you're in school, it's challenging, so you're making sacrifices, and your family's making sacrifices. Lining up clinicals was probably the most challenging part, but that's how I got to start riding those barrel horses. So there were some blessings along the way."
When Johnson isn't working or competing, she enjoys getting outdoors and camping and hiking with her family. She's also a swimmer. Indoors, she plays the piano.
This summer will be a busy rodeo season, so she'll probably take a month or two off hospital work. She's never had a fall or suffered an injury while competing as a barrel racer.
"We've had a couple of slips and trips, but I've never had one of these horses go down with me," she said. "They do get nervous, just like a person would, so I try to make it easy for them, so they can remain focused and quiet."
In the emergency room, Johnson tries to do the same for her patients and their families.
"In life, you can find similarities in anything," she said. "Nursing takes a lot of focus, expertise and training. In barrel racing, it's the same."
---