USA Wind Ensemble to Perform at Festival
---
Posted on April 12, 2016
Joy Washington
---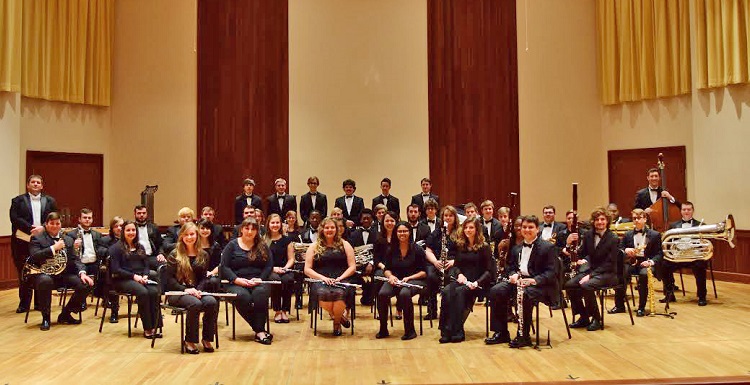 The USA Wind Ensemble will perform at 8 p.m. on Friday at the Saenger Theatre. The performance, free and open to the public, will be led by, below from left, Dr. Will Petersen, director of bands and conductor of the Wind Ensemble; Ray Cramer, guest conductor of the Musashino Academy of Music Wind Ensemble in Tokyo; and Dr. Greg Gruner, chair of the department of music.
---
What do Dr. Greg Gruner and Dr. Will Petersen in the department of music at the University of South Alabama have in common? Both were mentored and taught by this year's All-State Band Festival guest conductor, the renowned emeritus professor Ray Cramer of Indiana University.
Cramer is in demand internationally as a guest conductor, clinician and adjudicator. He is a guest conductor of the Musashino Academy of Music Wind Ensemble in Tokyo.
Cramer will join Gruner, chair of the department of music and former director of bands, and Petersen, current director of bands and conductor of the 50-member USA Wind Ensemble at the University of South Alabama. The trio will share the stage and serve as conductors for the University's Wind Ensemble performance to be held at 8 p.m. Friday, April 15, at the historic Saenger Theatre downtown. Admission is free, and the community is invited to attend.
The three will also join other band directors and work with 647 of the most talented high school and middle school musicians from around the state during the Alabama All-State Band Festival to be held April 13-15 in USA's John W. Laidlaw Performing Arts Center, the Saenger Theatre and the Mobile Civic Center.
These students are the best of the best. Thousands of students from around the state auditioned to perform at the festival. Once the students arrive, they will audition once more for seating positions. Three high school bands will be selected to include 120-130 members. There will be one middle school band selected.
Petersen, Gruner and Cramer are looking forward to performing together and working with the outstanding student-musicians.
"I am thrilled to have someone I have looked up to as one of the great mentors of my career conduct my own college wind ensemble," Petersen said about Cramer. "I am extremely proud of the USA Wind Ensemble, and I believe Mr. Cramer will hear a lot of what he expected from us when we were members of his Indiana University Wind Ensemble."
Petersen said most of his philosophy of conducting a concert band came from watching and playing under Cramer.
"I have never seen Mr. Cramer come to any rehearsal, be it the Indiana University Marching Hundred, the IU Wind Ensemble, or even the All-Campus Band, without enthusiasm and a contagious passion for music and people," Petersen expressed. "I have watched Mr. Cramer so many times, and I am still mesmerized by his mastery in all areas of conducting. Whether it's conducting in performance, rehearsing, listening, communicating, or motivating musicians, he gives his professional and personal best."
Gruner has known Cramer for 33 years, and he said it's always great to watch him conduct, or perform for him, or more importantly have him work with his students.
"He has been a life-long inspiration to me and countless others," Gruner noted. "I am always happy to share the stage with him as there is no other conductor that I respect more than Ray Cramer."
Gruner said he's performed with Cramer on several occasions, and it's always a wonderful experience. And now, Gruner is excited about what his students will experience being conducted by Cramer.
"This performance is extremely important to our students because they will be performing primarily for musicians from across Alabama," he said. "It will help them make their mark in music as they begin their careers upon graduation."
Cramer is honored to have this opportunity to conduct with his former students Gruner and Petersen. He's honored they invited him.
"I am very proud of the work that Dr. Gruner and Dr. Petersen are doing at the University of South Alabama," Cramer said. "I always feel a little pressure when guest conducting in the 'house' of my former students. It is my desire they will be proud of my work."
Dr. Kip Franklin, clarinet, will be the featured USA faculty soloist. The newly appointed assistant professor of music will perform with the University's Wind Ensemble in Scott McAllister's "Black Dog." The concert will also feature music from composers Steven Bryant, Gustav Holt, Percy Grainger, Pyotr Tchaikovsky, Frank Ticheli and Karl King.
Petersen said the USA Wind Ensemble, guest soloist and conductor will perform an hour and a half of great music.
"We have works transcribed from great classical masters such as Tchaikovsky, new music by some of the leading composers in the United States that capture the incredible sound of the wind ensemble, and concert band standards that utilize folk melodies that help bring out the inner singer in all of us," Petersen noted. "The audience will also enjoy a virtuosic clarinet solo and maybe a circus march."
The Wind Ensemble is just one of the performances and music sessions to be held during the All-State Band Festival. Michael S. Holmes, president of the Alabama Bandmasters Association, is delighted that South and the City of Mobile are hosting the festival again this year.
"USA is providing our students with access to its wonderful facilities along with much assistance from the music department's faculty and students who are operating the festival," Holmes said. "We are looking forward to an outstanding concert presented by the USA Wind Ensemble, under the direction of Petersen. Last year's performance was one of the highlights of the festival."
All-State Band Festival Public Performances
Concerts are free and open to the public.
USA Wind Ensemble All-State Host Concert, 8 p.m., Friday, April 15, Saenger Theatre, downtown Mobile.
All-State Band Concert, 1 p.m., Saturday, April 16, Mobile Civic Center. This event is administered by the Alabama Bandmasters Association, a division of the Alabama Music Educators Association.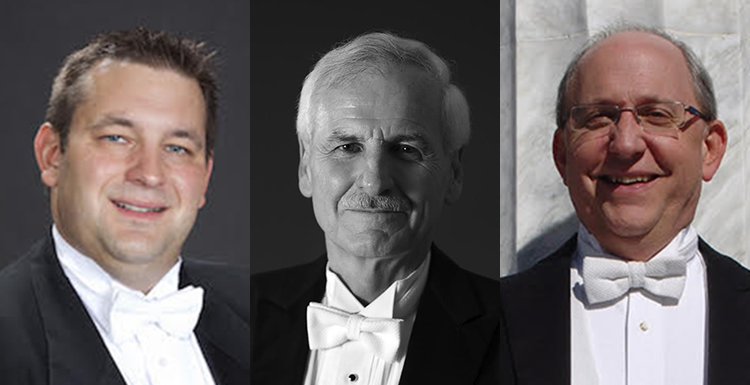 ---