Coaching Others to Balance and Reignite
---
Posted on April 12, 2021
Joy Washington
---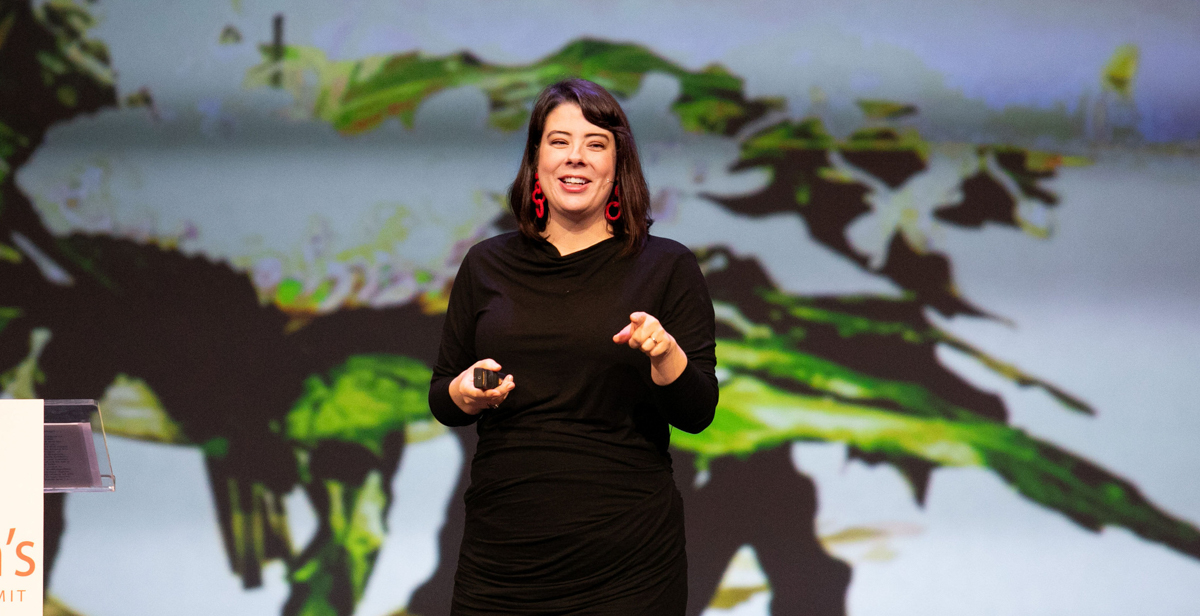 Tarah Keech, a 2006 graduate of the University of South Alabama with a bachelor's degree in psychology, is the founder of Tarah Keech Coaching, which is focused on helping professionals overcome the challenges of insecurity, anxiety and stress.
---
#SouthSuccessStories is an ongoing series featuring the University of South Alabama alumni who are life-savers, innovators, game-changers, music-makers, and creative-thinkers, successful in their careers and supportive of their communities.
Everyday life experiences, especially during the current coronavirus pandemic, often leave people dealing with mental or physical exhaustion, commonly known as burnout. Tarah Keech, a 2006 graduate of the University of South Alabama with a bachelor's degree in psychology, has made it her business to help with these issues, because she experienced them firsthand.
Keech said she knew within the first week of graduate school that she didn't want to be a therapist. After she earned her master's degree in clinical psychology, she recognized she was experiencing burnout. It was then she knew her life's work would be to help professionals manage this life-altering feeling of mental and/or physical exhaustion.
"After realizing I didn't want to be a therapist, I went through a discovery process of asking myself, 'what do you do now?' " Keech said. "That was my first experience with burnout. I didn't recognize myself. What I thought I wanted didn't feel good when I got there. I had to take time to refocus."
Keech, who complemented her psychology degree with a minor in communication, is the founder of Tarah Keech Coaching, which is focused on helping professionals overcome the challenges of insecurity, anxiety and stress that can show up at any point in a career. But she got to where she is, however, she spent time in self-discovery or what she calls 'self-coaching.'
"I decided to change my career focus and work in a corporate environment," she said. "I have been super fortunate to work with some amazing humans. I started doing consulting for Fortune 100 companies helping executives and employees. I learned there were top executives who you would think had it all together, but they were struggling with trying to be top in their profession while managing their families."
Keech said many of her clients express that they have felt like they are failures in life, especially women who struggle to balance their careers with motherhood and managing a family. And the added stress of the pandemic often takes these feelings to an even higher level.
"We experience burnout when we're doing things for reasons we don't like — out of obligation, resentment and retaliation, or feeling like we're not worthy or good enough," she noted. "Any of these reasons can lead us to burnout, because you're taking action from a place of depletion or scarcity."
Keech uses her own experiences to connect and engage with her clients, letting them know she understands their challenges.
"I remember attending graduate school in Denver, working in academic research and newly married," she said. "I was away from my family for the first time. This experience prepared me to be able to support my clients who are silently struggling with many challenges. Some of them are carrying baggage from past relationships or their childhood. Some are engaging in self-destructive behaviors of substance abuse use, overspending, infidelity, and all the things that some humans can end up doing as ways of trying to cope. My experience gave me an 'aha moment.' I knew I could help clients through coaching, and my business was born."
Keech went through several coaching programs to get the additional training she needed. And she went through several more personal burnout moments as well.
"My experience with burnout was a gift in disguise," she explained. "That's why I love to talk about burnout. All of our emotional experiences are just flags and tools. I believe our brain, body and spirit are wired to help us survive. These are assets letting us know we are growing, and there's an opportunity to make a life shift if we can pause and reflect."
Keech uses burnout as her entry point. Then she helps her clients based on the foundation of burnout recovery.
"I help them strategize," she said. "Especially now, there are even more working parents who are challenged with whether they can be a good mother or father, or a corporate 'rock star.' I help them figure out how they can make that an equation and not an either-or."
Keech also credits her educational journey at South Alabama for helping to prepare for her current career.
"South's faculty members in the psychology department were very service-centered," she said. "When I think of my role models and mentors there, they helped me to see what was possible. A big part of my success has been because of faculty members like Dr. Jack Shelley-Tremblay, chair of the psychology department, and Professor Emeritus Dr. Elise Labbe-Coldsmith, now retired. She and others taught curiosity and critical thinking. And at that time, it was not just from the chalkboard. They presented the ideas in new and different ways."
Labbe-Coldsmith remembers Keech as a self-directed student who was enthusiastic about psychology.
"I am not surprised she's doing so well in her chosen career as a coach," Labbe-Coldsmith said. "This is also a good example of how a degree in psychology can lead to an interesting and successful career, especially when paired with a minor or second major such as business or communication."
Keech still adheres to the advice she gives her clients, including thinking about what's next.
"As an entrepreneur, during the pandemic, I had to pivot my business to mostly online to support my clients," she said. "I learned it's ok when you have to shift from one way to another during a crisis. I love my one-on-one coaching program, and a new coaching mentorship program is beginning in June to help leaders become coaches and gain the coaching skills they need. It's an exciting time, and I love sharing my work and helping others be their very best."
---
5 Tips to Improve Your Well-Being
Tarah Keech, burnout prevention and recovery expert and founder of of Tarah Keech Coaching, offers these tips for dealing with burnout:
Check-in with yourself by naming the emotion. Once you name what you are feeling, it trains your brain that it's safe and survivable to feel the emotion and how you experience it physically.
Think about what you want. Take time to do some self-discovery. Once you are clear about what you want, this can help you pivot from the emotion of burnout. For example, if you want more free time, you may need to stop answering your email late at night, or plan more free time on your calendar. Once you get clarity, there's progress.
Pay attention to your heart's desires. We are given our wants because it's part of what we are capable of. If it keeps showing up as a desire or want in your life, don't keep pushing that emotion away. This doesn't mean you have to rewrite your life, leave college, or your job. You just need to be curious and open about what you want and why you want it.
Be kind to yourself. Lean into your emotions and don't be afraid to truly feel what you are experiencing. By engaging with yourself, you are telling your brain, "I want to know what's happening, and how I can change it." By changing course, we are retraining our brain.
Find things you like about what you are already doing. Pay attention to your dreams. Ask yourself, what are the real values of my thoughts? In what ways are you already experiencing aspects of what you want? The brain wants to be efficient. Be intentional during this experience. It takes effort, but it can be done.
---