To Protect and Solve: Saudi Criminal Justice Major Readies for Role She's Never Seen
---
Posted on April 19, 2021
Thomas Becnel
---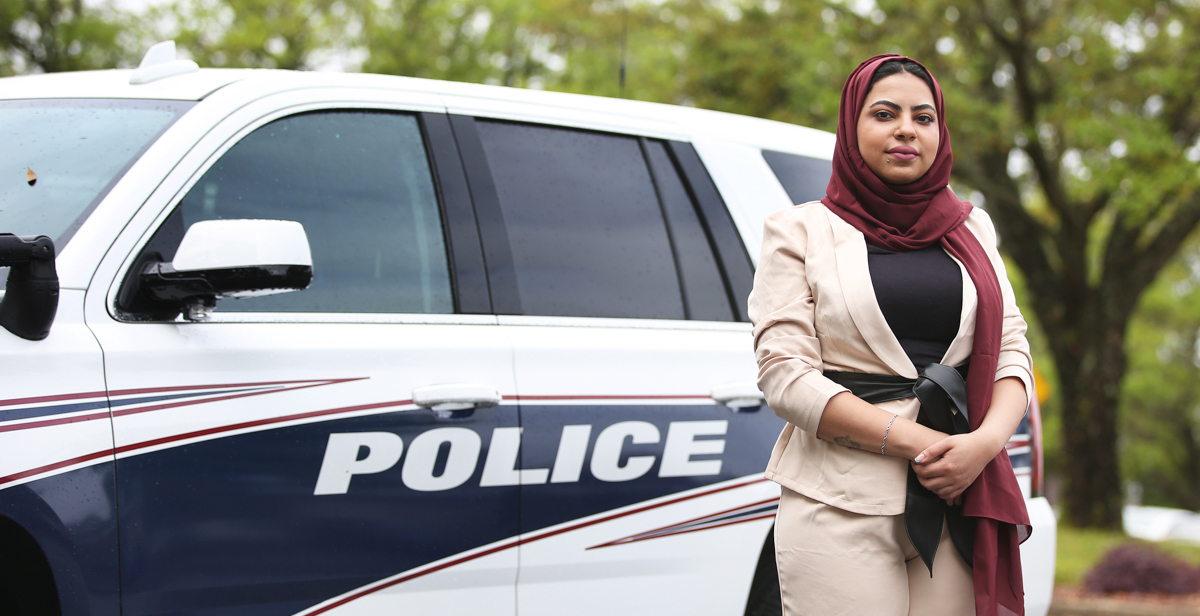 Raghad Sultan, a criminal justice major from Saudi Arabia, is completing an internship with the University of South Alabama Police Department. She is scheduled to graduate in May.
---
Raghad Sultan came to Mobile all the way from Jeddah, Saudi Arabia, but her family forms a long line of Jaguars at the University of South Alabama.
Eleven years ago, her brother, Mohanned, graduated in electrical engineering. One of her sisters, Rahaf, studied respiratory therapy, while the other, Moroj, majored in marketing. And her cousin, Aseel Damdam, graduated two years ago in criminal justice.
While Sultan followed the family tradition of attending South, she is preparing herself for a nontraditional role in her country.
This semester, she's busy finishing classes and an internship with the University of South Alabama Police Department. She plans to graduate in May with degree in criminal justice. One day, she'd like to go home and become one of the first women police detectives in Saudi Arabia.
"I want to solve things," said Sultan, 22. "I want to see things. I want to protect people."
Sultan said she isn't a political person, but does support women's rights in Saudi Arabia. Women only got the right to drive there in 2018. That same year, the government announced plans for women to begin serving with the traffic police.
She's never seen a woman police officer in Saudi Arabia, but hopes more law enforcement positions will become open to women.
Police Chief Zeke Aull welcomed her to his department. He hasn't forgotten her cousin, who completed an internship two years ago.
"The first time I met Aseel, he surprised the heck out of me," Aull said. "He grabbed me, hugged me, and gave me a kiss on the forehead."
When Sultan applied this semester, Aull mentioned it to his wife, who was a police officer for 20 years. She supports the careers of women in law enforcement all over the world.
"She's like, 'You've got to take her on,'" he said. "'You've got to do this.'"
In Saudi Arabia, Sultan's father served in the Navy before he died when she was younger. Her mother is an English teacher who became a high school principal. She insisted that her daughter go to college in the United States.
"She's proud of me," Sultan said. "She supports whatever I want to do."
At the campus police department, she has shadowed officers in the communications department and done ride-alongs with officers on patrol.
"I'm learning a lot from them," Sultan said. "I can ask anything that comes into my head."
In Mobile, she does not wear the traditional hijab head scarf of her country. She said she would, though, if it was part of a job back home.
Sultan lives in an apartment near South with her dog, a shih tzu named Muffin. She enjoys eating seafood and doing crafts. She FaceTimes with a friend studying in the U.S. and her family back home.
She gets homesick for Jeddah, a relatively liberal Red Sea city in the conservative kingdom. She hasn't been home in two years, because of the coronavirus pandemic.
After graduation, she plans on returning. Lots of family and friends to visit. After renewing her student visa, she'd like to return to South for a master's degree in psychology.
Sultan would like to begin a career in Saudi Arabia, but she's open to other possibilities. One of her brothers went to college and settled in Australia. Staying in Mobile is an option.
"I don't know," she said. "I just want a good opportunity."
---