Jags to Jobs: Natalie Sessions French
---
Posted on April 21, 2017
Sarah Richardson
---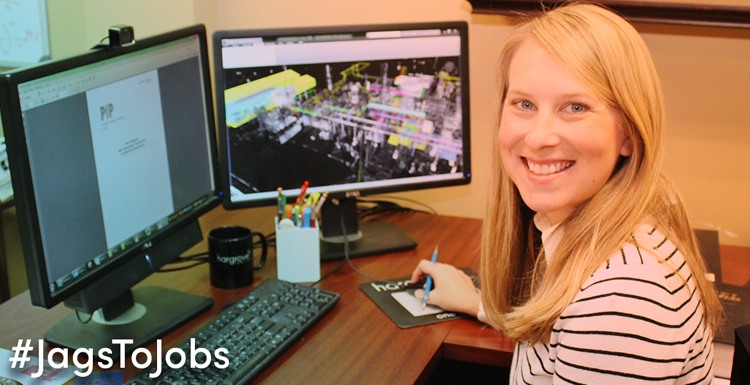 "Since I was a young child, I've always loved putting things together and figuring out how they work, which ultimately led me to pursue a degree in civil engineering and a career in structural engineering," said Natalie Sessions French, '09.
---
Jags to Jobs is a LinkedIn series that features University of South Alabama alumni, their careers and how they got to where they are today.
Natalie Sessions French, a 2009 civil engineering graduate of the University of South Alabama, works as a structural engineer for Hargrove Engineers + Constructors, a firm founded in Mobile in 1995. She and her husband, also an engineer, live in Mobile with their two dogs.
What is your day-to-day life like at Hargrove?
One of the great things about engineering is that there is no typical day. Every day is different than the one before. In the matter of a few days I may do anything from design a foundation for a large piece of equipment or structural steel supports for piping, check construction drawings, generate construction specifications, take a field trip to the project site to gather information, attend project meetings with internal Hargrove teammates and clients, and coordinate work with other engineering disciplines all while managing project scopes, schedules and budgets.
Have you always wanted to be an engineer?
As a high school junior I began thinking about what I wanted to get a degree in at college and decided on engineering. My strengths in high school were math and science, so I chose a career that would allow me to build on those strengths. Since I was a young child, I've always loved putting things together and figuring out how they work, which ultimately led me to pursue a degree in civil engineering and a career in structural engineering.
As a woman in a male-dominated field, what is your advice to women entering the same profession? Because of the efforts of STEM, have you seen an increase in interest from young women to enter STEM-related fields?
My advice would be to not be intimidated by the fact that it is a male-dominated field. There is no reason for the engineering field to be male-dominated. I've learned that the engineering community doesn't judge based on gender but rather on the quality of your work and your ability to communicate your ideas. It is a challenging and rewarding career that I encourage all young women to consider.
Companies like Hargrove invest in programs that encourage STEM across diverse backgrounds and ages because we know that the science, technology, engineering and math fields are growing, and we need to develop these talents.
How did South prepare you for your career?
The University of South Alabama prepared me through my class work with technical skills and analytical thinking skills that have served as a solid foundation to build my career on. During my time at South, I also developed time management skills that have been an invaluable asset throughout my career.
Over 100 Hargrove Teammates are alumni of the University of South Alabama. While a number of these represent graduates of Engineering and Computer Science, many also have their MBA or other degrees.
Were you involved with any organizations while at South?
I served as a College of Engineering senator in the Student Government for one term while I was at South and was a member of the ASCE (American Society of Civil Engineers) student chapter. I was also a member of Phi Mu Fraternity throughout all four years at South. I was a very active member of my sorority, serving as the Academic Excellence chair for one term and serving as president of the chapter for one term.
What is the most interesting project you've ever worked on?
One of the more interesting projects I've worked on was the construction of an electrical substation to supply power to an industrial site. As a structural engineer at Hargrove, I typically work projects out of our office in downtown Mobile, but for this particular project I worked at a construction site in Florida for a six-month duration acting as our client's construction manager, which was an entirely different experience than my typical role on projects. The substation was built on a wetland, which presented environmental and construction challenges that we had to overcome. It was great exposure to areas of the industry in which I previously had no experience and ended up being a wonderful learning opportunity.
Tell us about some of your other projects.
I recently completed a project for a local chemical plant filling the role of both project manager and lead structural engineer. We completed a structural assessment of a seven-story process building and designed all necessary repairs for structural components we identified to be deficient. The largest local project I've ever been a part of was the construction of a $1.3B cold rolling works steel mill.
---