South to Host Alabama Launchpad
---
Posted on April 20, 2017
Marketing and Communications
---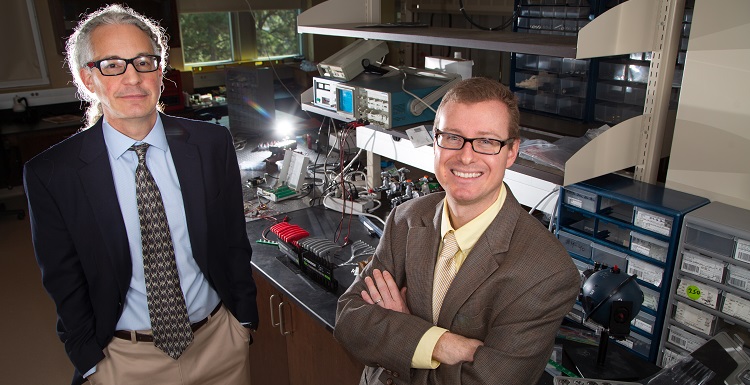 Dr. Thomas Rich, associate professor of pharmacology, left, and Dr. Silas Leavesley, associate professor of chemical and biomolecular engineering, are co-founders of SpectraCyte, a previous Alabama Launchpad award winner.
---
The University of South Alabama, along with the Mobile Area Chamber of Commerce, will host the 2017 Alabama Launchpad Competition at the Gulf Coast Exploreum Science Center.
The April 27 event will showcase five startups competing for cash grants. It is open to the public; registration is required.
"The University of South Alabama supports innovative research, entrepreneurship and business growth, so it's fitting that we host this year's competition to help startups take their ideas to the next level," said Lynne Chronister, vice president for research and economic development.
South-affiliated companies that in previous years have received cash grants through the Alabama Launchpad include Exscien, Swift Biotech, Millitherm and SpectraCyte.
Alabama Launchpad, a program of the Economic Development Partnership of Alabama, promotes and rewards high-growth, innovative startups from across Alabama. It is for new, innovative ventures in the seed or early-growth stages, or for existing businesses moving into a new high-growth market.
Pitches start at 4 p.m., networking with eats and drinks at 5:30 p.m., and the prize announcement is scheduled for 6:30. To register: http://alabamalaunchpad.com/startup-competition/upcoming-events
---