Students Take the Stage in 'La Vie Parisienne Operetta'
---
Posted on April 20, 2017
Joy Washington
---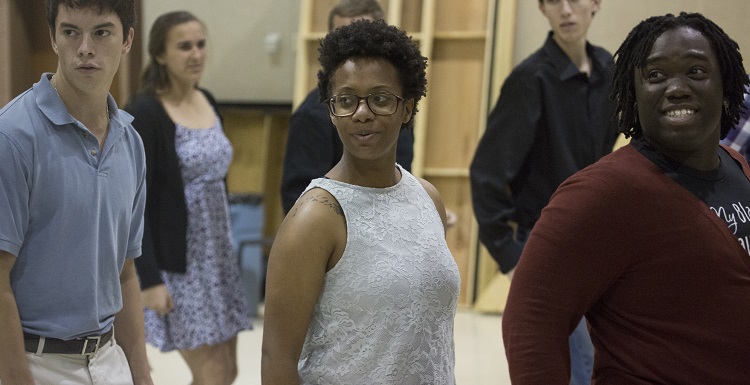 USA students rehearse for the 2017 'La Vie Parisienne Operetta,' which will take place April 21 and 22.
---
If you are looking to attend a humorous and memorable performance, mark your calendars to see the first French operetta production on the Gulf Coast at the University of South Alabama.
Featuring USA students, this will be one of Jacques Offenbach's popular operetta productions, "La Vie Parisienne." The performances will take place Friday, April 21, and Saturday, April 22, at 7:30 p.m. and on Sunday, April 23, at 3 p.m. at the Laidlaw Performing Arts Center Recital Hall.
The event will be presented by the USA Opera Theatre under the direction of Dr. Thomas Rowell, music director and associate professor. And, the USA Opera Orchestra will be under Dr. Robert J. Seebacher, conductor. The annual event is open to the public and tickets are $15 for general admission, $10 for senior citizens, USA students, faculty and staff.
"The operetta La Vie Parisienne will be sung in French with English subtitles, which will be very audience friendly," Rowell explained. "This production will feature the young, talented cast of USA students from not only the music department but from other academic disciplines as well. This will be a great full-scale production."
The production will feature dandies competing for the affection of a well-known actress, servants masquerading as aristocrats, a confused Swedish baron and his wife, a saucy Brazilian millionaire, along with memorable tunes and raucous can-can dancing combined with much humor. USA students participating in the production will get a wealth of experience from this performance opportunity.
"We make it a fun and inviting learning experience for our students," Rowell said. "Our students get experience in designing costumes, sets and helping with every aspect of the production. Many of our students, like 2012 graduate Nicholas Brownlee, a bass-baritone who one year ago was one of the five finalists in the Metropolitan Opera National Council Auditions, have had great career opportunities. He received professional leading roles with the Mobile Opera while as a student. We are pleased with the work we are doing to prepare our students for their future careers in performance and music education."
For more information about purchasing tickets, call (251) 460-7116 or visit southalabama.edu/colleges/music.
---