USA Tennis Takes Two Titles
---
Posted on April 22, 2019
Marketing and Communications
---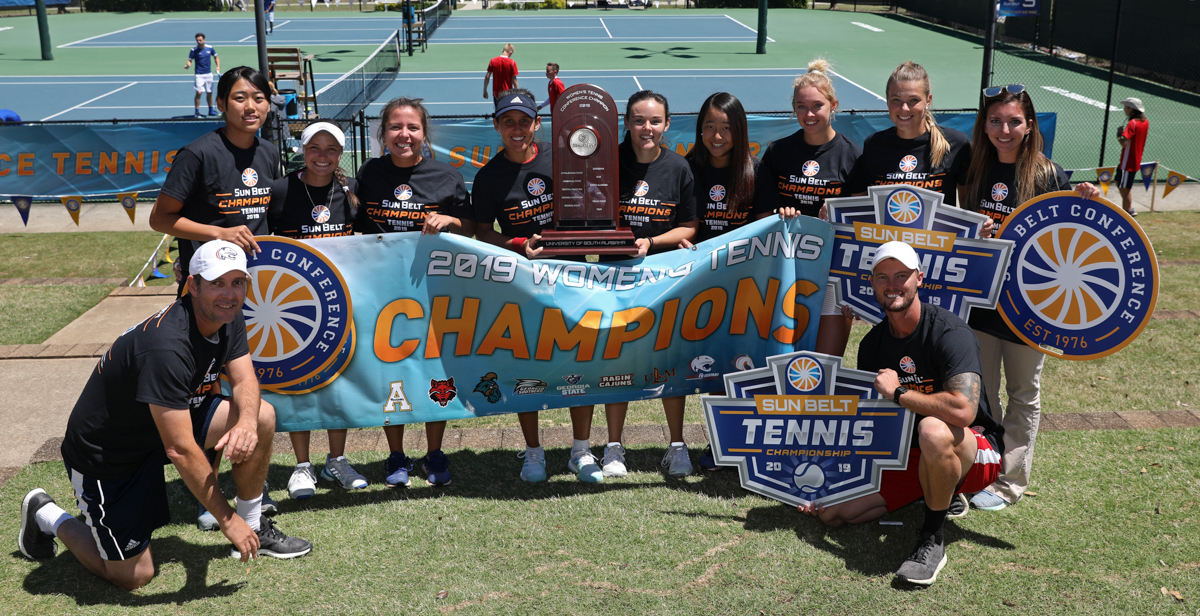 The University of South Alabama women's and men's tennis teams both took home Sun Belt championship titles. NCAA tournament selection will be held April 29.
---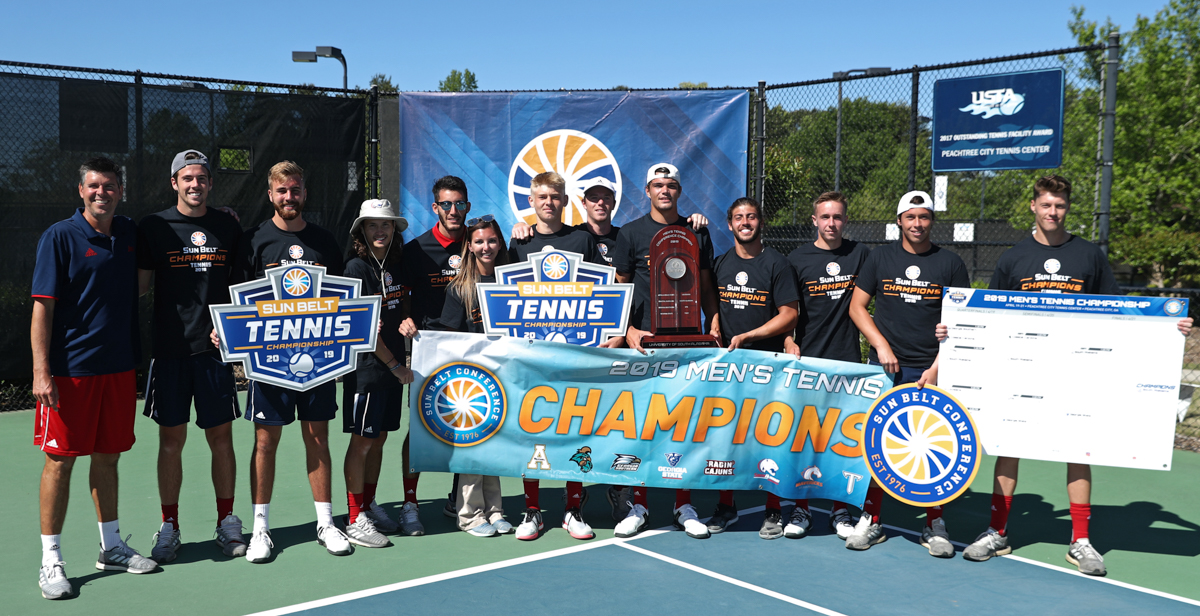 It might be time for a bigger trophy case in the University of South Alabama Department of Athletics.
On the heels of last week's Sun Belt Conference championship by the women's golf team, the Jaguars' tennis program topped that accomplishment with two titles over the weekend.
First, the women's tennis team won three singles matches in straight sets on their way to a 4-1 defeat of Georgia Southern to claim the Sun Belt Conference championship Sunday afternoon at the Peachtree Tennis Center in Georgia. With the victory, the Jaguars claimed their 18th league title and will enter their 12th NCAA tournament with a 22-4 record.
"I really wanted it for this group, especially for our two seniors (Alexandria Stiteler and Patricia Martins). They legitimately put in the work," said Coach Jaco Keyser. "We didn't play our best tennis today, but we earned it with our fitness and conditioning. I felt like there was no way we were going to lose there at the end."
USA's 18 league titles are the most in Sun Belt history.
Not to be outdone, the Jaguar men took care of business Sunday afternoon at the Peachtree site. With a 4-1 victory over Georgia State, South's men's tennis team won their second straight conference title and a berth in the NCAAs.
The Jaguars entered singles down 1-0 after losing the doubles point to Georgia State, but then ripped off three consecutive singles victories before the clinching doubles match.
"I mean it has been quite a journey this year," said Coach Nick Brochu. "We went on a good winning streak in the middle of the season. Then we hit a wall on the Florida swing, with three losses, all close matches. That was tough. That kind of woke us up, and we started the conference schedule.
"These guys worked so hard and they wanted it so bad. All year we have been talking about 'for the boys'. You play for the guy next to you and that's what we did."
The NCAA tournament selection show will be held on Monday, April 29 at 5 p.m. on ncaa.com.
---