The Julian and Kim MacQueen Alumni Center Set to Open in 2018
---
Posted on April 24, 2017
Marketing and Communications
---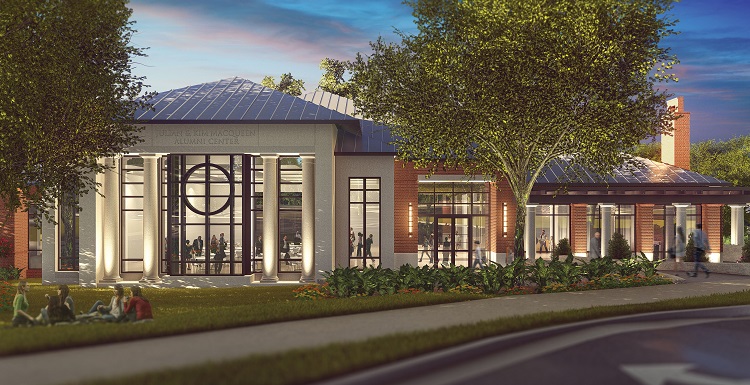 Julian MacQueen credits South for taking a chance on him 40 years ago. South's new alumni center will be named after his family.
---
USA has been home to many paramount moments in the lives of its 74,000 alumni. For Julian MacQueen, the experiences he created during his education at South set the stage for the success he has today.
MacQueen, a Birmingham area native, credits South for taking a chance on him 40 years ago. He went on to become a USA Distinguished Alumni Award recipient, and now the University has named its future alumni center to recognize him and his wife, Kim, for their commitment to the USA family. The Julian and Kim MacQueen Alumni Center is expected to open in 2018.
"I came here as a student under probation and there are a lot of reasons for that," MacQueen said. "The fact that USA was willing to take a chance on me was huge."
South did more than just take a chance on a kid who'd come from what he'd call "a very protected environment." It thrust him into a beautiful, diverse and challenging world.
"I was the only one over several generations of my family who didn't go to the University of Alabama," MacQueen added. "Attending USA showed me the world as I'd never seen it before. I found a diverse open place that made available experiences that I'd never imagined."
MacQueen's participation in an experimental college program — that allowed any area of interest to be taught to students — introduced him to the Baha'i Faith. From that moment on, his life would forever be changed.
"When I think about Julian coming to South, knowing he came from this very insular community, and for him to experience the richness of diversity, while receiving a quality education was life changing for him," said Kim.
The MacQueens' gift to the University acknowledges the fact that had it not been for South, he wouldn't be a Baha'i. "Kim and I wanted to use this as an opportunity to highlight the openness of the philosophy of the University at that time," he said. "This gift wasn't given to make Kim and me the central point. It was given to acknowledge that the Baha'i Faith has been such a pivotal part in our lives. We credit USA for opening that door."
The MacQueens want the Alumni Center to be a place on campus that fosters a creative and diverse culture like the one they have cultivated in their company, Innisfree Hotels. "We take care of each other and create a family of support at Innisfree Hotels," MacQueen added, "It's very important for us to create unity in everything we do. We've realized that can't happen unless there is a gathering place, and we hope the Alumni Center is going to be exactly that."
"One thing I've been impressed with, having not attended school here, is the strength and the enthusiasm of the National Alumni Association," Kim said. "The Association fosters support for the University and gives alumni a place to be a part of USA's legacy, and I think that is a wonderful thing."
To make a gift or find out more, please visit the Upward & Onward Campaign website.
---