MMSI Expanding Access to Education, Opportunity
---
Posted on April 24, 2017
Marketing and Communications
---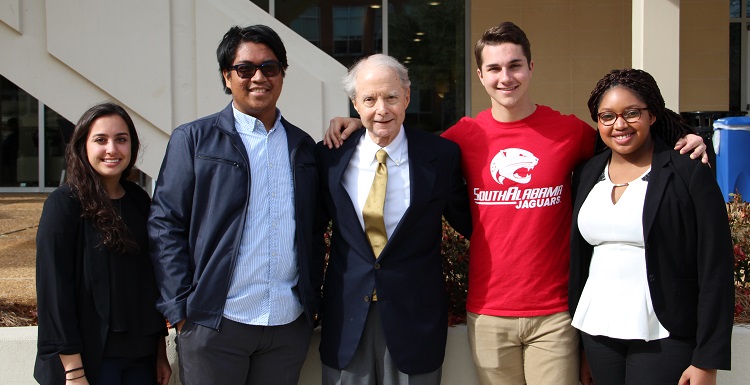 Abe Mitchell, whose gift created a $50 million matching scholarship initiative, meets with, from left, students Alexys Brown, Christian Manganti, Derek Rowan and Raven McShan.
---
Abraham Mitchell has been a part of many pivotal moments of the University's history. Mitchell and his brother Mayer, a member of the USA Board of Trustees for over 30 years until his death in 2007, became involved with USA early on in its life. The Mitchell family remains a vital part of our University's story. The Mitchell-Moulton Scholarship Initiative (MMSI) is the most recent example of the Mitchell family's involvement in paving the way to South's next achievement.
Mitchell and four recipients of scholarship opportunities created through the MMSI recently had the chance to meet one another. Together they spent the morning sharing their appreciation for each other and talking about the doors these scholarships are opening.
The MMSI, a $50 million matching initiative, is a commitment to expanding opportunities for current and future USA students by providing access to an affordable college education. It is also a way for Mitchell to honor the late President V. Gordon Moulton.
"I had an excellent relationship with Gordon," Mitchell said. "He was sort of a mentor, and he and I began to engage in conversation about South Alabama being able to compete with other universities in the state."
Moulton and Mitchell knew something needed to be done to place USA on par with other universities in our state. Together they shared a vision of expanding scholarship opportunities for incoming students.
"I told Gordon I would agree to support USA scholarships on a match basis," Mitchell said. "Thus far we've seen good success with businesses and individuals supporting this initiative."
Supporting education has been an interest of Mitchell's since he returned to Mobile many years ago. His time spent as an interim Mobile County district attorney helped that interest grow deeper.
"I saw something remarkable during my tenure as interim district attorney," Mitchell said. "The people who are exposed to the criminal justice system rarely are educated, so I wanted to do something to help educate them."
The MMSI reflects Mitchell's vision of education as a means to improve our community far into the future. He knows this initiative will open doors and create opportunities for students to follow their dreams.
"When I look at students who get scholarships, and look at those fresh faces, I feel like maybe I've received as much as I've given," Mitchell said.
The four MMSI scholars were able to sit down with Mitchell to tell him what his commitment to their education means.
"It blows my mind that someone who doesn't even know me personally would care enough about my education to want to invest in my education and my future," junior Derek Rowan said.
Among the students, there was an overwhelming feeling of pure gratitude for Mitchell's role in helping create the $50 million scholarship initiative.
Christian Manganti, a freshman who scored a perfect 36 on the ACT, cannot wait to see the type of impact the MMSI will have on South Alabama as the university continues to grow.
"The MMSI is giving more young people an opportunity to better their lives through education without having to worry about the financial aspects that bar most people from pursing higher education," Manganti said.
Mitchell treasures being able to spend time with students who are benefitting from the MMSI and seeing that what he is doing while he is here is helping to change lives.
"You're looking at a very lucky guy," Mitchell said. "We were all born to die, so rather than determining what can happen to my assets after I take the trip, I thought I would pre-plan and watch them make a difference while I'm still here."
"I'm 82 years old, and I don't often get a chance to talk to young people," Mitchell added. "I'm always very enthusiastic and enjoy the time I get to spend with students."
The hour spent together reiterated the awareness of the impact of the Mitchell-Moulton Scholarship Initiative is having on people who are a part of the USA family. Mitchell left parting words for all current and future recipients of a MMSI scholarship.
"The best way you can repay me or the school is to just be good productive citizens," Mitchell said. "You do that, that's considered payment in full."
To make a gift or find out more, please visit the Upward & Onward Campaign website.
---