Rural Medicine Practice Made Possible
---
Posted on April 24, 2017
Marketing and Communications
---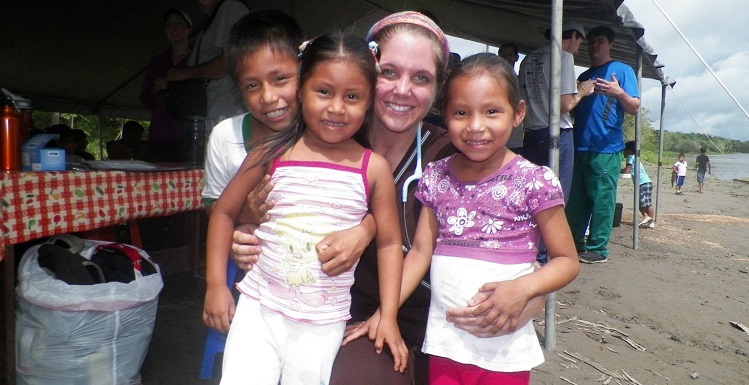 Dr. Gretchen Vandiver, 2012 recipient of the DeBakey Scholarship, is shown in Iquitos, Peru on a medical mission trip through the Christian Medical Ministry of South Alabama.
---
Giving back and taking care of the rural community was very important to the late Dr. Ernest G. DeBakey. He was recognized by his peers as one of the preeminent general surgeons in the Southeast during his career that spanned 60 years. He established the Ernest G. DeBakey Charitable Foundation (DeBakey Foundation) to benefit medical students who have the desire to practice in underserved communities. The DeBakey Foundation has provided the USA College of Medicine more than $2 million to support scholarships for students who are committed to practicing in rural Alabama.
Dr. Gretchen Vandiver, a 2012 scholarship recipient and 2016 College of Medicine graduate, will forever be grateful to the DeBakey Foundation.
"It's amazing to me that I get to finish residency and I won't have any debt," said Vandiver. "I think it is incredible that the foundation is able to do this — support students who are focusing on primary care and want to practice in rural areas of our state."
Vandiver's ambition is to practice in a small town.
"I've wanted to be a pediatrician since I was in the second grade growing up in Cullman, Alabama," Vandiver added. "I really like the sense of community in small towns, and the fact that you really get to know your patients, get to see them at the grocery store, and that you get to be an active member in your community."
The scholarship has created a valuable partnership between the DeBakey Foundation and South's medical school that assists and guides students as they commit to practicing rural medicine.
"Receiving the DeBakey scholarship to attend South prepared me so well," Vandiver said. "I'm extremely appreciative of the opportunities I had when I was in medical school and the trainings I received."
The DeBakey Foundation is taking critical steps to address the need for more physicians in our underserved communities. Marsha DeBakey, wife of the late Dr. DeBakey and head of the DeBakey Foundation, is committed to finding a way to educate young people and send them back into the rural communities that are without or lacking primary care physicians. The scholarship recipients must commit to spending at least five years in an underserved, rural Alabama community as a primary care provider.
By providing scholarships, the DeBakey Foundation is freeing students to choose rural medicine jobs, which are typically lower paying.
"I think this scholarship is a way to encourage future doctors to remember to take care of the underserved community too," Vandiver said. "We've been given a gift and the ability to become a doctor, and I am able to share this gift with those who normally might not have access to adequate care."
To make a gift or find out more, please visit the Upward & Onward Campaign website.
---