MCI Researcher Focuses on Dangers of Vaping
---
Posted on April 26, 2021
Thomas Becnel
---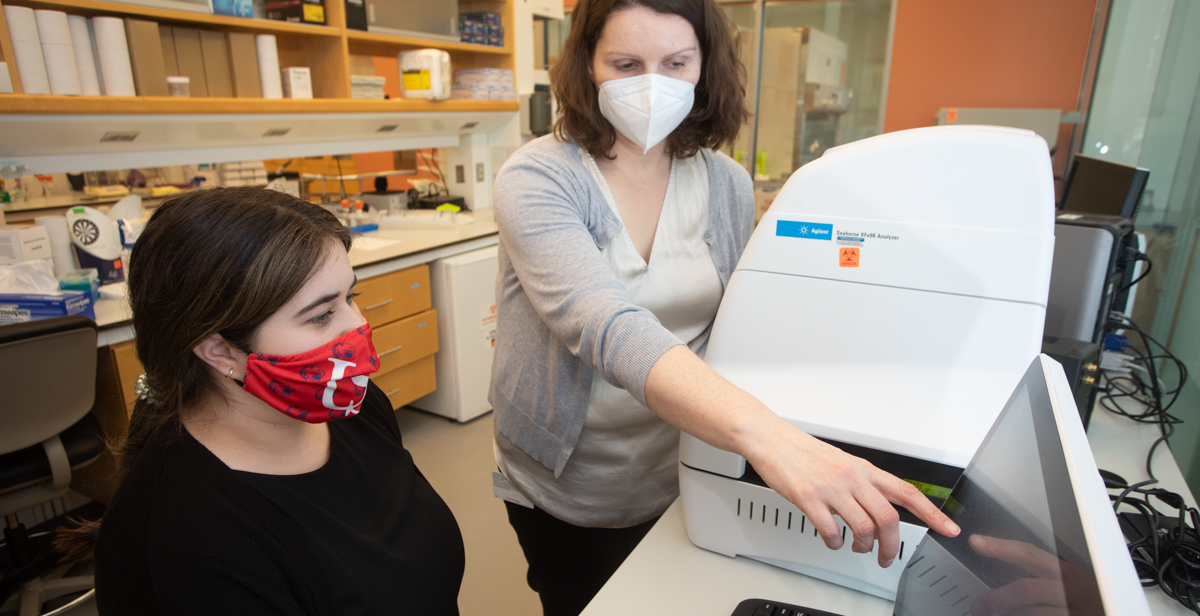 Dr. Natalie Gassman, an assistant professor of physiology and cell biology at the University of South Alabama, and graduate student Arlet Hernandez left, are conducting experiments and continuing research on the harmful effects of dihydroxyacetone, a molecule produced by electronic cigarettes, at the USA Health Mitchell Cancer Institute.
---
Years of cancer research, along with concern about environmental exposure to toxic chemicals, led Dr. Natalie Gassman to focus on the harmful effects of dihydroxyacetone – DHA – a molecule produced by electronic cigarettes.
Millions of young people have turned to vaping as an alternative to smoking tobacco, but they're still inhaling a noxious mix of toxicants and carcinogens.
"E-cigarettes are like a flamethrower of chemicals," said Gassman, an assistant professor of physiology and cell biology at the University of South Alabama, and a researcher at the USA Health Mitchell Cancer Institute. "You can make them safer, but they're never going to be safe. The market is flooded with versions that are identical if not worse than traditional cigarettes. There are cheap ones you can buy off the Internet that are contaminated with heavy metals. It's like smoking air pollution at that point."
In January, Gassman received a $1.1 million grant from the National Institute of Environmental Health Sciences that will fund her research for the next five years.
At the Mitchell Cancer Institute, she won the 2019 Mayer Mitchell Award for Excellence in Cancer Research and the 2020 USA Center for Lung Biology Murray Bander Faculty Development Award.
Gassman, 41, earned degrees at Michigan State University and UCLA. She did post-doctorate research at Wake Forest and the National Institute of Environmental Health Sciences, which is part of the National Institutes of Health. In 2015, she joined the faculty at South and the staff at MCI.
"She had great training and background," said Dr. Robert Sobol, program leader of metabolic and molecular oncology, who recruited Gassman. "We thought she'd make a great addition to the program and you can see by her grants and awards that she's done a fantastic job. She's really embraced the University, too, serving on the Faculty Senate and as chair of the Institutional Biosafety Committee."
Gassman's research has shown that DHA exposure causes cell injury and impairs cell function, which may contribute to lung damage. She and her collaborator, Dr. Marie Migaud, a USA professor of pharmacology, have identified a protein, triose kinase/FMN cyclase (TKFC), that is critical to the incorporation of DHA into cells and their metabolic pathways.
Vaping has grown exponentially in adolescents and young adults, which makes e-cigarettes a public health concern.
"There is a pressing need to understand how electronic cigarettes damage the lungs," Gassman said, "in order to develop treatment strategies for users and regulations to restrict dangerous ingredients."
She and Dr. Casey Daniel, a colleague at MCI, spent several years studying the effects of dihydroxyacetone in spray tanning products. It was this work that led to research on DHA in electronic cigarettes.
"We were kind of struggling because we knew it was interesting research, but it didn't have that broader appeal," Gassman said. "When we figured out that the mobilant in e-cigarettes, which is typically propylene glycol and glycerol, when they're ignited, they form dihydroxyacetone, that was a big thing for us. Now you're going to directly inhale something. You're not going to have the benefit of your skin filtering it. You're going to take it into your mouth, down your throat and into your lungs, and then your lungs are going to distribute it through your blood vessels to your heart and other organs."
Graphical Abstracts
Last year, the DNA Repair journal published a special issue honoring Dr. Samuel Wilson, one of Gassman's mentors at the National Institute of Environmental Health Sciences. She and Griffin Wright, a doctoral student at South, produced a graphical review for "Transcriptional dysregulation of base excision repair proteins in breast cancer."
Charts for their article used labeled boxes, waves and arrows to help describe how proteins are regulated under normal cell conditions and in the context of cancer.
"That was an interesting exercise," Gassman said. "I'm not artistic at all, but I've been trying to get better at making figures that are compelling. Journals are really changing now. They want you to have graphical abstracts. A lot of them want you to make short videos about what your paper is about."
Working in the MCI laboratory with Gassman is Arlet Hernandez, another graduate student. She's in the second year of South's five-year program to earn a Ph.D. in basic medical sciences in the College of Medicine.
Hernandez didn't have much lab experience before coming to South, but she's already working on experiments with mice. She's looking forward to helping Gassman write journal articles on their dihydroxyacetone research.
"We have some data already," she said. "Each cell line has differences in how they react to DHA. We're just trying to connect the dots on what's happening."
Hernandez, 24, is a Cuban-American who earned her bachelor's degree at Florida International University in Miami. Once or twice a year, she returns to South Florida.
"I have cousins who use e-cigarettes," she said. "I tell them not to, but they don't listen to me. They're young."
Focus on E-Cigarettes
When Gassman isn't working, she enjoys rowing and kickboxing. She owns four dogs. She's also a baker who shares cookies and brownies with researchers at MCI.
Cancer research is serious, but she hasn't lost a sense of humor about her role in the field. One of her missions is to educate people, especially pregnant women, about the danger of chemicals in plastic that are present in dozens of household items. She tries not to overdo it.
"I'm kind of a bummer," Gassman said, laughing. "I'll tell you about all the bad things that you're surrounded by on a constant basis."
She and Daniel, who are both pale-skinned, agree that they are unlikely tanning researchers.
"We're the whitest people in the world — we don't go out in the sun — but we were interested in sunless tanning, spray tanning, and we went off on this tangent," Gassman said. "It's been this amazing four-year journey."
Since joining MCI, Gassman has submitted more than 20 scientific articles that have been accepted for publication. Postdoctoral work prepared her for a career in science, but taking research into new areas remains a daunting experience.
"Science is exciting like that, but it's also super terrifying, because what if you're wrong?" she said. "That's one of the things I've gotten from all of the experience I've had, and working with different mentors. They help you feel confident that you're doing the right things and your answers make sense."
Focusing on DHA and electronic cigarettes makes her research less abstract and more immediate. There are obvious public health implications to her work. Lives are at stake.
E-cigarettes are often used to help people stop smoking, but they offer their own set of risks. Research has just begun into the long-term effects of vaping.
"I think e-cigarettes are going to be one of these things," Gassman said, "where when we look back, we're going to say, 'What were we thinking?'"
---