Mobile Commissioner, EU Ambassador to Address Graduates
---
Posted on April 27, 2017
Alice Jackson
---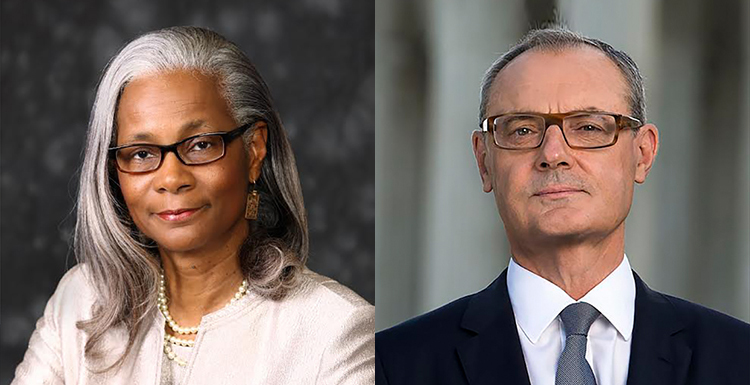 Mobile County Commission President Merceria Ludgood will speak at the 9:30 a.m. ceremony, and European Union Ambassador to the United States David O'Sullivan will address graduates at the 2 p.m. ceremony on May 6.
---
District One Mobile County Commissioner and President Merceria Ludgood and the European Union's Ambassador to the United States David O'Sullivan will address graduates during separate Spring Commencement ceremonies inside the Mitchell Center on Saturday, May 6.
Ludgood will address the 9:30 a.m. ceremony, and O'Sullivan will speak to graduates at the 2 p.m.
The ceremonies will mark 50 years since South awarded its first degrees in 1967.
Ludgood, a native of Mobile's Crichton neighborhood, earned her law degree from the Antioch School of Law in Washington, D.C., and holds a master of divinity degree from the Alabama Interdenominational Seminary. She distinguished herself with her own legal practice before becoming director of the Office of Program Services in the national Office of the Legal Services Corporation. When returning to Mobile, she was a full-time assistant county attorney and assistant city attorney before she was elected to her present position in 2007.
Ludgood is the recipient of numerous honors and awards, including being selected for Leadership Mobile, Leadership Alabama and the prestigious Kellogg National Leadership Fellowship. As a Kellogg Fellow, she traveled to 17 countries on five continents, interviewing women leaders. She has been honored for her public service by many community organizations, including receiving Mobile United's A.F. Delchamps Award for creating community by forging unity from diversity, 2008; Mobile Bar Association Trailblazer Award, 2012; al.com Women Who Shape the State, 2016; Inductee of Alabama Lawyers Association Hall of Fame, 2016 and Governing magazine's Women in Government Leadership Class, 2017. Ludgood donates her time to many organizations, including Mobile United/Leadership Mobile, Leadership Alabama, Alabama Appleseed Center for Law and Justice, United Way of Southwest Alabama and the United Way Women's Initiative. Additionally, she represents the commission on a number of state and regional boards involving numerous issues impacting her constituents.
O'Sullivan, the European Union's top diplomat to the United States, is visiting South for the second time. He first visited in April 2016 while in Mobile to observe the delivery of the first Airbus jetliner to JetBlue. He spoke to South students and faculty about the "Transatlantic Trade & Investment Partnership Agreement (TTIP)" and discussed transatlantic challenges as well as EU-U.S. relations.
O'Sullivan oversees the EU's bilateral relationship with the U.S. and the direction and work of the EU delegation, including political, economic and commercial affairs. His work supports the High Representative for Foreign Affairs and Security Policy in implementing the EU's foreign policy, and he represents the presidents of the European Council and the European Commission.
He began his career with the Irish Department of Foreign Affairs and Trade, has a long and distinguished career that spans five decades, as well as service in a number of senior official posts in European public service and the European Commission, including chief operating officer of the European External Action Service and responsible for establishing the new EU diplomatic service, one of the world's largest diplomatic networks with 140 delegations across the globe; Head of Commission President Prodi's Cabinet, 1999-2000, and Secretary General of the European Commission, 2000-2005. He has extensive trade experience as Director General for Trade, 2005-2010, and Chief Negotiator for the Doha Development Round. He was also responsible for overseeing the launch of a number of free trade agreements and concluded the EU's agreement with South Korea.
Details on each ceremony, including information for both graduates and their guests, can be found on the Registrar's Office website.
The Mitchell Center will open to the public at 8 a.m. for the morning ceremony. Following that ceremony, the building will close to the public, then re-open for the afternoon ceremony at noon.
Parking signs will be posted throughout campus, and shuttle service will be available for guests who park in these areas. The shuttle service will run from 7:45 a.m. until 6 p.m. Pick-up and drop-off points for the shuttles will be the following parking lots: University Commons, Gamma Dorm, Humanities Building, Whiddon Administration Building, Jaguar Drive (past the HKS East Entrance and Old Shell Road) and the Computer Science Building.
In the two ceremonies, a total of 2,268 spring and summer degree candidates will be recognized and honored. Total degrees awarded in South's history will now number more than 87,000
Again this year, the Mobile County Public School System will partner with South to provide live streaming of both commencement ceremonies with coverage beginning at 9:30 a.m. The ceremonies will also be streamed via YouTube Live from South's homepage.
---