Go Fishing, Earn Cash, Support Research
---
Posted on April 29, 2016
Bob Lowry
---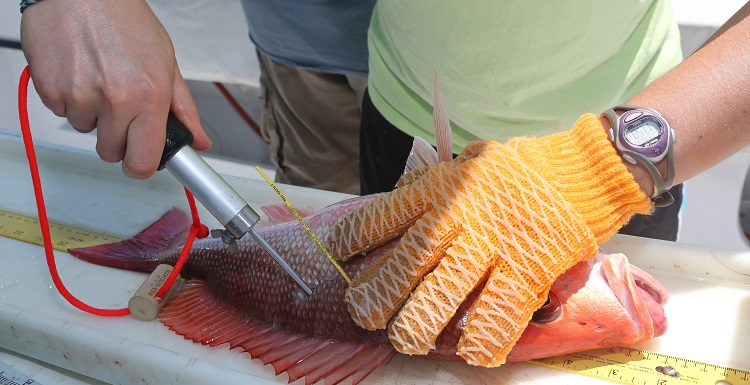 University graduate student Amanda Jefferson helps tag one of the 750 red snapper released by the Dauphin Island Sea Lab into northern Gulf of Mexico waters as part of a marine sciences project to estimate the recreational mortality of the popular sport fish. Photo by David Hay Jones
---
During the month of May, if you catch a red snapper in Gulf waters and it has a yellow tag, you can redeem that tag for some greenbacks (a/k/a "money") while helping University of South Alabama marine scientists in an important research project.
For the past few weeks, Dauphin Island Sea Lab personnel have been placing 750 tagged red snapper in the Gulf of Mexico off Dauphin Island. If you catch one of these tagged fish, snip off the tag at the skin, and redeem it for a cash reward. For a single-tagged fish, it's $250 and for a double-tagged red snapper, it's $500.
"This tagging program is designed as a simple and straightforward approach to directly estimate recreational fishing mortality, a parameter that is typically inferred indirectly through statistical catch-at-age stock assessment models," said Dr. Marcus Drymon, research assistant professor at USA and the Dauphin Island Sea Lab.
For many anglers, the red snapper season is always a point of contention. Over the past two years, the season has been just nine and 10 days long for private sector recreational anglers in federal waters. This week, the 2016 season was set at nine days beginning June 1, though Congress recently approved a provision to extend Alabama's state waters from three miles to nine miles to help increase access to the popular sport fish.
"The federal recreational fishing season is set each year based on the most recent recreational landings data," Drymon noted. "Through our tagging program, we will be able to directly estimate recreational landings using the tag recapture data, thereby providing an extremely valuable estimate of fishing mortality."
Drymon adds that the program's outcome will directly benefit Alabama's recreational fishing community. "Our results will provide a comparison to the highly complex catch-at-age assessment model, while providing anglers the chance to receive a substantial monetary reward for reporting the capture of tagged fish."
Now about that reward. As anyone who's ever conducted a survey knows, the greatest challenge is often in getting participants to follow through. Drymon said that he hopes 100 percent of anglers who catch the tagged red snapper will turn in the tag for the cash reward. And, because some tagged fish may shed their tags, the researchers double-tagged 250 of the fish.
Drymon is quick to add that it took "a small army of interns, graduate students and technicians" to catch, tag and release the 750 red snapper across the entire northern Gulf of Mexico that were needed to make the program work.
Amanda Jefferson was part of that small army. A first-year graduate student in USA's marine sciences department, Jefferson has had a lifelong interest in that field.
"My childhood visits to the nearby National Aquarium in Baltimore sparked my interest," said Jefferson, a native of Ellicott City, Md. "I also participated in the aquarium's Student Summer Program during my senior year of high school. I learned about all of the exhibits and then worked as an exhibit guide, interpreting exhibits for visitors of all ages. By the time I began my college studies (in North Carolina), I was certain that marine science was the field for me."
And while the red snapper project is not part of her research, it is part of her passion for marine science, a passion shared by Drymon and his "small army" of marine scientists as they learn more about one of the Gulf's most popular species.
The red snapper tagging program is a cooperative effort with the Dauphin Island Sea Lab, the University of South Alabama, Auburn University and the Alabama Department of Conservation and Natural Resources, Marine Resources Division. Tags must be mailed to the Auburn Department of Fisheries for anglers to collect their reward.
To report a caught tagged fish, call toll free (855) 818-9983 or e-mail red@auburn.edu.
---