At Her Beginning, She Sought End Answers
---
Posted on April 29, 2019
Joy Washington
---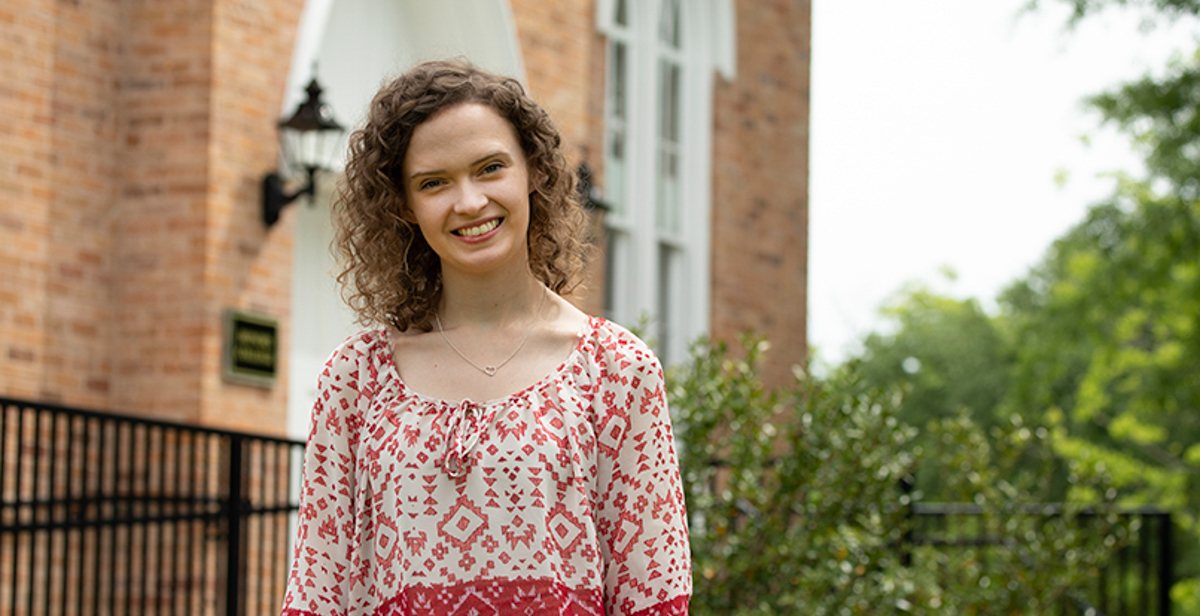 Natalie Williams will begin her career as a nurse in a local intensive care unit. "I love a good adrenaline rush," she said. "I love the fast-paced environment of working in the emergency room. I have learned that I can work in intense situations and not be broken by the experience."
---
When Natalie Williams was a teenager, she helped care for her grandfather, Richard Sladky, who was a retired chemist. He was diagnosed with Alzheimer's disease and had it for 17 years. That experience led her to work at a nursing home while in high school and pursue nursing at the University of South Alabama.
As a graduating senior and a member of USA's Honors College, Williams, a native of Madison, Ala., was able to focus on a very important area of health care, which is end-of-life nursing, after a brainstorming session with her mentor, Dr. Chrystal Lewis, assistant professor of adult health nursing at South Alabama.
"When I came to South's Honors program, I had broad ideas which included doing research about Alzheimer's disease. I am very interested in geriatric nursing. And I have always had a heart for hospice patient care," Williams said. "I connected with my mentor, Dr. Lewis, who was doing research on palliative care around rare diseases, and I thought it was interesting.
"I asked her how nurses care for those patients dealing with rare diseases, and Dr. Lewis said there isn't any literature on that, and my topic was born," Williams explained. "That discussion led me to work on a unique method of research with a focus on hospice and palliative care nursing. With the support of Dr. Lewis, I was able to complete my research on palliative care nurses' competency in treating rare diseases and caregiving for those individuals."
For a disease to be considered rare, there has to be less than 2,000 cases. According to Williams, an example of a rare disease is Vanishing White Matter Syndrome.
"This disorder causes deterioration of the central nervous system," Williams said. "It usually affects children ages 2 to 3 years of age. Each patient can have a different prognosis. Some patients recover, yet others with severe cases can have an episode that may lead to a coma or death."
During her research, Williams surveyed nurses by sending information to the Hospice and Palliative Nurses Association's national newsletter. She received 35 responses.
"We are very proud of the work Natalie has done with her research," said Dr. Kathy Cooke, dean of the Honors College. "She received approval to use their distribution list and in return Natalie was asked to present an abstract for consideration at the three-day joint annual meeting of the Hospice and Palliative Nurses Association and the American Academy of Hospice and Palliative Care, where more than 3,400 members share their research, clinical best practices and practice-related guidance to advance the specialty and improve patient care."
As a result of Williams's abstract, she was invited to present a "scholar e-poster." She was the only undergraduate student to present at the national meeting of medical professionals. She also recently presented the results of her research for her Honors College thesis defense at South Alabama.
"This was unique research because nurses are completely overlooked in medical research," Lewis said. "When I met with Natalie, she had big dreams, but I was able to help her see what was realistic to accomplish through the research topic she selected. I love that Natalie is persistent and she was extremely engaged in this research project. I am very honored to have served as her mentor and worked with her."
Here are a few of Williams's findings:
Forty-seven percent of the nurses didn't feel proficient in their rare disease medication knowledge.
One-hundred percent of the nurses surveyed always research a new patient's diagnosis when they are unfamiliar with their disorder or disease.
Eighty-three percent of the nurses strongly agree they were comfortable explaining rare disease progression.
Williams is grateful for the strong support system she has, which includes her friends and family. Her mother, Jeannine Reid, who is a retired missile defense engineer and now the co-owner of a fishing resort, is her "wonder woman" and her grandmother, Mary Sladky, who put herself through college, is her "rock star."
"I have learned so much from my family, specifically my mom," she said. "I am a big planner and I like to have things organized. But my mom has shared that you don't have to have everything figured out. In due time, things will work out. And I love my grandmother. She has given me so much love and support. "
Williams has presented outstanding research and now she will begin her nursing career at a local hospital working in the intensive care unit.
"I love a good adrenaline rush," Williams noted. "I love the fast-paced environment of working in the emergency room. As a student, I was able to do one of my clinical rotations there. I have learned that I can work in intense situations and not be broken by the experience. I am ready to do this. I know nursing is one of my callings."
After working in nursing for several years, Williams plan to pursue her Ph.D. in nursing.
---