South Celebrates Volunteers During National Volunteer Month 2021
---
Posted on April 29, 2021
Joy Washington
---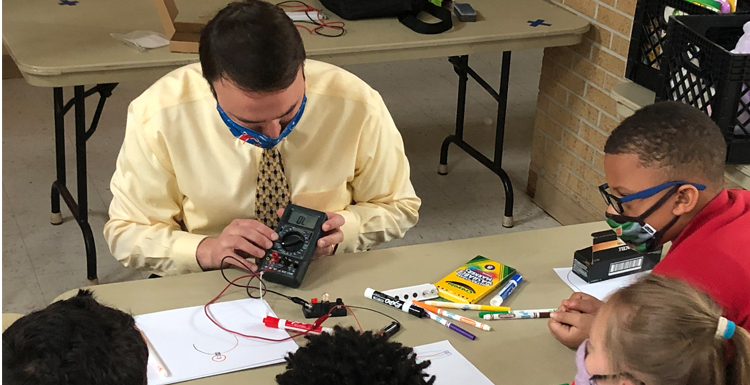 While volunteering, Dr. Martin Frank, assistant professor of physics at South Alabama shares the importance of activities that incorporate Science, Technology, Engineering, Art and Math with local elementary school students.
---
April is National Volunteer Month, and the University of South Alabama is celebrating its more than 5,670 South volunteers.
The USA Office of Community Engagement reports that from January 2020 through mid-April 2021, South Alabama students, faculty, and staff tracked more than 15, 600 service hours that equates to an impact of $393,900, based on the volunteer value hour of $25.25 as determined by the nonprofit organization the Independent Sector. Volunteers are being celebrated and featured in impact stories on USA social media throughout the remainder of the month.
"Volunteering is one of the most important things we can do for our community," said Shannon Shelley-Tremblay, director of the USA Office of Community Engagement. "It gives us the chance to learn about each other, fill a need, connect with other caring individuals, make an impact and have fun."
South Serves/Volunteer Connect is a web-based volunteer and service-learning management system used by 200 community nonprofits, University departments, and USA student organizations. South Serves, a portal of the United Way of Southwest Alabama's Volunteer Connect website helped University volunteers engage with numerous service projects.
USA volunteers this year made and donated facemasks, conducted one-on-one and small group mentoring and tutoring, virtually visited or served as pen pals for seniors in isolation, and provided listening and counseling services with the use of chat and text. They also helped with archive projects such as online transcription services and documenting experiences, all during the height of COVID-19.
"I really enjoy volunteering for the community as a South student," said Brian D. Gonzalez. "I get a sense of pride and accomplishment, and I like giving back to the community. Volunteering also allowed me to meet community leaders like Peggy from Mobile SPCA and Lydia from Goodwill Gulf Coast. I look forward to working with them further and continuing my volunteer work these upcoming years while studying and serving at South."
South volunteers went a step further by helping with in-person volunteerism to staff COVID-19 drive-thru and walk-up vaccination clinics. They also sorted and inventoried donations of books, clothes, and food, and helped with cleanups on campus, throughout the community, and after hurricanes. The South volunteers also bathed and walked shelter animals, staffed food distribution events and served as advocates for sexual assault survivors.
Laurie M. Childers, volunteer coordinator for the University, says the University is grateful for the collaborative partnership with the United Way of Southwest Alabama. Shelley-Tremblay said this partnership makes it possible to connect the USA campus through South Serves with the many community organizations that participate in Volunteer Connect.
"I am filled with gratitude for all that has been accomplished," Shelley-Tremblay expressed. "I eagerly anticipate all the possibilities for the future of our community as we continue to grow and serve together."
"The fruitful partnership between the UWSWA and the USA's Office of Community Engagement increases our network of good and supports the efforts of our community's safety net," said Trista Stout-Walker, vice president of Community Impact, United Way of Southwest Alabama. The nonprofits of Southwest Alabama are truly grateful for the time, energy, and support generated by the students, faculty, and staff at the University of South Alabama. Go Jags!"
Follow the USA Office of Community Engagement to learn more and see the South volunteer's social media campaign. Follow on Facebook-@OCEat SouthAlabama; Instagram-@oce_southalabama; and Twitter-@OCEatSouthAL.
---