One Step Closer to Fulfilling a Dream
---
Posted on May 2, 2016
Alice Jackson
---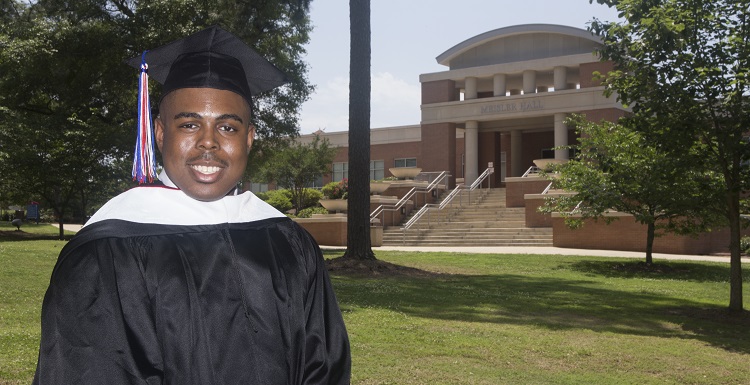 Daeshen Smith, who played in the Jaguar Marching Band throughout his undergraduate and graduate studies, said of South: "This place has felt like home for me."
---
Daeshen Smith grew up dreaming of becoming a sports broadcaster. So he will be one step closer to realizing that dream when he marches across the Mitchell Center stage to receive his master's degree in communication during Spring Commencement.
"When I was little, I was always watching ESPN, and I loved playing intramural sports, like flag football or basketball in my spare time," he said. "All my time here at South, if I wasn't in the communications department, I was at a sports game."
Smith's other major interest is the Jaguar Marching Band, and the saxophone player holds the distinction of being the first student to play in the band throughout undergraduate and graduate studies.
"I loved everything about the band, and I marched every practice and every game too," said Smith, 23, who is from Pensacola, Fla.
Even Smith's master's thesis, "Down to the Wire: A Study of NFL Message Boards," focused on sports. For it, he observed online message boards of 18 of the league's 32 teams during one week of the November 2015 season. The subject teams ranged from the winning Carolina Panthers to middle-of-the-pack teams to those teams already shut out of the season's playoffs during Week 17 of the 2015 season.
"The thing that separates past studies from mine is that I actually looked at message boards during games that dealt specifically with what was going on in that game while it was being played," Smith said. "Most other studies had looked at message boards either before or after the game. My content analysis found that fans were way more emotional when they were on the message boards during the games, and they also used both humor and anger to cope with what was happening. In fact, fans were so emotional that I had to censor some of the language."
Smith also worked at two internships while at South – one at a local radio station and the other at a television station. During graduate studies, he also worked as a teaching assistant in the department of communication, teaching Public Speaking 101.
Now, he's applying for jobs around the Southeast, finally ready to go to work in sports broadcasting. And, he has also applied for a video production job in Mobile, hoping he can stay here, maybe, just a bit longer.
"I've loved every minute being here at USA. This place has felt like home for me since I got here, and that's why it was so important for me to stay here for graduate studies," he said. "The faculty have been wonderful to me. I learned about myself as well as getting a lot of experience in a lot of different ways. I'll forever be grateful for South and the people who helped me. I love this place and them."
---