Graduation: Everything You Need to Know
---
Posted on May 3, 2016
Alice Jackson
---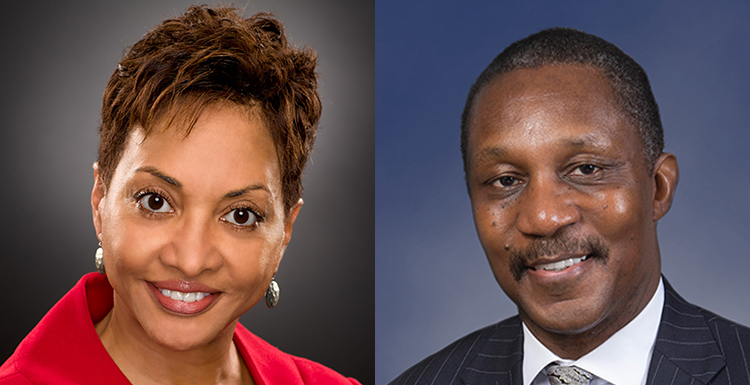 Pulitzer Prize-winning columnist Cynthia Tucker Haynes will address graduates at the 9:30 a.m. ceremony, while South alumnus and attorney Kenneth O. Simon will speak at the 2 p.m. ceremony.
---
A Pulitzer Prize-winning journalist and one of Alabama's most respected attorneys will address graduates during two Spring Commencement ceremonies inside the Mitchell Center on Saturday, May 7.
Syndicated columnist, blogger and television commentator Cynthia Tucker Haynes, a Monroeville, Ala., native, will address graduates during the 9:30 a.m. ceremony. The afternoon ceremony will begin at 2 p.m. and feature speaker Kenneth O. Simon, Birmingham attorney, vice chair of the University's Board of Trustees and the first African-American president of the University's Student Government Association before he graduated in 1976.
Haynes became a reporter at The Atlanta Journal-Constitution, one of the South's leading newspapers, shortly after she graduated from Auburn University in 1976. During the 1980s, she worked for The Philadelphia Inquirer, and then set out on her own as a freelance journalist in Africa. Later, Haynes returned to The Atlanta Journal-Constitution as the first woman and first African-American to be in charge of the newspaper's editorial page, overseeing commentary ranging from local elections to foreign affairs for 17 years. She later worked as a Washington-based political columnist for the newspaper. Her numerous awards and honors include the prestigious Nieman Fellowship to Harvard University. Haynes' column was a finalist for the Pulitzer Prize in the commentary category in 2004 and 2006 before winning the prestigious honor in 2007. Today, she continues to write her "As I See It" syndicated column, which appears in newspapers around the nation, and is a frequent political commentator on national television and radio.
Simon has more than 30 years' experience as a judge, litigator and mediator. He is a 1976 USA graduate, where he served as Student Government Association president, vice president and senator, and was a member of the varsity debate team. After law school graduation, he began his career in a litigation firm in Mobile. In 1983, he was one of 13 persons selected as White House Fellows and served his Fellows' year as a special assistant to U.S. Attorney General William French Smith. Simon returned to Alabama in 1989, and has served as a circuit judge in Jefferson County, the state's largest judicial district, and has developed a reputation as a skilled litigator, mediator/arbitrator, advisor to public agencies and expert in securities law. He has a special passion for the University of South Alabama. His mother, Lavonne Simon, was the first African American graduate of USA, and each of her seven children graduated from or attended USA. He is a 2007 recipient of a USA Distinguished Alumni Award. Simon is also a three-time "JAG." In addition to being a USA Jaguar, he was a lieutenant commander in the U.S. Navy Reserve JAG Corps and is presently a mediator/arbitrator with the Denver-based Judicial Arbiter Group, Inc. ("JAG"), for which he recently established a Southeastern office in Birmingham.
Details on each ceremony, including information for both graduates and their guests, can be found on the Registrar's commencement website.
Guests should note that the Mitchell Center will open to the public at 8:30 a.m. for the morning ceremony. Following the morning ceremony, the building will close to the public, then re-open for the afternoon ceremony at noon.
Parking signs will be posted throughout campus, and shuttle service will be available for guests who park in these areas. The shuttle service will run from 8 a.m. until 6 p.m. Pick-up and drop-off points for shuttles will be the following parking lots: University Commons, Gamma, Humanities Building, Whiddon Administration Building, Jaguar Drive (between the HPELS Building and Old Shell Road), and the Computer Science Building.
In the two ceremonies, a total of 2,303 spring and summer degree candidates will be recognized and honored. Total degrees awarded in South's history will now number more than 84,000.
USA is scheduled to award 1,515 bachelor's degrees, 532 master's degrees, 95 doctor of nursing practice degrees, 73 doctor of medicine degrees, 40 doctor of physical therapy degrees, 26 doctor of philosophy degrees, nine doctor of audiology degrees, three doctor of business administration, one doctor of science in systems engineering and nine educational specialists. The undergraduates include 343 students who will graduate with honors.
The University and Mobile County Public School System will partner again this year to provide live streaming of the Spring Commencement with coverage beginning at 9:30 a.m. on May 7. However, not all browsers will permit live viewing. It's recommended that you use Firefox or Internet Explorer as the preferred browsers to view the commencement ceremony. Google Chrome, and many other browsers, are incompatible.
---