South Triangulates Tornadoes in Federal Weather Balloon Program
---
Posted on May 5, 2019
Alice Jackson
---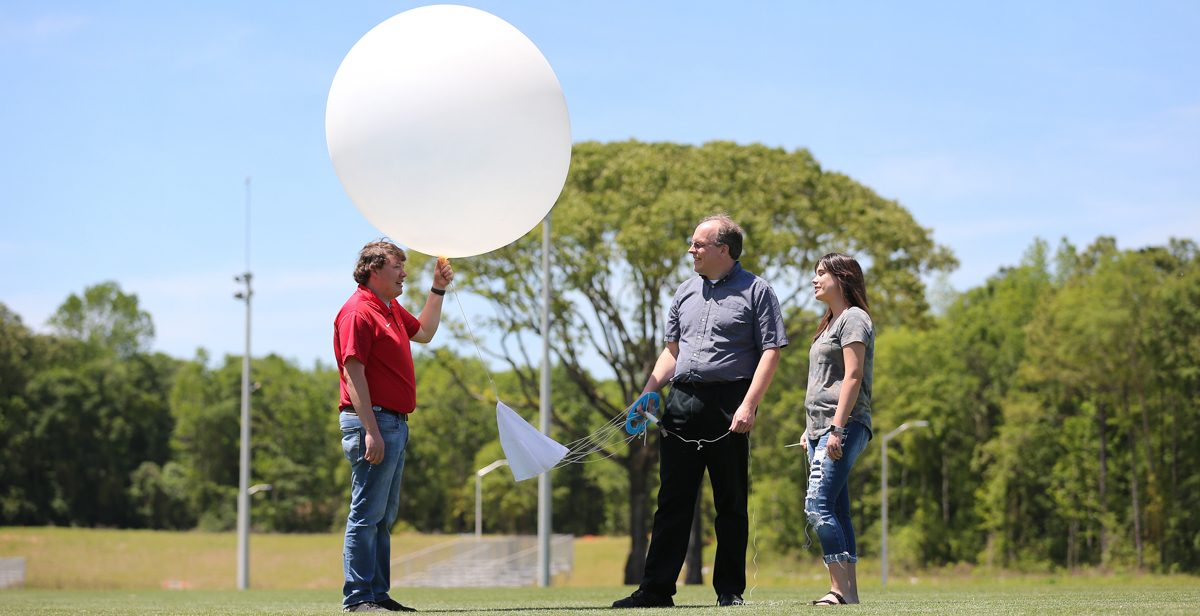 Dillon Blount, left, a meteorology major from Pelham, Ga.; Dr. Wesley Terwey, assistant professor of meteorology; and Amber Kulick, a junior meteorology major from Falkville, Ala., participate in the VORTEX weather balloon program that seeks to learn more about tornadoes in order to provide timelier forecasts.
---
If you happen to pass by the University of South Alabama intramural fields around five o'clock in the morning, you just might observe tornado research in action. USA meteorology students are regularly sending weather balloons aloft from that site as part of a federal government research program looking at storms and conditions that produce tornadoes in the Southeast.
The research program goes by the acronym of VORTEX, which stands for Verification of the Origins of Rotation in Tornadoes Experiment. As the name suggests, the program aims to better verify the origin of tornadoes, especially compared to their Great Plains counterparts, in an effort to provide timelier tornado forecasts.
Back on March 2-3, USA students under the direction of Dr. Wesley Terwey, assistant professor of meteorology in the department of earth sciences, released the silver balloons in advance of an approaching storm system. The system ultimately formed some 40 tornadoes that touched down across portions of the Southeast, including the deadly EF4 tornado that devastated rural communities from Beauregard, Ala., to Talbotton, Ga. The tornadoes killed 23 people and injured at least 100 others.
"We work with other universities involved with VORTEX, the National Weather Service, and the National Severe Storms Laboratory, which is the NOAA agency that runs VORTEX," Terwey said. "Together with other university professors and VORTEX personnel, we try to determine when to launch balloons based on the weather systems headed our way."
Additionally, VORTEX also coordinates university chase teams with mobile radars, surface observations and other instruments to gather data about possible tornadic storms as they form in northern Alabama and Mississippi.
During the specified times determined by VORTEX, at least two Souths student release a balloon at the same time as other student and researchers throughout the region every six hours. So, if VORTEX calls for a 5 a.m. launch, that requires a wake-up time at 3:30 a.m.
"The 5 a.m. time means that's when the balloon has to be up and in the air. It takes a half-hour to get the equipment out to the site at the intramural fields and a half-hour to get it in the air, then an hour waiting for the balloon to finish its ascent. It becomes a long sort of process," said Terwey, who teaches about radar, physical processes and computer programming for the meteorology program.
Before VORTEX, weather balloons were launched from only a handful of places in the Southeast, such as Slidell, La., Jackson, Miss., Birmingham, Ala., and Tallahassee, Fla. With the help of college students such as those at South Alabama, VORTEX can release more balloons over a wider area to obtain more information, and hopefully to learn more about how tornadoes form. The balloons are launched during specific severe weather situations from November to the end of April, the most likely times tornadoes form in the region, which carries the nickname of Dixie Alley.
This was USA's first year to participate in the program. VORTEX supplies Terwey and his students with the balloons, the electronic equipment each balloon carries to sample the atmosphere and the receiving station on the ground to collect those observations.
"The balloons have radio instruments, which transmit data back to our computer on the ground, and we log it until the balloon gets so high that we can't receive the data anymore. Then, we send the data to VORTEX," Terwey explained. VORTEX is located at the National Severe Storms Laboratory in Norman, Okla. From there, the data is used by forecasters and computer models to hopefully improve short-term weather forecasts.
Terwey said VORTEX is especially interested in the effect of local terrain on tornado formation, as well as effects like temperature, moisture and wind profiles.
"VORTEX-SE has learned there needs to be a lot more focus on terrain effects, where you have hills, mountains and valleys. It's complicated. In certain areas you may have essentially a funneling effect, or in other areas the flow may be blocked. There are a lot of interesting local effects that need to be taken into account," said Terwey. "Warm moist air beneath cooler dry air isn't as important here as it is on the Plains. For instance, circumstances that result in marginal formations there end up being good cases here."
Terwey has 10 primary students on the schedule and another five students as back-ups.
"The VORTEX project is a great opportunity for students in meteorology to get their feet wet in an actual class application," said Samantha "Sam" Michlowitz, a sophomore meteorology major from Mobile. "I am a very hands-on learner, so seeing the balloon data coming in taught me the different levels of the atmosphere in a more in-depth way than a lecture could have ever done. I want to work with the National Weather Service one day so this is a great way to gain experience for a job I may have in the future."
Senior Peyton Barlow, who also hopes to work with the National Weather Service, agreed.
"Working on the VORTEX project as a student means I get to participate in research that is used to help NOAA create better severe weather forecasts. It also means I get upper-air experience by launching weather balloons," said Barlow, who is also from Mobile. "This experience is a good thing to have if you are considering applying for a job with the National Weather Service."
---