Online RN-to-BSN Offered at South
---
Posted on May 6, 2019
Joy Washington
---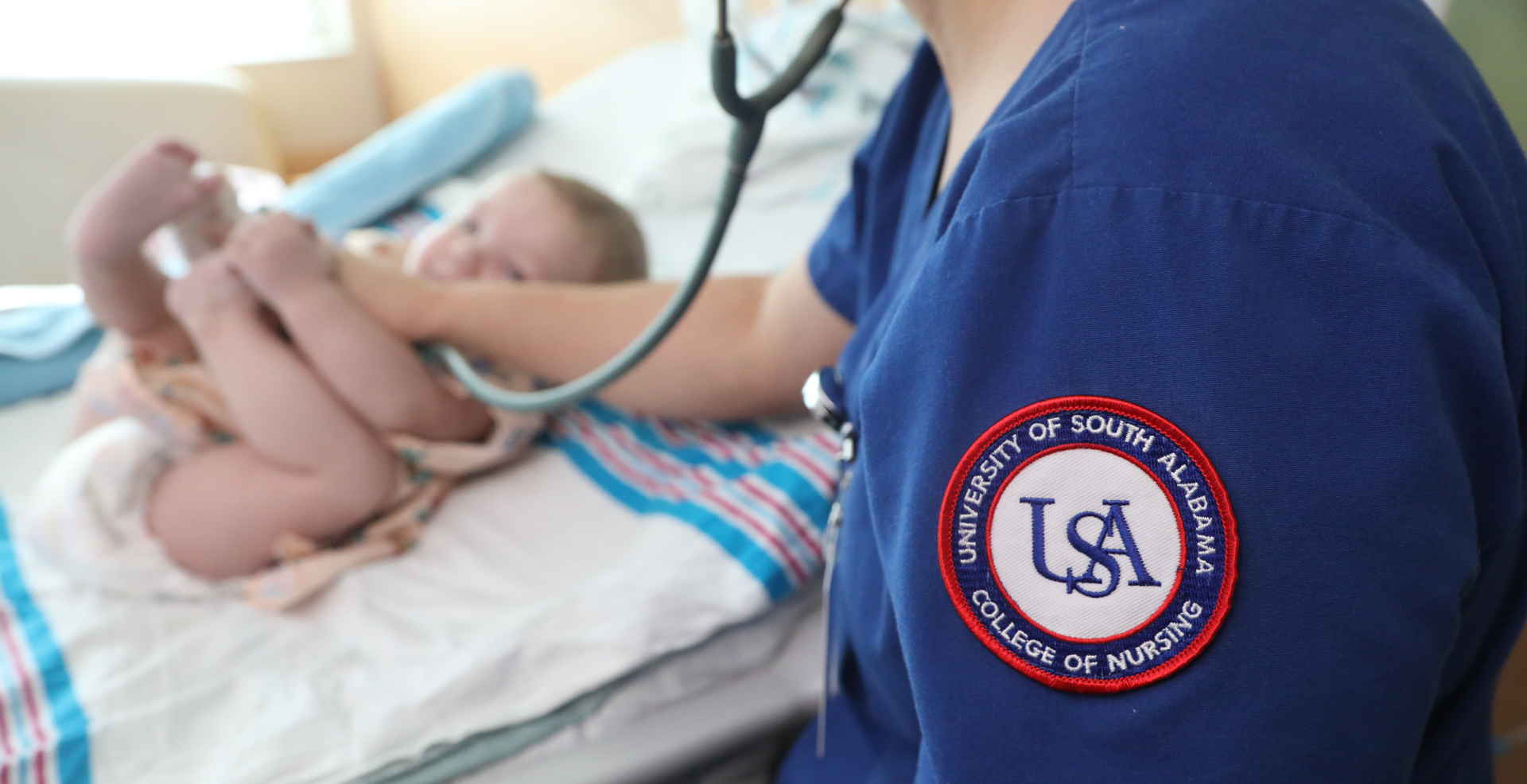 ---
Due to an increasing need for nurses and to enhance professional advancement opportunities, the College of Nursing at the University of South Alabama has strengthened its online RN-to-BSN Pathway program for professionals who are already licensed as registered nurses.
Those interested in a nursing degree should visit the college from 4-6 p.m., Thursday, May 9, for the College of Nursing Open House at USA's Health Sciences Building. To RSVP for the open house event, call (251) 445-9400 or email your name and contact information to aswilson@southalabama.edu.
The application deadline for students enrolling this fall in the RN-to-BSN Pathway program will be August 1. The deadline for spring semester 2020 applications will be Sept. 1. Interested candidates can complete the application online via the college's website.
"Because of a projected national nursing shortage it was imperative that the curriculum was updated," said Dr. Heather Hall, dean of USA's College of Nursing. "The open house will be a great opportunity to meet me and my staff to ask questions about our academic programs specifically designed to meet nurses' needs. RNs with a diploma or an associate's degree can benefit from South Alabama's tradition of excellence in the RN-to-BSN Pathway program."
Hall also said no matter whether it's the RN-to-BSN, BSN, MSN, DNP or certificate programs, there will be numerous resources and information available at the open house to help prepare RNs for a rewarding career in professional nursing.
Dr. Pamela Johnson, program coordinator, was instrumental in working with Hall and Dr. Kathy Bydalek, associate dean for academic affairs and associate professor of nursing, to develop the RN-to-BSN course descriptions. She also worked with course coordinators and USA's Innovation in Learning Center to develop the course objectives and content to make sure they were supporting South students with the knowledge and tools that are imperative in addressing current issues in health care and preparing them to practice nursing at a higher level.
"We have structured the RN-to-BSN curriculum for nurses who would pursue their Bachelor of Science in nursing through the RN-to-BSN program," Johnson said. "They usually do so in order to advance their career opportunities. The BSN degree would better support nurses who are in management/leadership roles, those who wish to continue their education to the master's level or those who would like to pursue their doctorate in nursing."
The RN-to-BSN will be taught entirely online and is a flexible option for nursing students who are managing work and family responsibilities. "We want our program to be at the forefront in preparing nurses to succeed in nursing today and into the future," Johnson stated.
Some of the RN-to-BSN professional components for qualified students include:
Taking six online nursing courses for a total of 24 credit hours.
Proceeding through the program at their desired pace.
Completing professional courses in a minimum of two semesters.
Completing professional courses within five years of beginning the BSN curriculum.
There are several nursing scholarships available for those students who are eligible.
Questions about the RN-to-BSN program may be sent via email to conrn2bsn@southalabama.edu.
---