'Find Your Superpower'
---
Posted on May 7, 2022
Thomas Becnel
---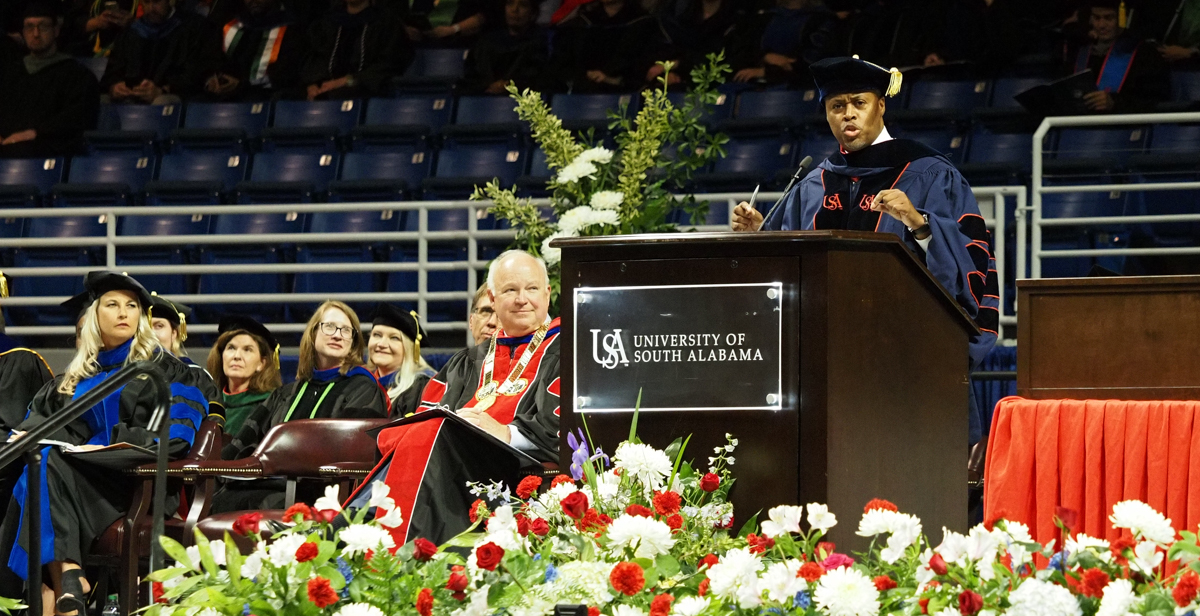 University of South Alabama alumnus and CEO of Atlanta BeltLine Inc. Clyde Higgs urged graduates to find their genius. "Each and every one of us is endowed with something special we can do better than most. It is there. It is absolutely there."
---
Spring Commencement speaker Clyde Higgs urged University of South Alabama graduates to discover their own path in life, saying each of them stands at the intersection of potential and opportunity.
"Find your superpower, your genius, your purpose, or whatever you want to call it," said Higgs, a South alumnus and CEO of the $4.8 billion Atlanta BeltLine Inc. redevelopment project. "Each and every one of us is endowed with something special we can do better than most. It is there. It is absolutely there."
In all, nearly 2,200 candidates for spring and summer graduation were recognized at the USA Mitchell Center on Friday and Saturday. Family and friends cheered when graduates crossed the stage.
There were 34 South graduates with perfect 4.0 grade-point averages, along with 115 summa cum laude graduates, 155 magna cum laude graduates and 167 cum laude graduates.
Members of the Class of 2022 shared a sense of relief after completing their college education during the global coronavirus pandemic. Mask wearing, social distancing and remote learning were all part of their college experience.
"It felt like something was taken from us, but during our last semester we got everything back," said Kirstin Walters, a nursing graduate from Gulfport, Mississippi. "Getting to walk at graduation without masks, I was excited about that."
Walters already has a job lined up as a labor and delivery nurse in a hospital near the South campus.
"I thought I would be going back to Mississippi," she said, "but I fell in love with Mobile."
Fernando Hall, a computer science graduate from Birmingham, Alabama, has accepted a software engineering position in Denver, Colorado. He can't wait to live in a cold climate. Before his Commencement ceremony, Hall accepted congratulations and good wishes from dozens of classmates.
"I was a resident assistant in the dorms for three years," he explained, "so I know everybody."
Lily Nguyen, a senior from Biloxi, Mississippi, moved to Mobile after Hurricane Katrina destroyed her family's home. She has a few remaining classes to complete at South for her degree in radiologic sciences.
"We still have a summer semester," Nguyen said, laughing, "but we're celebrating today."
Parents at Commencement included Leticia Mason, who traveled from Birmingham to celebrate with her daughter, Destiny Hicks, a nursing graduate. She brought a dozen roses, along with a balloon bouquet.
"Today is National Nurses Day," Mason said at the Friday ceremony. "So it says Happy Nurses Day and Graduation."
Higgs, who graduated from South in 1997 with a bachelor's degree in psychology, earned a master's degree in public administration while working in economic development. He spoke at both ceremonies. The Atlanta BeltLine project, scheduled for completion in 2030, includes a 22-mile recreational trail, along with light rail transit, affordable housing and mixed-use development projects.
Higgs spoke about changing majors three times and taking nearly seven years to graduate from South.
"I hesitated a little bit before sharing that tidbit of information with you," Higgs said. "It used to be a source of significant embarrassment for me."
In that time, though, he said he joined a fraternity, made lifelong friends and began the career that brought him back to South as Commencement speaker.
"I absolutely loved my college experience," he said. "The smell of fresh-cut grass pulls me back to the '90s, being on campus, listening to my favorite rap artist on my Walkman."
Graduates laughed, while Higgs quipped, "I might have dated myself a little bit there."
Before and after Commencement ceremonies, graduates and their families took photos in front of the Moulton Bell Tower, or next to the statue of SouthPaw, the University mascot. They planned meals at local restaurants and enjoyed the spring weather.
President Jo Bonner, who began in January, led the ceremonies in the Mitchell Center. He welcomed graduates, saying their last semester at South was his first. New beginnings, he said, they had in common.
"I want to tell you that you've been outstanding teachers, helping me learn more about how great this University is and how bright our future is together," he said.
Bonner urged graduates to listen, ask questions and stay humble as they encounter new challenges and opportunities in life. "We are confident wherever you go you will go with the University of South Alabama deeply engrained in you."
After instructing seniors to move the tassels on their ceremonial caps, Bonner on Friday asked them to join him in raising their hands to form the letter "J," a symbol of school spirit.
"One, two, three," he prompted the Class of 2022. "Go Jaguars."
---
For Commencement photos, visit South on Instagram and Facebook.
---