Three Pieces of Advice for South Graduates
---
Posted on May 8, 2016
Alice Jackson
---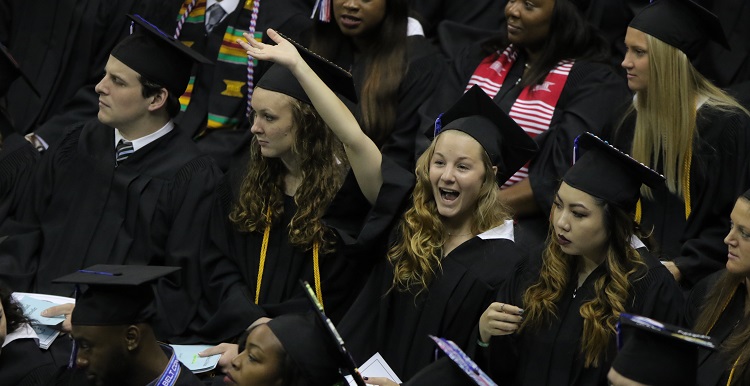 In two ceremonies, a total of 2,303 spring and summer degree candidates were recognized and honored. Total degrees awarded in South's history now number more than 84,000.
---
Graduates of the University of South Alabama began the next phase of their lives on Saturday, May 7, with three pieces of advice each from a Pulitzer Prize-winning journalist and one of Alabama's most respected attorneys.
Nationally syndicated columnist, blogger and television commentator Cynthia Tucker Haynes addressed graduates during the 9 a.m. Commencement, and Kenneth O. Simon, Birmingham attorney, vice chair of the University's Board of Trustees and the first African-American president of the USA Student Government Association, addressed the 2 p.m. Commencement. In all, South recognized 2,303 spring and summer degree candidates.
USA President Tony Waldrop, assisted by Provost Dr. David Johnson, presented Haynes with an honorary Doctor of Humane Letters degree in honor of her lifetime achievements and service to others.
Haynes, one of America's most respected journalists, began her news career in Montgomery, Ala., before she became a reporter at The Atlanta Journal-Constitution, then The Philadelphia Inquirer. During the 1980s, she reported from Africa as a freelance journalist. She returned to The Atlanta Journal-Constitution as the first woman and first African-American in charge of the newspaper's editorial page. Later, she worked in Washington, D.C., as the newspaper's political columnist.
A native of Monroeville, Ala., Haynes shared with graduates how three episodes during her career taught her to value asking others for help, to respect differences in other people and their culture and to embrace change, even if it means changing jobs or your life.
Haynes described how as a young news intern, she boldly asked U.S. District Judge Frank M. Johnson, a judicial icon of the Civil Rights Era with a legendary dislike for news reporters, to explain courtroom proceedings to her, how she managed to eat an exotically prepared dish while visiting an African family, then how she adapted and survived in the 21st Century's rapidly changing news media.
"Happily, I didn't know that the judge had a reputation for being stern and not talking to the press. I was just a kid from Monroeville, so I asked for help, and I got it. There is no embarrassment in seeking assistance. You may not always get it, but there is no harm in asking," Haynes said. "Learning each of these things came with an important lesson that helped me toward a fuller and richer life."
She said her food experience in Africa taught her that "we live in a world of different races, colors and religions, The United States is increasingly reflecting that diversity – that awesome cornucopia of color, of language and of creed. It's important that we learn to respect and appreciate those differences because they make the United States a vital and dynamic democracy."
Based on her personal experience with changes in the news media, Haynes advised the graduates to accept whatever change comes their way "because life is dynamic, constantly in flux."
"Relationships change, as do jobs, finances and personal health. One of the keys to a successful life is when the change you fear isn't such a big deal. It just requires an adjustment of perspective," Haynes said.
Simon urged the millennial graduates to find their purpose, draw on their inspiration and perform community service as they transition into adulthood. As an example, he shared how his mother, Lavonne Simon, the first African-American to graduate from South, inspired him with her determination to become a teacher, despite having seven small children, working days as a domestic and at nights as a short-order cook at Mobile Infirmary. She obtained her undergraduate degree in education, and later earned a master's degree, both from South. Each of her children followed her as they completed high school, including Simon in the early 1970s.
"Her mindset was based on her vision of who she was, what she wanted out of life and what she was willing to give back," said Simon. "My life story would be far different but for the sense of purpose that she had."
Simon, who attended racially segregated public schools before USA, described how he feared "segregation had isolated me and fueled self-doubts whether I was as good as white students, and my initial experiences at South drove home for me the gap that then existed between the black and white educational experiences." He related how two professors – Walt Darring, professor of English, and Dr. Woody Hannum, professor of history – each helped him to realize he was as good as any student as long as he studied and worked hard, and Simon acknowledged both professors, now retired, who were in the audience.
Following law school, Simon was a White House Fellow, then a circuit judge. With more than 30 years of experience, he has developed a reputation as a skilled litigator, mediator/arbiter, advisor to public agencies and expert in securities law.
Before closing, Simon shared how as a young attorney in Mobile, he helped start the Bay Area Food Bank, which today serves the hungry in 24 counties of Alabama, Florida and Mississippi.
"Once you have discovered your purpose through vision, inspiration and service, the question then becomes: What can you offer the community? The state? The nation? You may say you're only one person. 'I can't make a difference.' You may feel powerless and don't know what buttons to push, or how even to get started. You may feel that you lack the right connections," said Simon. "But the truth is, as young men and women of purpose, you have the power to make a difference. You can make a better world."
---